Things are always bustling here at Cisco SF, and even more so now that university recruiting season is in full swing!
While we are always hiring, this is the time of year when we travel across the country to actively seek new talent. Check out our website to see what positions we have available, and read on to see if we'll be coming to your area. We'd love to meet you!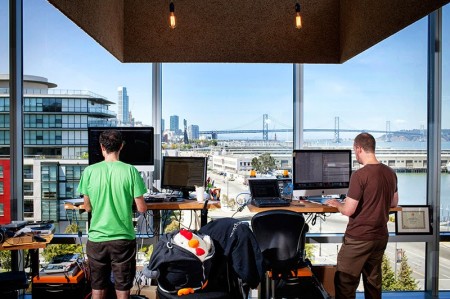 Working out of our scenic San Francisco office
Support Team
Do the terms DHCP, OSI model, and TCP mean something to you? Excellent. Our top-of-the-line Support team seeks talented Network Engineers to join us in our San Francisco office. Our campus recruiting efforts are steered toward bright and passionate problem-solvers, to help support our rapidly expanding customer base across all of our product lines. We welcome applicants from all backgrounds, offer co-ops, and recruit students who hold F-1 and H-1B visas.
New grads are granted immediate responsibility and are entrusted with handling real cases right away. We are looking for sharp individuals with a solid understanding of networking fundamentals, who are eager to be part of our dynamic and collaborative team. Our team has doubled in the past year, and we are looking to hire even more engineers in the coming months.
Upcoming Information Sessions and Career Fairs:
Rensselaer Polytechnic Institute, February 12
Purdue University, Feb 25
North Kentucky University, Feb 26
Rochester Institute of Technology, February 26
Wentworth Institute of Technology, March 27
Information sessions are generally hosted the day before the campus career fair, and offer students a chance to learn about Cisco Meraki products, ask questions, and network (hey hey) with members of the support team. Raffle winners at these events have also been rumored to score free access points and other Cisco Meraki gear.
On the day of the career fair, come visit the Cisco SF booth. Meet current employees, drop off your resume, and see if the position could be a good fit. After a first round of interviews, successful candidates are invited out to San Francisco for a final meeting. Spend a weekend in the Bay getting to know the area, all expenses on us.
What better place to code than by the giant chess set?
Software Engineering
Over the past two years, we have tripled the size of our engineering team and have another 17 new hires starting this summer. Our group is growing so quickly that we're still hiring!
We are looking for bright, proactive engineers who are working on projects of their own, who are driven by passion to go beyond what is required by school and work. Have something you've built that you're proud of? Show us! We are fascinated by robotics, game design, and any other projects with which you may be involved. Share your passion and get discovered.
Upcoming Information Sessions and Career Fairs:
Harvey Mudd College, February 21
Rochester Institute of Technology, February 26
Come visit our booth at your campus career fair to learn more about the life of a Cisco SF Software Engineer. New events get added to our calendar all the time, so make sure to keep an eye on the Cisco SF engineering site, and take a look at some past campus events.
After first round interviews, candidates are invited out to San Francisco for a recruiting weekend. This is a fantastic opportunity to meet current employees, tour San Francisco, and really get a feel for what it would be like to work at Cisco SF. Check out past recruiting weekends and see if our kind of fun is to your fancy.
Enjoying catered lunch on our outdoor patio
We encourage prospective applicants to become involved with the tech talks and Meetups we host in our office. We periodically invite engaging speakers to come speak about the latest developments in the tech startup world. It's a great place to grab some dinner, meet new people, and learn about new trends in tech.
Still completing your degree? Learn about our internship program for college students. Our interns get the chance to work with and learn from employees in our SF office, and many finish the program with full-time offers. Internships are available for both Engineering and Support roles.
Finally, keep an eye out for our virtual career fairs, which will give candidates who are unable to make the dates on our recruiting tour the chance to interact with current employees. We look forward to meeting you!