A lot can happen in two years… and a lot did!
Back in May of 2017 we shared the exciting news that Cisco Meraki had reached a major milestone of 1 million active networks around the world. After 10 years disrupting the status quo with a simplicity-first, cloud-managed solution, this was a moment of incredible pride for us all. Not only was 1 million networks a nice, round number, but it was also a testament to the highly scalable nature of the cloud backend our engineering team thoughtfully designed many years earlier.
Time has flown by, and it's with a sense of amazement that I'm back again to share another milestone that led to high-fives across our business. We recently witnessed the number of active Meraki networks hit 2 million, a doubling in under two years! Spread over more than 150 countries, every Meraki network is a logical container that may have thousands of Meraki devices or perhaps just a single AP. Most importantly, this would never have been possible without you.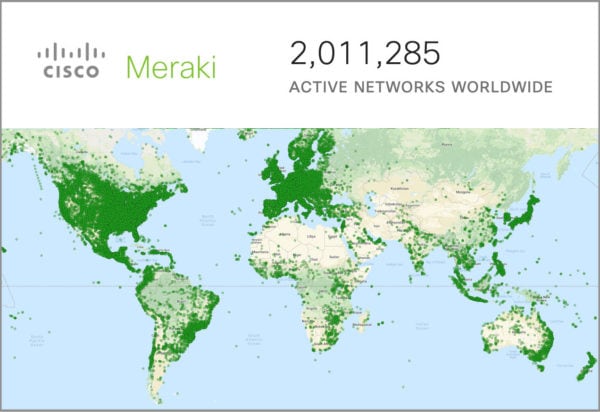 We took a few moments to look back over the past couple of years, to see what's been accomplished between 1 and 2 million active networks, and there's really too much to list, but here's a shot, starting with the new hardware:
6 access points with 6 new antenna models
8 security and SD-WAN appliances
And that's just the physical products. The cloud management model we've been refining for years also helps us rapidly develop new capabilities, continually advancing our platform. Over these past two years we've delivered on many new use cases and dashboard experiences, designed to simplify the lives of IT administrators and technology users. Wireless Health and Meraki Insight drive Artificial Intelligence into the core of our networking portfolio, LTE SD-WAN means redundant networks are more turnkey than they've ever been, and the Smart Camera launch means less time staring at video and more time responding to events. We've also expanded investment in our APIs (Application Programming Interface) to provide additional flexibility for software integrations, automation and managing networks of any scale. From very humble beginnings, we're now seeing over 30 million API requests per day!
The past two years have seen us proactively protect our customers from multiple security outbreaks. I counted five of these, including some memorable names like KRACK, WannaCry and Petya. The addition of powerful Cisco security enhancements like Threat Grid and Umbrella to the Meraki experience help ensure we're always leading the fight to maintain healthy, secure networks for our customers.
Our business has expanded its global footprint too, opening new offices in Chicago, Shanghai and Tokyo.  I'm especially proud of the work our team undertook to enable operations in China, including our fully segmented China cloud (meraki.cn).
By every measure, the Meraki business is pointing in the right direction, and I want to humbly thank each and every one of you for being a valued user, partner or employee. Together we've been able to reimagine what a simple IT experience can be, and in many ways we're just beginning. There's exciting work ahead on this journey, as new technologies like Artificial Intelligence and Machine Learning open up new possibilities. I believe AI driving network assurance, machine vision and IOT generates an opportunity to redefine how simple IT can really be…
The question on my mind is, how long until the next milestone? What will the highlights be? I'm certain it will be our users, and their vision that gets us there… Thanks again.