Recapping the new features and product releases which have been making waves over the past quarter.
Just a few short weeks ago, the Meraki team launched the first of an exciting new webinar series, the Meraki Quarterly. The purpose of these sessions is to provide our customers with an overview of the product and feature releases that have made the news over the past quarter.
Curious to find out more details about some of the releases covered in the webinar? Check out these highlights:
MX Security Updates
Geographically-based firewall rules – For security reasons, it may be useful to limit which countries your traffic originates from and where it's sent. In the MX traffic analytics page, you can now view the originating country for traffic and create Layer 7 firewall rules to deny "traffic to/from" or "traffic not to/from" specified countries. (Access this under Configure > Firewall > Layer 7 Firewall Rules)

List update intervals – Meraki MX Security Appliances deliver automatic signature updates via the cloud for added network security, which means you never have to worry if they are up-to-date. However, depending on your connection, it may not be ideal to have hourly updates, for instance, on a cellular link where charges can be costly. Now there's a way to easily control how frequently the updates occur depending on your needs.  (Access this under Configure > Traffic Shaping > List update interval)

DHCP lease live tool – In large networks, keep an eye on DHCP leases in real-time, as well as which ones are about to expire.  (Access this in the Live Tools section on the MX overview page)

3rd party VPN improvements – By customizing IKE Phase 1 and Phase 2 on the MX, you can expand the interoperability between MX devices and 3rd-party VPN networks. Additionally, tag-based 3rd-party VPN settings optimize communication by only establishing connections with devices specifically tagged in dashboard.  (Access this under Configure > Site-to-site VPN)
VLAN object templates – In template-based networks, where every firewall may have a different IP address or a different subnet, it can be difficult to create a firewall rule that doesn't use a generic network object. We've decided to use VLAN names as native network objects; for instance, using the VLAN names, you can block traffic from the VoIP VLAN to the Guest VLAN. In larger deployments, where every location has a different IP range, they would still have the proper firewall capabilities based on the master template.  (Access this under Organization > Monitor > Config templates)

MR Wireless Updates
MR32 / MR72 with BLE technology – Just a couple of months ago, we released two new 802.11ac Meraki APs, complete with built-in Beacon (Bluetooth Low Energy) technology, expanding 802.11ac technology to more deployments. The team also released complimentary wireless antennae. Not only are there internal antennas for 2.4GHz and 5GHz bands, a third radio and antenna dedicated to real-time scanning for security threats and RF optimization, and an antenna for Bluetooth, but there are also redesigned WiFi antennas for the outdoor APs.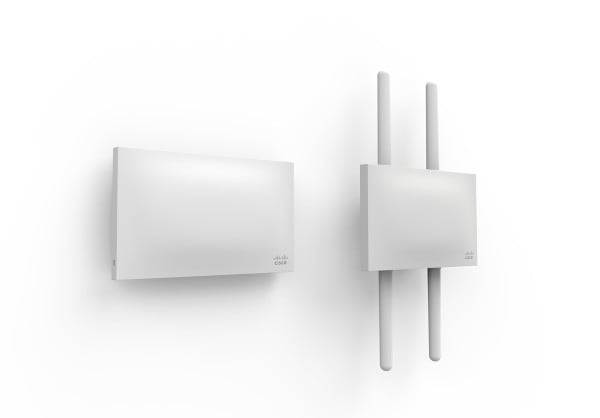 New features for all APs – Not limited to new hardware, the Meraki wireless team launched a spread of new features across the entire wireless portfolio. From authentication resiliency to flexible bitrate selection to a dedicated site survey mode, these new additions enhance the already robust wireless offering and put more tools in  customers' arsenals.
MS Switch Updates
Port security enhancements – Now when you have a voice VLAN client (i.e. VoIP phones) connected to your switch, you can simultaneously bypass authentication for the voice VLAN device, while requiring authentication for clients connecting through the phone.  (Access this under Configure > Access policies > Voice VLAN clients)
Network topology – Creating network diagrams can be a painstaking process that can go out of date just as soon as they're completed. The new Network Topology feature provides an automatic and dynamic view of your entire network infrastructure, updated and rendered in real-time. Not only can you click into any devices directly from this topology view, but you can also see connection information and trace device routes. This network topology can be quickly exported from dashboard for compatibility with other software, like Visio.  (Access this under Network-wide > Topology)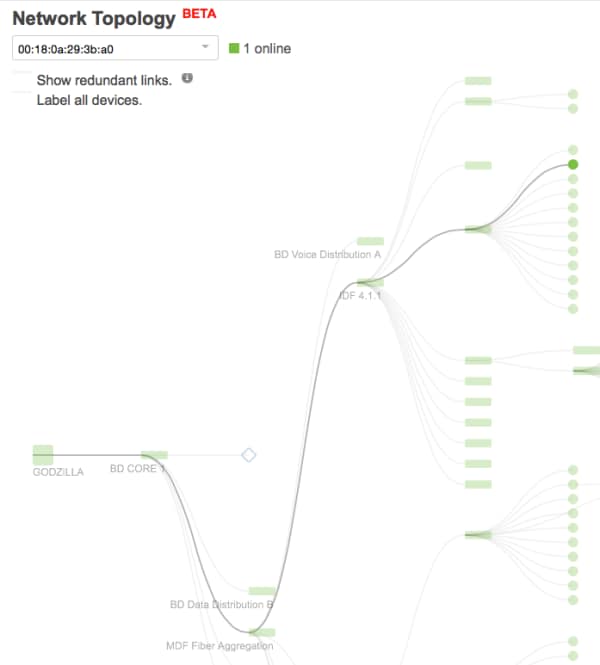 Systems Manager MDM Updates
Evolving MDM – With over 22,000 customers using Systems Manager and covering millions of devices, the Meraki team has been able to identify numerous MDM trends and consequently enable features like the ability to dynamically reassign devices in shared mobile device programs, enhanced BYOD policies, and data security / NAC.
Known user integration – Using Systems Manager Enterprise, customers can tie client identities and policies to existing identity services. With this integration, admins can assign rules, settings, and more to devices based on how they log into the network.
This is only the beginning for this new webinar series, so stay tuned for the next quarterly update! In the mean time, check out what we've been up to over the last year…