Here's to a happy new year from the Cisco Meraki team!
We are excited for the adventures 2015 will bring, and wanted to take a moment to reflect on 2014 and the major advances that happened here at Meraki.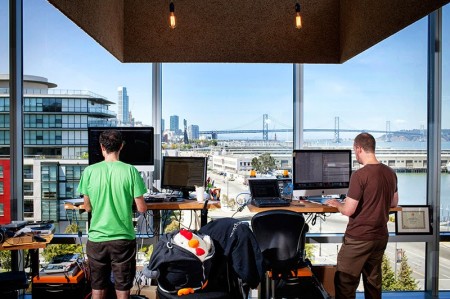 We kicked off 2014 with enhancements to our mobile app. Network admins can now monitor and manage wireless, switching, and security deployments straight from the dashboard app in a mobile-friendly format.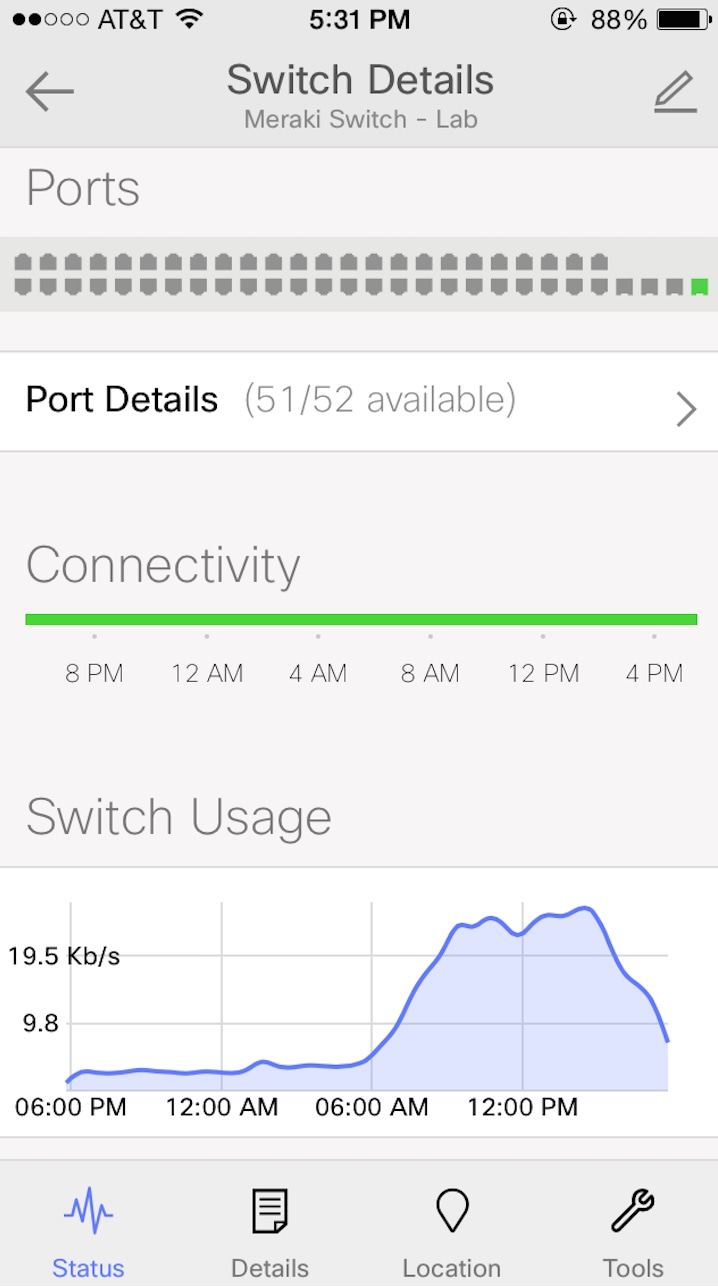 A glimpse into the all-inclusive Meraki mobile app
In February, MX customers cheered as automatic MPLS to VPN failover became available in every Meraki Security Appliance. Combined with easy-to-configure VPN and the option of implementing a warm VPN spare, the Meraki MX reinforced its status as a reliable, secure solution for distributed networks.
Not slowing down for even a moment, we rolled out new features for our Systems Manager iOS app in March, allowing administrators to manage documents and newly pushed apps all in one place. Apple's Device Enrollment Program also added exciting new capabilities for mobile device owners, including silent app push and no-touch device enrollment. To complement these changes, we introduced the Systems Manager Support Community, where users can share tips and find answers to their questions.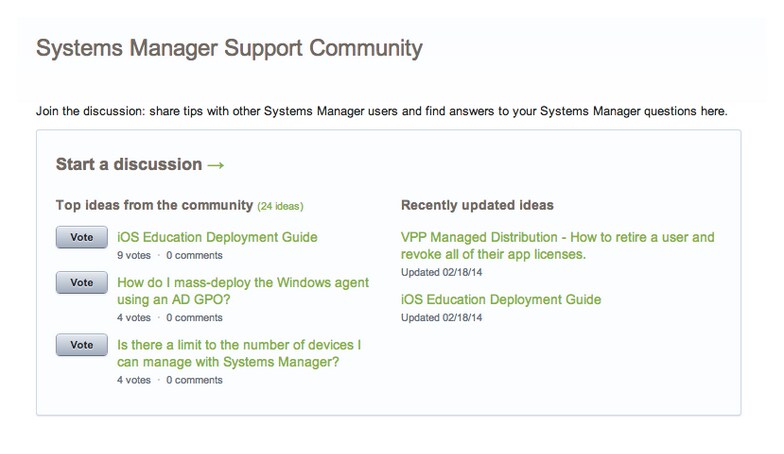 The nifty landing page for our Systems Manager Support Community
We were also happy to give away free networking gear in another edition of Meraki Startup Kits to support the growing operations of innovative new companies. From electric-powered longboards to 3D heart imaging, we were fascinated by the projects of our many applicants.
Come Spring, April's Heartbleed vulnerability gave network admins quite a scare, but the Meraki MX contained this security threat with integrated intrusion prevention in under a day.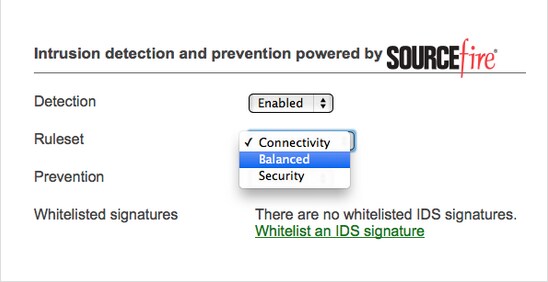 Easy, integrated intrusion prevention in Meraki security appliances
Soon afterward, we announced new mission critical MS Switch features to address evolving customer needs around redundancy and campus connectivity. New functionalities included OSPF dynamic routing, VRRP support, IPv6 visibility and tracking, and more.
Close on the tail end of our new switching features came another round of new MX Security Appliance features. We were thrilled to announce high availability for data centers, warm spare failover, geo-based IP firewall rules, and more for robust failover, enhanced security, and improved flexibility.
As our range of partners continued to expand throughout this time, we shared a helpful new partner onboarding guide to make the experience of selling Meraki as simple and enjoyable as possible. In the fall, we launched a new tool for cloud-based Enterprise Mobility Management, Systems Manager Enterprise. SM Enterprise provides comprehensive enterprise security, network policy integration, seamless user enrollment, Cisco ISE integration, and more. Built on the same platform that is used to power our wireless APs, switches, and security appliances, this new tools offers mobility management as well as an end-to end networking solution.
Announcements to changes in the structure of government-issued E-Rate funding for schools and libraries in the United States drew attention to Meraki, as all Meraki products and licenses are eligible for E-Rate funding. The MX, in particular, helps solve school security issues by providing secure, scalable, and easy-to-manage network protection.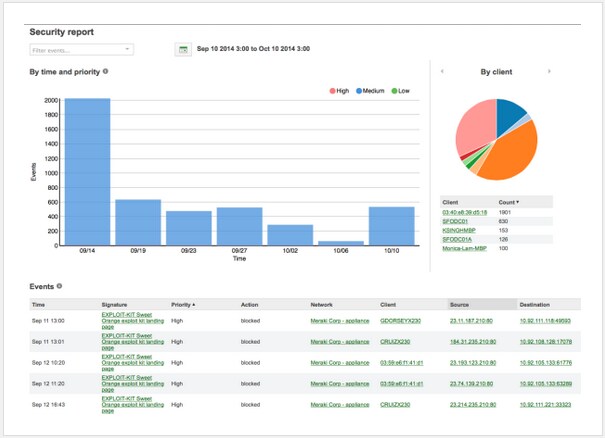 User-friendly security reports always available in the dashboard
All Meraki customers benefited in October with the announcement of Topology, a dashboard-based feature that intelligently maps network links to provide a hierarchical, physical layout of how your gear interconnects.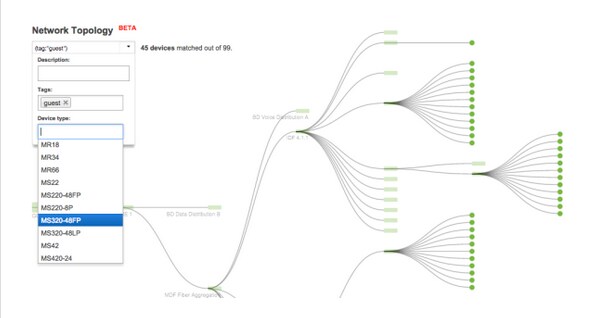 Topology is live in the dashboard for all Meraki customers
We wrapped up the year with the surprise announcement of two new 802.11ac wireless AP models, the indoor MR32 and the outdoor MR72. These dual-band, 2×2 APs include integrated Beacon (Bluetooth Low Energy) technology to enhance location capabilities and enable more active customer engagement, such as with iBeacons.
The indoor MR32 and outdoor MR72 with integrated Beacons
January is already off to a running start, with the launch of the first Meraki quarterly webinars for partners and customers. Register and attend to keep up with all that's new in the world of cloud networking.
Whew! By no means exhaustive, this post provides just a glimpse into all the advancements in Meraki cloud-managed networking over the past year. Our licensing scheme allows current customers to acquire these new features at no additional cost, making your Meraki investment future-proof. Subscribe to our blog and keep an eye on our website to be the first to know about all future updates.
Cheers to a happy 2015!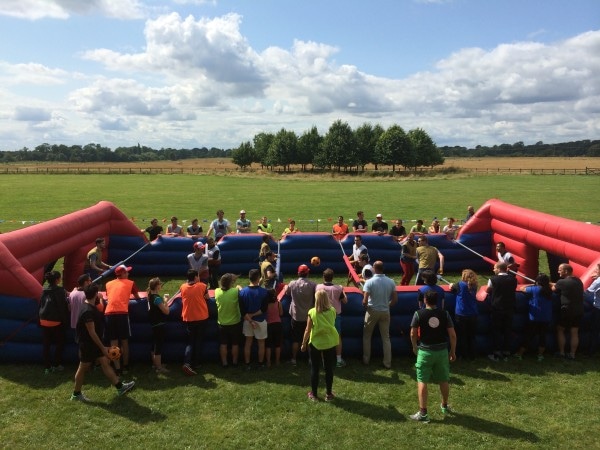 One of our team bonding activities that we hope happens again in 2015: human foosball