Meraki Support policy
Whether online, on the phone, or on-demand , our resources are available around the clock to ensure you are well supported from initial deployment to network growth
Product End-of-Life (EOL) Policy
---
Cisco Meraki may find it necessary to discontinue products for a number of reasons, including product line enhancements, market demands, technology innovation, or the products simply mature over time and are replaced by functionally richer products. We have set our end-of-life (EOL) policy to help customers better manage their product end-of-life transition.
When a product reaches EOL, Meraki is committed to communicating important milestones throughout the EOL period.  These notifications will include the initial EOL notification, the End of Sale (EOS) announcement, and the End of Support (EOST) dates, as well as other key information pertaining to Cisco Meraki products.
Any products being discontinued will be announced as End of Sale and identified on the Cisco Meraki website up to six months prior to the discontinuation and EOS date (also known as the last order date). On the EOS Date, discontinued hardware products are removed from the price list and are no longer available for purchase. The device-specific licenses corresponding to discontinued hardware products will be available for purchase after the EOS Date, unless the license(s) is/are listed in the "End-of-Life Products" list provided below. Cisco Meraki typically provides support for a given product for a period of five (5) years after the EOS date. If the discontinued product is not available for replacement or repair of an in-warranty return, Cisco Meraki may replace the discontinued product with functionally equivalent hardware and transfer the remaining license term from the replaced product to the replacement hardware.
Although legacy Cisco Meraki products typically can connect to our cloud-based management software for the entire useful life of the product, following the EOST Date, some things may change, including the following:
Cisco Meraki cannot guarantee that legacy hardware products will be able to connect to the management software indefinitely following the EOST Date;
Cisco Meraki Technical Support may no longer troubleshoot the legacy hardware products;
Cisco Meraki may no longer issue firmware updates or patches for the legacy products; and
New software features available for the management software may not be compatible with the legacy hardware functionality or with the firmware running on the legacy hardware.
If either of the first two situations above occurs, then we will use our best efforts to provide the customer with a workable solution for upgrading from the legacy hardware and, failing that, will credit the value of any remaining license time attributable to the legacy hardware to the customer's Dashboard organization on a prorated basis.
Summary
End-of-Sale Announcement: Date of official end-of-sales notice, typically six months prior to the last order date.
End-of-Sale (EOS) Date: The last date to order the product through Cisco Meraki point-of-sale outlets. After this date, the product is no longer for sale via any channel.
End-of-Support (EOST) Date: The last date a product will be affirmatively supported by Cisco Meraki, typically five years following the EOS Date.
*Please note that announcements will be updated periodically to amend the functionally equivalent products.
Return Policy and Requesting a RMA
---
Return policy terms may vary by region. Please refer to the Regional Return Policies section for region-specific terms.
Warranty Returns
Cisco Meraki stands behind its products. Cisco Meraki hardware products come with the following warranty periods:
MR Indoor Products
Lifetime**
MR Outdoor Products
1 year
MT Indoor Products
3 year
MV Products (except MV21, MV71, and MV2)
5 year***
*Original and replacement modular power supply units and fans for MS and MX Products included in lifetime warranty.
**Product lifetime ends concurrently with product End-of-Support (EOST) Date as described in Cisco Meraki's End of Life (EOL) Policy.
***Warranty period for MV21, MV71, and MV2 is 3 years.
If you are experiencing hardware issues, for any product under warranty (as described above), please contact Cisco Meraki support by logging in to dashboard (Help > Get help) or by calling us.
To request a return materials authorization (RMA), please complete the RMA request form in the Meraki dashboard. If your RMA request is approved, Cisco Meraki will email you an RMA number and a return shipping label free of charge. We will ship replacement units within five business days of receiving your defective units. If no trouble is found, we will contact you before taking further action.
If you require advance replacement, please call Cisco Meraki technical support. Unless you have purchased Meraki Now, advance replacement orders will ship within 1 business day on a best case effort basis.
Additional information about Cisco Meraki's hardware warranty can be found in Cisco Meraki's End Customer Agreement.
Meraki Now
If you require replacement of Meraki products covered by Meraki Now services, please call Meraki technical support and request Meraki Now advance replacement. Please include the Meraki Now service tier and affected device serial number (SN) with your request.
Product Trial Returns
If you would like to return units from a product trial, please go to your product trial webpage (using the link your rep provided you with) and go to the returns tab to fill out the RMA request form. If your trial hardware was shipped to the US, Canada, or an EU member country you will also be able to print out a return shipping label and ship the product back to Cisco Meraki at no charge to you.
Refund Requests
Effective January 30, 2022, all new Cisco and Meraki orders submitted for hardware, and any attached software, will be non-cancellable and cannot be modified starting 45 days prior to the current estimated ship date. Meraki license-only orders are not impacted by this policy. Non-cancellable orders are not eligible for RMA credit and are not eligible for an RMA exception. For additional information, please contact your Meraki representative.
To request a refund for your license-only order, please complete our RMA request form. All returns must meet the following criteria:
You purchased the product through an authorized Cisco Meraki reseller or directly from Cisco Meraki
You are the original purchaser of the product
You submit your refund request within 30 days of purchase
If your refund request is approved, Cisco Meraki will email you an RMA number and we will process your return. If you purchased through a Cisco Meraki reseller, your refund will be issued by that reseller. If you purchased directly from Cisco Meraki, we will issue a refund, typically within 15 days of processing the return. (If you paid by credit card we will credit the original credit card. If you paid by any other method, we will send you a check.)
Shipment Preparation
Please return units in their entirety. That is, include all power supplies, antennas, and other components along with the original product box.
Please use the original shipping carton and packaging material. If this is not possible, use another shipping carton with padding to protect the units from damage during shipping, and remove ALL inappropriate and/or inapplicable label(s). DO NOT ship a product without a carton.
The customer will be charged for product that is damaged due to insufficient packaging.
Once you have received your RMA number from Cisco Meraki via email, write this RMA number in large letters on the exterior of the shipping carton. Shipments to Cisco Meraki without an RMA approval will not be processed.
If Cisco Meraki approves your RMA request, you will receive a confirmation email containing an RMA number within two business days. The address to which the product should be sent will also be included in that email.
Cisco Meraki will provide a pre-paid return shipping label for warranty replacement return shipments. Cisco Meraki will also provide a pre-paid return shipping label for free trial return shipments from US (including Puerto Rico), any EU member country, Australia, Canada, Chile, Colombia, Costa Rica, Ecuador, Indonesia, Japan, Mexico, New Zealand, Panama, Peru, the Philippines, Singapore, South Korea, Thailand, the United Arab Emirates, and the United Kingdom. For all other returns it is your responsibility to coordinate and pay for return shipping back to Cisco Meraki using the carrier of your choice. Cisco Meraki recommends that the return package has a tracking number and is insured for the proper value of its contents. Cisco Meraki is not responsible for packages lost by carriers.
Online Privacy Statement Summary
---
The Cisco Online Privacy Statement and this summary apply to Cisco's websites and our affiliates' websites that link to the Statement.
Cisco respects and is committed to protecting Personal Information. Online Privacy Statement reflects current global principles and standards on handling Personal Information – transparency, fairness, and accountability.
Our Privacy Policies and practices are designed to comply with applicable laws around the world and to earn and maintain your trust in Cisco.
Below are some of the highlights of the Cisco Online Privacy Statement. Note, more specific information on how Cisco processes Personal Information may be found in privacy data sheets and maps, offer descriptions, or other notices provided in association or prior to or at the time of data collection.
Collection and use of Personal Information
We collect Personal Information for a variety of reasons, which may include processing your order, providing our various websites and other products and services ("Solutions"), providing you with a newsletter subscription, sending business and marketing communications, personalizing your experience, processing job applications.
We will use your Personal Information for the purposes stated in our Online Privacy Statement or such other privacy notices that we may make available (e.g., our Privacy Data Sheets, site or event-specific privacy notices, etc.).
We may combine the information we collect from you with information obtained from other sources to help us improve its overall accuracy and completeness, and to help us improve and better tailor our interactions and performance with you.
We may also collect information relating to your use of our websites and web-based Solutions through the use of various technologies, including cookies.
Notice and your choices of data use
We will not use your Personal Information for a different purpose without first asking for your permission or as otherwise permitted by law.
We will ask your permission before we share your Personal Information with third parties for any purpose other than the reason you provided it or as otherwise stated in our Online Privacy Statement.
Your privacy rights
Various data protection laws around the world provide individuals with certain rights regarding their Personal Information. This may include the right to access, correct, delete, object to or limit the processing of your Personal Information, or to submit a complaint to your local data protection authority. To learn more about your privacy rights, see the Online Privacy Statement.
To submit a request to exercise your privacy rights or to update your communication preferences, please use the Privacy Request form.
Data security
We are committed to protecting your Personal Information against unauthorized use or disclosure.
International data transfers
As a global organization, Cisco Systems, Inc. and other Cisco Group Companies, as well their respective business partners and suppliers, operate in countries located all around the world. Your personal data may be transferred to or accessed from those countries, some of which may have data protection laws that are not as protective of Personal Information. In those situations, we implement additional safeguards to protect your Personal Information. For example, we enter into data protection agreements with our suppliers requiring them to adhere to a minimum standard for protecting your Personal Information. We have also implemented the following safeguards:

Cisco is certified under the APEC Cross Border Privacy Rules systemand Privacy Recognition for Processors regarding personal data handling and transfers to/from the APEC member economies. For more information on the scope of our participation, or to submit a privacy inquiry through BBB National Programs, our Accountability Agent, please click on the official seal below:
Cisco's Binding Corporate Rules – Controller (BCR-C) provide that transfers made by Cisco as a controller worldwide of European Personal Information benefit from additional safeguards.
Cisco is also certified and adheres to the EU-US and Swiss-US Privacy Shield frameworks as set forth by the U.S. Department of Commerce regarding the collection, use, and processing of personal data from the EU/EEA, the UK, and Switzerland.
Cisco may also use the EU Standard Contractual Clauses to provide additional safeguards for Personal Information collected from the European Economic Area, the United Kingdom, and Switzerland.
Questions, comments, or concerns
More information
To find out more about our privacy practices, see the full version of the Online Privacy Statement or such other privacy notices that we may make available (e.g., our Privacy Data Sheets, site-specific privacy notices, etc.).
Last updated: July 1, 2022
Automatic Data Collection Tools (Cookies, etc.)
---
Website Terms of Use
---
Last Updated: March 3, 2022
Why, hello there! Welcome to https://meraki.cisco.com! This site is operated by Cisco Meraki (hereinafter "Meraki", "we", "us" or "our"). The following terms and conditions ("Terms of Use") govern your use of this website as well as any other websites that Meraki may control (collectively, the "Site"). Your use of the Site is subject to our Privacy Policy, including our Cookie Policy, which is incorporated into these Terms of Use by reference. BY USING THE SITE IN ANY WAY, YOU ACKNOWLEDGE THAT YOU HAVE READ, UNDERSTOOD AND AGREE TO BE BOUND BY THESE TERMS OF USE. IF YOU DO NOT AGREE, DO NOT USE THE SITE.
Changes to the Terms of Use, Site and Site Content
All materials and information on the Site, including but not limited to Cisco Meraki products and services, prices, text, files, images, logos, sounds and videos (collectively, "Site Content"), is owned or licensed by or to Meraki. Meraki reserves the right, in its sole discretion and without any liability, to make changes to these Terms of Use, the Site and any Site Content, wholly or partly, at any time without prior notice. The changes will be effective at the time of posting and your continued use of the Site will be deemed as acceptance of the changes. If you disagree with any change, your sole remedy is to cease using the Site. Meraki makes no commitment to update the Site regularly and therefore some Site Content may be out of date. If you require assistance, please contact your local sales representative for complete information on products and services availability in your country.
License to Use Site and Software
Nothing in these Terms of Use confers, by implication, estoppel, or otherwise, any license or intellectual property rights of Meraki, its affiliates and subsidiaries, or of any third party. All rights not expressly licensed are reserved by Meraki. Subject to these Terms of Use, Meraki grants you a limited, revocable, non-sublicensable license to access and use the Site solely for the purpose of purchasing, researching or conducting other relevant activities related to Meraki's products and services. No other use of the Site is authorized without our prior written consent.
Any software that is made available to download from the Site ("Software") is pursuant to a separate software license agreement that accompanies the Software, which shall be the governing agreement between Meraki and you with respect to that Software. You agree to comply with the terms and conditions found in such software license agreement prior to using the Software.
Account Registration
You may be required to register for an account to gain access or to use certain Meraki services. You agree to provide accurate, current and complete information while registering for any such account. You understand that the account may not be used by any other person or entity, and you shall assume full responsibility for all activities that happens through your account. You are responsible for keeping your password(s) confidential and must immediately notify Meraki should there be a breach in any way. You may be liable for losses suffered by Meraki or any other Site user as a result of your failure to keep your password confidential. Meraki is not liable to you or to any third party for any loss or damage resulting from any unauthorized access of your account. It is your responsibility to obtain and maintain all equipment and payments of related charges (i.e. internet fees) to access the Site.
Privacy Policy
Please read our Privacy Policy carefully for information relating to our collection, use, storage and disclosure of your personal information that we may collect through the Site. Although Meraki has taken reasonable and appropriate steps to protect your personal information and have implemented strong security and technical safeguards, we do not guarantee that Internet transmissions will always be completely private or secure.
User Content and Feedback
We do not have ownership rights on any text, files, images, videos, or other materials that you may upload or otherwise provide to our Site (collectively, "User Content"). Meraki may, in its sole discretion, decline or delete any User Content that it reasonably believes violates these Terms of Use or any applicable law. Under no circumstances will Meraki be liable for any loss or damage incurred in connection with any User Content. You agree that you are responsible for any feedback that you provide to us, and any such feedback shall be deemed non-proprietary and non-confidential. Meraki may use your feedback in any way without limitation, including for future modifications to the Site and our Site Content.
Usage Restrictions
You must comply with all applicable laws when using the Site. Except as may be expressly permitted by applicable law or expressly permitted by us in writing, you will not, and will not permit anyone else to: (a) store, copy, modify, distribute, or resell any Site Content or compile or collect any Site Content as part of a database or other work; (b) use any automated tool (e.g., robots, spiders) to use the Site or store, copy, modify, distribute, or resell any Site Content; (c) rent, lease, or sublicense your access to the Site; (d) use the Site and Site Content for any purpose except as agreed to in these Terms of Use or upload any User Content in any manner that may infringe any intellectual property right, proprietary right, or property right of us or any third parties; (e) circumvent or disable any digital rights management, usage rules, or other security features of the Site; (f) reproduce, modify, translate, enhance, decompile, disassemble, reverse engineer, or create derivative works of the Site or Site Content; (g) use the Site in a manner that threatens the integrity, performance, or availability of the Site; or (h) remove, alter, or obscure any proprietary notices on any portion of the Site or Site Content.
Trademarks
We, or our affiliates or licensors, or applicable third parties, retain all rights and title to any registered or unregistered trademarks, logos or service marks displayed on the Site ("Marks"). The Marks are protected by applicable intellectual property laws and may be used under limited circumstances in strict accordance with our Trademark Guidelines available here. Otherwise, you are not permitted to use these Marks without the prior written consent of Meraki or any third party that may own the Mark.
Disclosure; Forward-Looking Statements
Some of the information on this Site may contain projections or other forward-looking statements regarding future events or future financial performance of Meraki and/or Cisco. We wish to caution you that these statements are only predictions and that actual events or results may differ materially. We refer you to the documents Cisco files from time to time with the Securities and Exchange Commission, specifically, Cisco's most recent Form 10-K, Form 10-Q, and Form 10-Q/A. These documents contain and identify important factors that could cause the actual results to differ materially from those contained in our projections or forward-looking statements, including, among others, potential fluctuations in quarterly results, dependence on new product development; rapid technological and market change, acquisition strategy, manufacturing risks, risks associated with Internet infrastructure, volatility of stock price, financial risk management, and future growth subject to risks.
Promotions
If you take part in any promotion that we may offer on the Site, you agree to be bound by the terms and conditions that govern that promotion. You also agree to accept any decision that Meraki and our designees make which are discretionary and final in all matters relating to any promotion.
Links to External Sites
The Site may provide links to third party products, services, and websites ("External Sites") solely for your convenience and shall not be considered as endorsements by us. If you navigate away from this Site by following a link, you do so at your sole risk and understand that these Terms of Use, including the Privacy Policy, will no longer govern your usage. We have no control over any External Sites and are not responsible, directly or indirectly, for any damage or loss suffered by you in connection with any content, products or services available through External Sites.
Disclaimer of Warranties
UNLESS REQUIRED BY LAW, MERAKI AND ITS AFFILIATES, AND THEIR RESPECTIVE OFFICERS, DIRECTORS, EMPLOYEES, AGENTS, SUPPLIERS AND LICENSORS (COLLECTIVELY, "MERAKI PARTIES") EXPRESSLY DISCLAIM ALL WARRANTIES OF ANY KIND, WHETHER EXPRESS OR IMPLIED, INCLUDING BUT NOT LIMITED TO THE IMPLIED WARRANTIES OF MERCHANTABILITY, FITNESS FOR A PARTICULAR PURPOSE, TITLE, AND NON-INFRINGEMENT, AND ANY WARRANTIES ARISING FROM A COURSE OF DEALING, USAGE, OR TRADE PRACTICE. YOUR USE OF THE SITE, THE SITE CONTENT, INCLUDING ANY SUBMISSION BY YOU OR ANYONE USING YOUR ACCOUNT, AND RESULTS YOU RECEIVE FROM THE SITE, IS AT YOUR SOLE DISCRETION AND RISK. THE SITE AND SITE CONTENT ARE PROVIDED ON AN "AS IS" AND "AS AVAILABLE" BASIS.  THE MERAKI PARTIES DO NOT GUARANTEE THE ACCURACY, COMPLETENESS, OR USEFULNESS OF THE SITE OR SITE CONTENT, OR THAT THE SITE WILL BE UNINTERRUPTED, ERROR-FREE, VIRUS-FREE, SECURE, TIMELY OR THAT ANY DEFECT WILL BE CORRECTED. YOU WILL BE SOLELY RESPONSIBLE FOR ANY DAMAGE TO YOUR COMPUTER OR LOSS OF DATA THAT RESULTS FROM THE DOWNLOAD OF ANY MATERIAL THROUGH THE SITE. NO ADVICE OR INFORMATION, WHETHER ORAL OR WRITTEN, OBTAINED BY YOU FROM THIS SITE OR FROM ANY MERAKI PARTY WILL CREATE ANY WARRANTY NOT EXPRESSLY AGREED IN WRITING. YOUR SOLE REMEDY FOR ANY DISSATISFACTION WITH THE SITE OR ANY SITE CONTENT IS TO CEASE USING THE SITE OR THE SITE CONTENT.
Limitation of Liability
IN NO EVENT SHALL ANY MERAKI PARTY BE LIABLE TO YOU OR TO ANY THIRD PARTY FOR ANY INDIRECT, INCIDENTAL, SPECIAL, PUNITIVE, CONSEQUENTIAL, OR EXEMPLARY DAMAGES, INCLUDING BUT NOT LIMITED TO, DAMAGES FOR LOSS OF PROFITS OR REVENUES, BUSINESS INTERRUPTION, GOODWILL, USE, DATA OR OTHER INTANGIBLE LOSSES ARISING FROM YOUR USE AND ACCESS OF THE SITE AND SITE CONTENT, OR DAMAGES RELATED TO YOUR RELIANCE ON ANY INFORMATION OBTAINED FROM THE WEBSITE. THIS SECTION APPLIES WHETHER DAMAGES ARE BASED ON WARRANTY, CONTRACT, TORT, STATUTE, OR ANY OTHER LEGAL THEORY AND EVEN IF ANY MERAKI PARTY HAS BEEN ADVISED OF THE POSSIBILITY OF THESE DAMAGES.
THE TOTAL CUMULATIVE LIABILITY OF THE MERAKI PARTIES FOR ALL CLAIMS TO YOU OR TO ANY THIRD PARTY UNDER ANY CIRCUMSTANCE WILL NOT EXCEED $50 USD. BECAUSE SOME JURISDICTIONS DO NOT ALLOW THE EXCLUSION OF IMPLIED WARRANTIES OR LIMITATION OF LIABILITY FOR CONSEQUENTIAL OR INCIDENTAL DAMAGES, THE ABOVE LIMITATION MAY NOT APPLY TO YOU. IN SUCH STATES, THE LIABILITY OF THE MERAKI PARTIES WILL BE LIMITED TO THE MAXIMUM EXTENT PERMITTED BY LAW.
Indemnity
You agree to defend, indemnify, and hold Meraki Parties harmless from and against any and all claims, costs, damages, expenses, liabilities or fees (including reasonable attorney fees) arising out of or in any way connected to your violation of these Terms of Use and any rights of Meraki or a third party through your use of the Site or Site Content. Meraki shall have exclusive control over the defense of any matter which is subject to indemnification under this section, and you agree to fully cooperate with Meraki's reasonable requests in such cases.
Termination
Meraki reserves the right to terminate, suspend or restrict your current and future use of the Site, in whole or in part, at any time for any reason without notice and liability. You may discontinue your access to and use of this Site at any time. If you breach any of these Terms of Use or any applicable law, we will automatically terminate your access. We reserve the right to investigate and take appropriate action against anyone who, in Meraki's sole discretion, is suspected of violating any applicable law or violating Meraki's or any third party's rights (either intentionally or unintentionally) under these Terms of Use. Meraki's rights hereunder will survive termination of your use of the Site and shall continue in full force and effect.
Governing Law
These Terms of Use will be governed by and construed in accordance with the laws of the State of California without regard to principles of conflicts of law. You submit to the jurisdiction of the federal or state courts of or located in Santa Clara County, California, with respect to any action or proceeding arising out of or in any way related to these Terms of Use. You hereby waive any venue or other objection which you may have to any such action or proceeding being brought in the federal or state courts of in Santa Clara County, California, U.S.A.
Export Compliance
You agree to comply with all export and re-export laws and regulations of United States and any foreign jurisdictions in connection with your use of the Site. By downloading any Site Content, you expressly warrant that you are not in a country where such export is prohibited or are an entity or person to whom such export is prohibited.
Miscellaneous
No failure or delay by us in exercising any right under these Terms of Use will constitute a waiver of that right. If any portion of these Terms of Use is held unenforceable by a court of competent jurisdiction, then such portion will be limited or eliminated to the extent necessary, and the rest of the terms will remain in full force and effect. The headings used in these Terms of Use are for convenience only and do not affect the meaning of these Terms of Use. These Terms of Use shall be interpreted as to its fair meaning and not strictly for or against any party. Any rights and licenses granted hereunder may not be transferred or assigned by you but may be automatically assigned by Meraki without restriction. To the extent that anything in or associated with the Site is inconsistent with these Terms of Use, the latter shall take precedence.
Contacting Meraki
If you have any questions or concerns about these Terms of Use or the Site, including but not limited to notices of intellectual property infringement, please send us a thorough description by email to legal@meraki.com, or write to us at:
Cisco Meraki
500 Terry A Francois
San Francisco, CA 94158
United States of America
Shipping Policy
---
Orders
All orders will generally be processed the same day and shipped within 2 business days. Once the order is processed, the customer will receive a confirmation email. Delays may occur in case of missing information, special shipping requests, and if import/export related verification is required.
Order Number
A single Cisco CCW Sales Order can be transmitted to Meraki as multiple Meraki orders due to the below scenarios and will ship separately. Shipping charges will be billed per Meraki order, not per the SO as a whole.
Duplicate PID
Different License duration
Different license addition for MX only (ENT/SEC)
Different ship ID address
Different end user ID
Different request ship date
Different freight account #
Different ship method
P.O. Boxes
For most addresses, PO Boxes are not acceptable delivery addresses. If your shipping address must include a PO Box, Cisco Meraki cannot guarantee delivery.
Sales Tax and VAT
In accordance with applicable law, Cisco Meraki collects sales tax or VAT in regions where Cisco Meraki has a presence. Sales tax or VAT will be applied to the total amount of the order and is based on the shipment's destination and local sales tax or VAT rates.
Special Delivery Requirements
In case you require any special service for your delivery such as a lift gate or indoor delivery service, or have special export/import requirements, please make sure to let your seller know to include this information on the PO or open a case on the Cisco Customer Service Portal prior order submission to allow sufficient time for the Cisco-Meraki shipping team to review and advise.
International Certifications
Cisco Meraki has products certified in countries all over the world. If you have specific questions regarding Cisco Meraki certifications, please contact your sales representative.
Canceling or Modifying an Order
Orders can be modified or canceled before they have entered the shipping process. Once the shipment is in transit the shipping address can no longer be modified. Please take special care when processing the order to ensure the shipping address is correct and able to accept the delivery. However, if you do require adjustments prior to the shipment, please contact your seller/reseller/distributor or open an urgent case in the Cisco Customer Service Portal as soon as possible. You may be responsible for any applicable adjustment, handling and/or shipping fees if applicable.
Shipping and Delivery
Shipping Confirmation
Once your order has been shipped, a shipping notification email will be sent to the email listed in your Purchase Order, containing the tracking number of the shipment and the License Key. In case you ordered the license separately from the hardware product, the License Key will be sent on a separate email.
Shipping Methods
Opt In (Cisco-routed) program allows the customer to rely on Cisco's preferred carrier network, typically gives full end to end tracking visibility for parcel shipments, most freight shipments, and eliminates the need for partner/customer carrier information to be provided. However, the Cisco-routed program does not place liability for lost/damaged shipments wholly on Cisco Meraki. To determine when risk/liability is transferred, refer to the Incoterms. Once ownership of the goods has changed from Cisco Meraki per the Incoterms, goods should not be sent back to Cisco without first obtaining a Return Material Authorization (RMA) from Cisco.
Opt Out (self-routed) shipping preference allows the partner or customer to select their own carrier. Cisco Meraki has the ability to ship with most carriers, and the shipping cost will be the responsibility of the bill to party. If there are any concerns with the carrier selected, Cisco Meraki will contact the partner or customer.
Incoterms, Duties & Taxes
Cisco Meraki will send shipments with a variety of Incoterms depending on the customer agreement. Incoterms determine and differentiate between the seller's and the buyer's responsibility. In the majority of cases, the "bill to" party on the order will be the importer of record and will be responsible for all duties & taxes, VAT, brokerage or other fees. In some cases, third party billing for duty & tax is not available in the destination country and the receiver/"ship to" will be responsible for these fees.
Loss/Damage
In the unlikely scenario that you receive your delivery damaged or missing cartons, please accept the shipment and notate as such with the carrier upon delivery. Upon receiving the shipment, take photos to provide supporting information when filing a RMA claim with Cisco Customer Service to assist in the investigation.
Country Specific Information and Transit Times
Each country can have variations in transit time, available ship services and special requirements. Below are the most frequent destinations and estimated delivery times. If there are any further questions, please contact your seller, or open a case on the Cisco Customer Service Portal.
United States
Cisco Meraki will generally ship using Fedex or UPS for parcel, LTL (less than truckload) or FTL (full truckload.) The order will be shipped on Cisco Meraki's account and billed to the customer if opt in.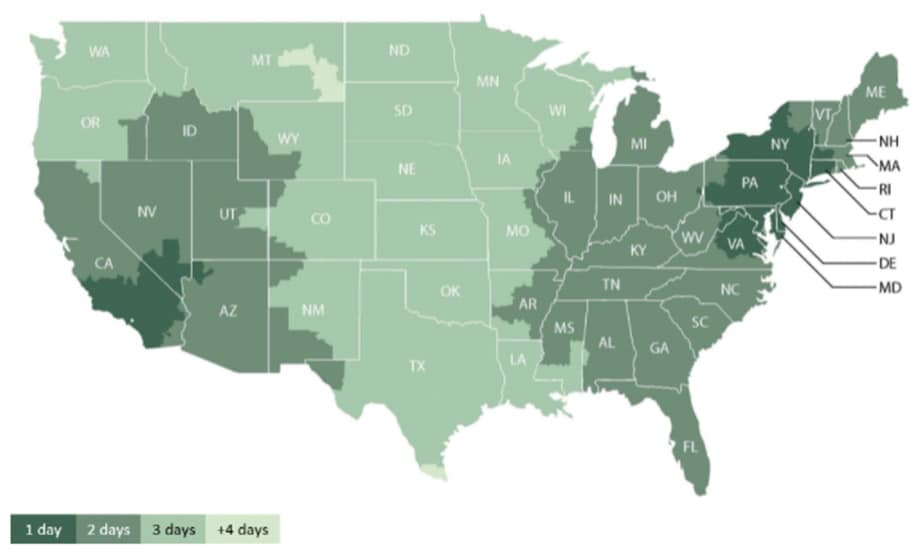 NOTE: Above map is for Opt In parcel shipments with a standard service level. Business Days are Monday through Friday, excluding holidays observed by FedEx and UPS. Expedited shipments within the US using an expedited method will generally arrive in 1-3 business days.
Europe
Cisco Meraki will generally ship using Fedex or UPS for parcel, LTL (less than truckload) or FTL (full truckload.) The order will be shipped on Cisco Meraki's account and billed to the customer if opt in. UPS or FedEx shipment to countries within the EU using a paperless process when this option is offered by the courier and applicable for the territory. The commercial invoice is therefore electronic and will not be included in the shipment.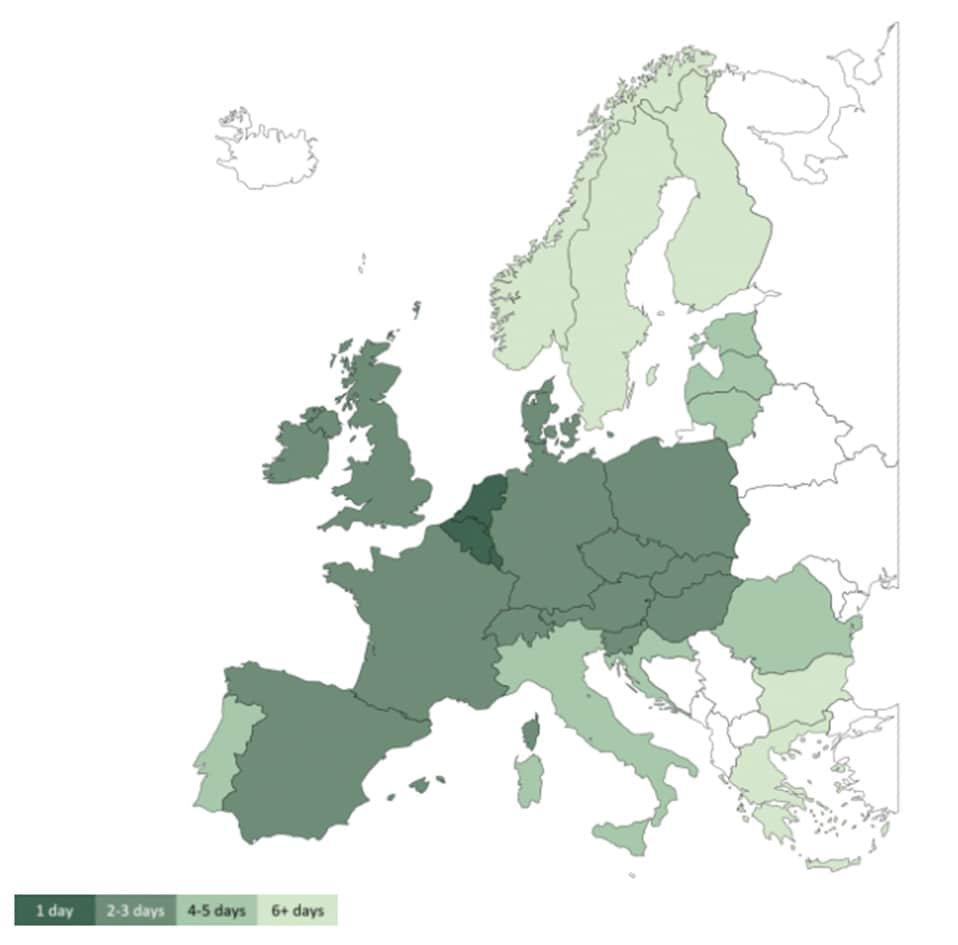 NOTE: Above map is for Opt In parcel shipments with a standard service level. Business Days are Monday through Friday, excluding holidays observed by carriers.
Mainland China
Cisco Meraki will ship via Jiuli if the product is shipped on Cisco Meraki's account. The most common methods used are SF Express for Airfreight service and Jiuli for Ground service.
To ensure shipment is delivered to the correct End Customer. Jiuli requires the end customer's signature and company seal upon delivery. If the company seal is unavailable, the person who signs the POD needs to provide identification.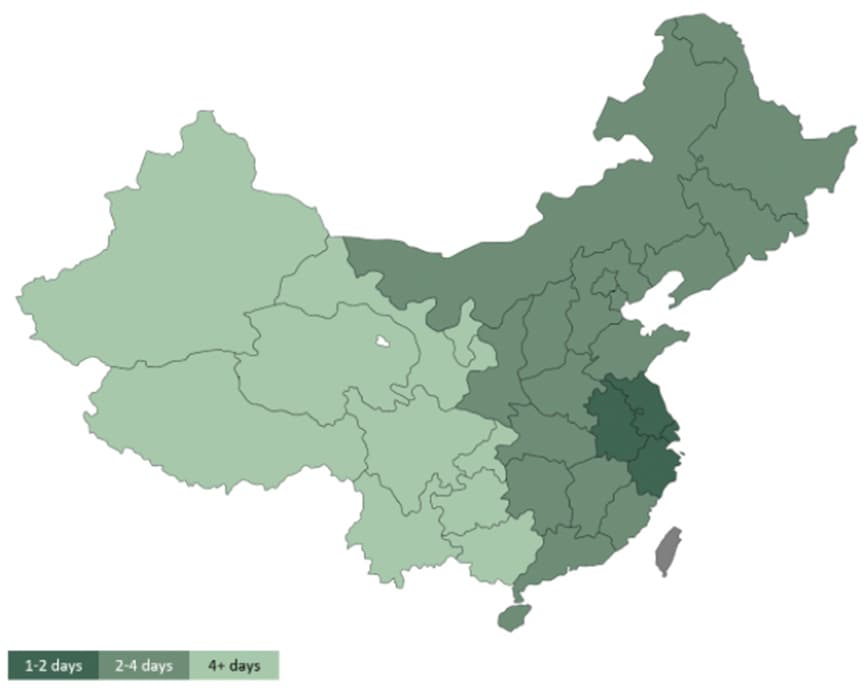 NOTE: Above map is for Opt In parcel shipments with a standard service level. Business Days are Monday through Friday, excluding holidays observed by Jiuli. The delivery times suggested here indicate delivery to the capital cities of each province. For non-capital cities, add 1-2 days for each extra city-tier.
Japan
Cisco Meraki will ship using Seino Transportation. In case, ship-to address is in an unserviced area by Seino, Cisco Meraki will ship using Yamato transport. To track delivery status, go to Seino or Yamato and enter the tracking number from ship notification for the latest update. If total order quantity to one ship to address exceeds 2 pallets, the order is delivered with a chartered truck. Default service of chartered truck is pallet delivery.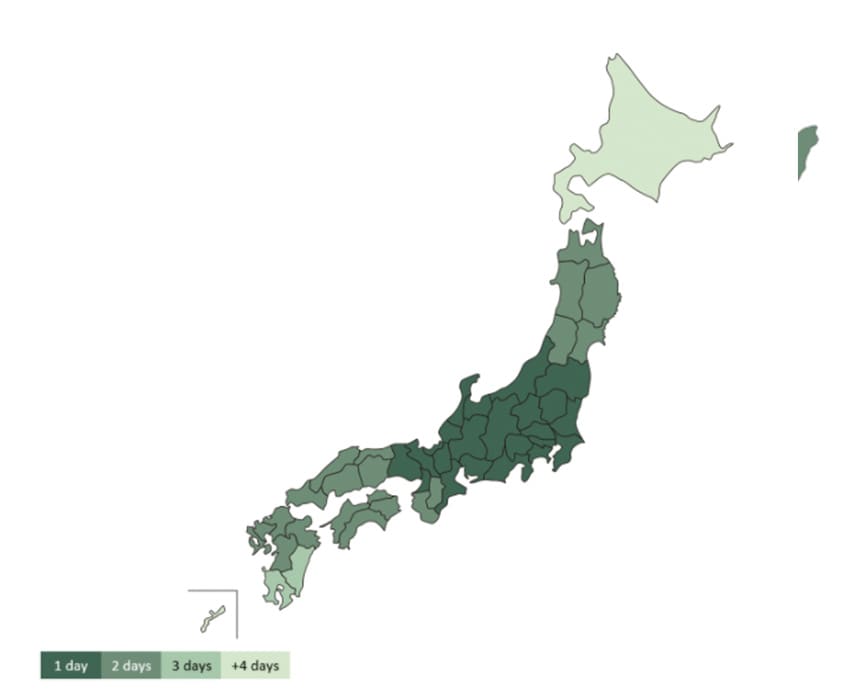 NOTE: Above map is for Opt In parcel shipments with a standard service level. Business Days are Monday through Friday, excluding holidays observed by Seino.
Other International Locations
International shipments not going to North America or Europe will generally arrive in 2-5 days. If an opt-in shipping method has been chosen, Cisco-Meraki will ship the orders with the best courier option for the region, typically with UPS. UPS offers different international shipping options depending on the territory: UPS Worldwide Expedited: 2-5 days transit time.
Canada
Cisco Meraki will ship to Canada with the best available courier service. Any shipment to Canada will ship via FedEx and use the paperless process. The commercial invoice is therefore electronic and will not be included in the shipment.
Ground service to Canada will generally arrive in 2-7 business days. The further east a shipment has to travel, the longer the transit time. Expedited shipments to Canada using an expedited method will usually lead to decreased transit time depending on the transit times each courier can offer.
Mexico
Cisco Meraki will ship any UPS or FedEx parcel shipment, and Expeditors for freight to Mexico using a paperless process. The commercial invoice is therefore electronic and will not be included in the shipment.
Expedited shipments to Mexico will generally arrive in 2-5 business days. Any delays with customs could impact stated delivery lead times.
Australia and New Zealand
Shipments to Australia and New Zealand will ship from our US distribution centers and will arrive into the country based on the carrier transit capacity, international shipping carriers are different, depending on the receiving country.
Australia: Cisco Meraki will ship via DHL shipments using a paperless process. The commercial invoice is therefore electronic and will not be included in the shipment.
In case of any further questions about shipping, please contact your reseller/distributor, or open a case on the Cisco Customer Service Portal.
End Customer Agreement
---
Last Updated: November 17 , 2020
Use of the Cisco Meraki products is governed by the Meraki Offer Description, published at https://www.cisco.com/c/dam/en_us/about/doing_business/legal/OfferDescriptions/meraki.pdf 

Cisco Meraki provides certain translated versions of the Meraki Offer Description at the links below. Please note that these translations are provided for reference purposes only.
To view the Cisco Meraki Offer Description in Japanese, please click here.
To view the Cisco Meraki Offer Description in Chinese, please click here.
To view the Cisco Meraki Offer Description in French (Canada), please click here.
Open Source/Licenses
---
This page contains versions of the RedBoot bootloader, Linux kernel and OpenWRT distribution modified to run on the Meraki hardware, along with associated licenses. Please note that custom firmware images are not supported by Meraki and may put your device in a non-working state. Devices with custom firmware images are not covered under the limited warranty.
Enjoy!
Third Party Licenses
---
The following products are subject to the VRT Certified Rules License Agreement:
Systems Manager Free 100 Terms and Conditions
---
Last Updated: April 2017
Note: Sign-ups for the Meraki SM free 100 program have been discontinued and replaced with instant free trials as of the end of January 2017. For more information, view the blog post here or contact your Meraki sales rep.
Potential customers can manage 100 devices in order to try Meraki Systems Manager (the "SM Free 100") at no cost. To be eligible for the SM Free 100, participants must:
Provide valid information on the signup form, including your company email address
Be directly employed by your company
SM Free 100 is only for internal use by your company. It is not for resale, distribution or service bureau use.

Limit one SM Free 100 per organization and per individual.
Your use of Systems Manager is governed by our End Customer Agreement. By accepting the SM Free 100 you represent that you are authorized by your employer to accept the SM Free 100 and that you will disclose receipt of the SM Free 100 to your employer as and if required. Notwithstanding the End Customer Agreement, Cisco Meraki may terminate the Free 100 program at any time, including managing up to 100 devices at no cost – but if we do that, we'll give you plenty of notice. The recipient is responsible for taxes and duties, if any. Please contact your Cisco Meraki rep if you have any questions.