Get proactive visibility with ThousandEyes, now available on Meraki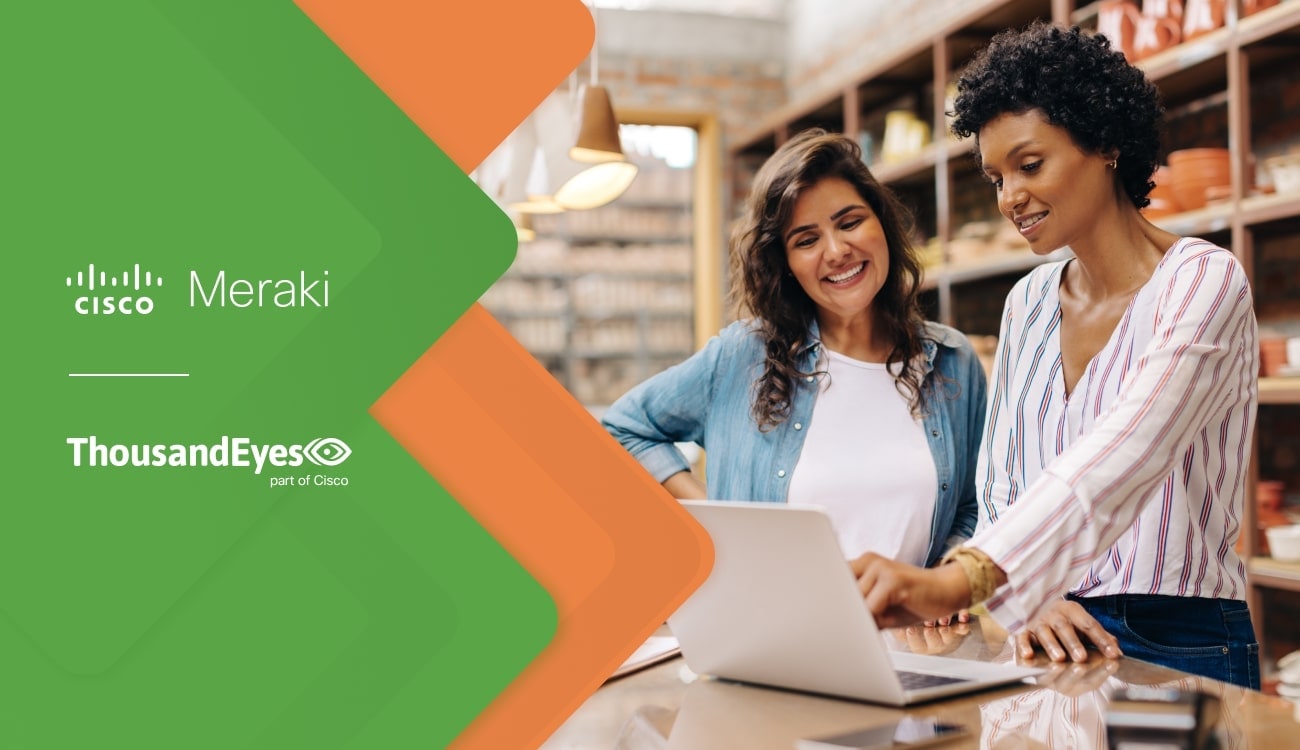 The modern IT practitioner knows that with today's ever-increasing demands, technology infrastructure is being maxed to its limits. Your infrastructure—from hardware and software to teams and sites—is highly distributed. Much of what you rely on resides outside of your network on the public internet, where you traditionally don't have control or visibility.
This means that while your team has access to more technologies and tools than ever before, there are also new challenges to creating great experiences across your network.
New capabilities with a hybrid infrastructure
A distributed and hybrid technology infrastructure offers capabilities previously unavailable to businesses. Many IT teams have adopted this model, and as such, the hybridized array of applications and tools they support are being used to capacity, demanding more bandwidth than ever.
This means you're likely accountable for more touchpoints and have more areas of your network to analyze when issues arise, which inevitably makes it harder to identify and resolve issues, risking downtime when the associated business costs are higher than ever.
Gain visibility of SaaS applications outside your network
To help you provide consistent, always-on experiences, Cisco Meraki is pleased to announce the general availability of support for ThousandEyes on Meraki networks. Natively integrated into Meraki MX security and SD-WAN appliances, ThousandEyes on the Meraki platform enables proactive monitoring of your SaaS applications across the internet and application servers—domains traditionally outside of your IT team's control.
This reduces the time to identify the root cause of issues and provides detailed insights to prevent negative digital experience of your users.
Meraki offers the only secure SD-WAN solution that fully integrates ThousandEyes agents into its WAN appliances, so that you can configure and run tests efficiently and at scale from the same dashboard you use to manage your networks end-to-end.
Get ahead of problems before you're aware of them
When you're getting started, you'll identify an array of core applications and networks that you want to pay close attention to. With this offering, you can quickly activate ThousandEyes agents at scale across your network to continuously monitor SaaS application performance.
Combined with an integrative platform approach to secure SD-WAN (and more), the Meraki platform helps you automatically identify and resolve issues, often before users or administrators are even aware there's a problem. With ThousandEyes Network Intelligence on the Meraki platform, you can rapidly flag and communicate any performance issues occurring across the enterprise.
Deliver the 'wow' factor
Creating technology experiences that wows users, customers, and IT professionals alike is not only possible, but simplified, thanks to this new integration with ThousandEyes. Business customers using Meraki on the Advanced Security and Secure SD-WAN Plus licenses can take advantage of the ThousandEyes integration today by activating it on the Meraki dashboard. Those on the Enterprise license can try the complete Secure SD-WAN Plus experience with ThousandEyes here. You can also call your Meraki rep to learn more.