Find out what it takes to become a Meraki Systems Engineer, and how this could be your next fantastic career opportunity.
Meraki is a fun, vibrant, energetic place to work, but beneath our friendly face lies advanced enterprise-grade technology. Systems Engineers (SEs) are a vital team at Meraki, as they form the technical backbone of our daily sales operations. These tech-savvy characters work closely with our awesome sales reps, provide trusted support to our customers and partners around all pre-sale activities, and act as Meraki evangelists within the industry.
Do you have networking experience? Are you in love with the Meraki solution? If so, great! We're hiring for more SEs!
Our ideal SE candidate will have a strong routing and switching background, with an early-adopter mentality toward new technology and business models. Some requirements include a college degree, experience in pre-sales or customer-facing projects, and exceptional communication skills and attention to detail.
From there, we have opportunities for two types of SEs – read on (and watch!) to see which role would fit you best.
Systems Engineer
This role is based in a Meraki office (either San Francisco, London, or Sydney). You will become a Meraki solution expert, and then act as a technical resource to the Meraki Sales Team for pre-sales activities and product-related inquiries. There are many opportunities for career development through daily interactions with customers and partners, opportunities to travel in territory for customer or partner visits, and internal cross-function collaboration with Product Management, Product Development/Engineering, and Technical Marketing.
Consulting Systems Engineer
In this more senior role, your primary responsibility will be to team up with a stellar Product Sales Specialist and perform technical pre-sales activities for new and existing opportunities. We do require that you have 3-5 years of pre-sales (or equivalent customer-facing) experience.This role generally works remotely, and travels up to 50% to customer sites and Cisco offices. You will be a traveling Meraki guru! There are many positions open globally, including North America, Latin America, Europe, and Asia – check out our jobs page for more details.
Hear more from Dan Pittelkow, Global Director of Inside SEs, and Rob Casselman, Senior Director of Worldwide Systems Engineering, about who we're looking for and what working on the team is really like:
Dan Pittelkow, Global Director of Inside SEs
Rob Casselman, Senior Director of Worldwide Systems Engineering
We hire around 1% of all applicants and have been told that our interview process is one of the most challenging in the industry, but also a great learning experience. If you want to join one of the fastest growing SE team at Cisco, check out the complete job descriptions, requirements, and office locations on our jobs page. We can't wait to meet you!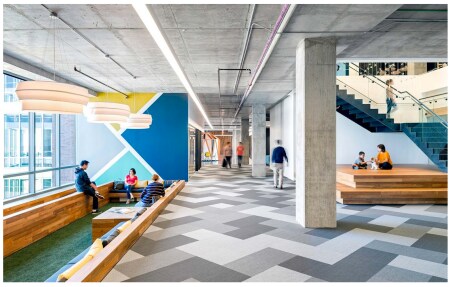 Our office isn't too shabby either – come join us!