Universities drive student engagement and recruitment with esports program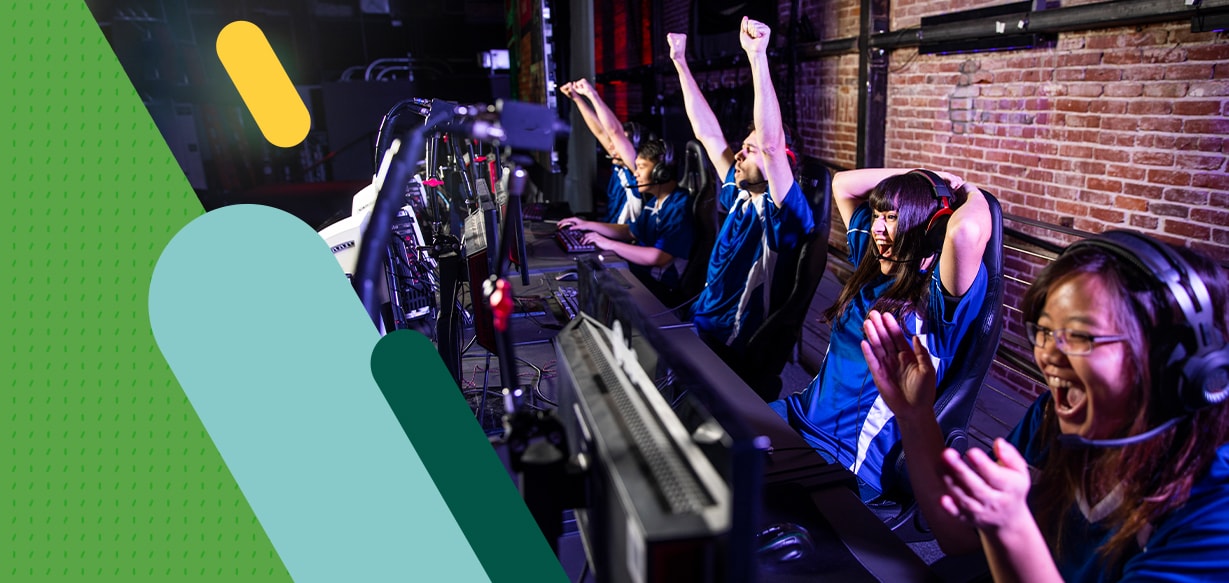 In the summer of 2016, the National Association of Collegiate Esports (NACE) was formed. Three years later, ESPN Events announced the first-ever ESPN Collegiate Esports Championship (CEC), where hundreds of colleges across North America would compete in a variety of online games—from League of Legends to Call of Duty to FIFA.
Then came 2020, just a year after the inaugural tournament, and it felt like "game over." With the pandemic leading to canceled events and in-person activities, schools were forced to close their doors and open virtual classrooms. From kindergarten through graduate school, populations of students from around the globe were online in remote settings, but still connected with peers thanks to the web.
Attracting a new team of student athletes
While many athletes could no longer compete on their respective playing grounds, some found footing in a new competitive gaming environment and were connected to an already growing community. This increased interest helped to level up collegiate esports gaming by capturing the hearts and minds of student athletes during this time of hybrid learning flux; schools took notice—and acted.
By building competitive programs, modernizing facilities, and updating their technology, colleges and universities have learned and are continuing to find they can attract new students and enhance intercollegiate athletic experiences for both players and spectators alike, regardless of where they are.
Transforming spaces into multi-use arenas: Ottawa University
Ottawa University (OU) in Kansas took an innovative and sustainable approach to creating an esports space for their Braves gaming team by repurposing an unused theatre from 1906 into a multi-use gaming area.
Adam Caylor, the school's CTO, worked with Cisco Meraki alongside his IT team to power the space with a reliable, secure connection that could support up to 200 devices at a time as well as segment the network.

Because of the multi-use nature of the space, OU relies on Meraki to segment the on-campus network from the esports network, which comes with its own unique requirements for online gaming. The wired network infrastructure is essential to the competitive online environment to prevent ping or latency.
Because of the multi-use nature of the space, the old theater went from not being used at all to becoming a place for learning and gaming all in one.
Glitch-proof gaming for the win: Illinois College
When deciding to launch their esports program, Illinois College knew they needed a high-density, reliable, and secure network to support a room full of gamers eager to win the League of Legends championship without a glitch.
They built a brand-new facility in the middle of campus and equipped it with Meraki MR access points, MS switches, and MX security appliances, which help create a reliable, secure gaming environment for students. The team can now compete in tournaments without latency or network outage issues.
Illinois College currently has a dedicated gaming center powered by Meraki solutions, complete with computer and console gaming stations, and is continuing to grow. The college's athletics program now provides full-ride scholarships to students wanting to join the esports team, opening up new opportunities and incentives to prospective students.
Hybrid learning, hybrid sports
NACE collegiate members with varsity esports programs have grown from 7 in 2016 to over 240 in the United States today, with no sign of slowing. As colleges and universities reimagine how they can offer enhanced student experiences in a hybrid environment, offering competitive esports programs may be just the assist they need for the win.
Learn more about how Meraki helped Ottawa University and Illinois College take an innovative approach to esports.