Meraki Achieves STAR Registry and Trusted Cloud Provider Certification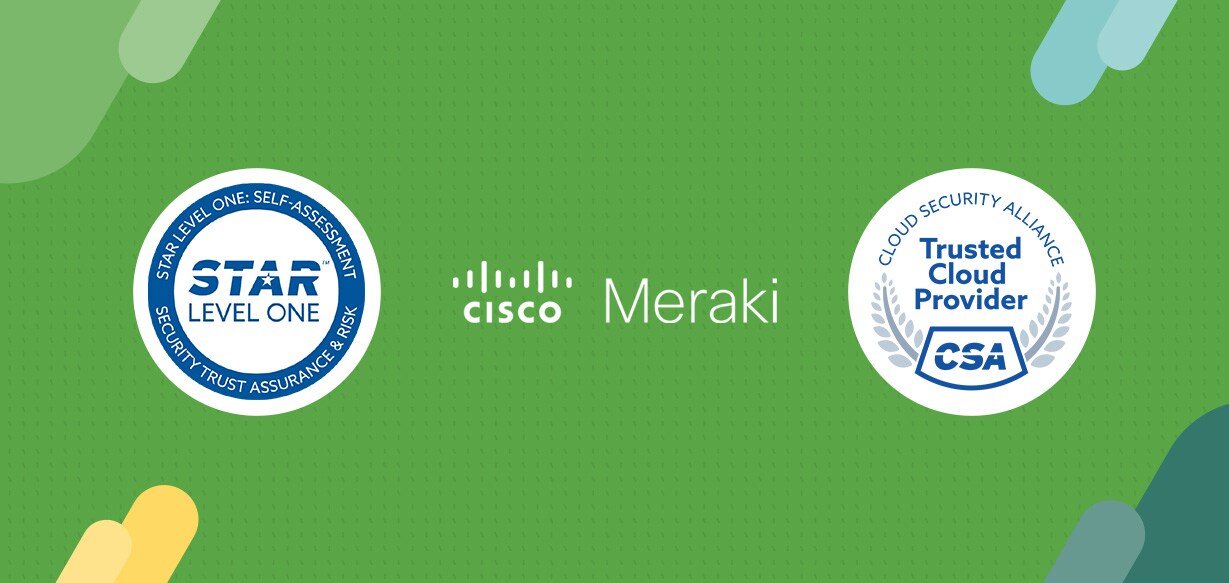 Cisco Meraki is now certified in the Cloud Security Alliance (CSA) registry. Organizations who have the CSA Trusted Cloud Provider and STAR (Security, Trust Assurance, and Risk) Seal demonstrate a commitment to organizational security. STAR is the industry's most powerful program for security assurance in the cloud. The STAR Registry is publicly accessible and documents the security and privacy controls of cloud offerings.
Achieving this certification may come as no surprise to some. Delivering security that is powerful and resilient—yet simple to manage and deploy—is something we at Meraki have been executing for years, yet it has never been more critical than it is now. Very few companies are running without cybersecurity and physical security systems in place. As businesses grow and more systems move to the cloud, companies must continuously evaluate their security strategies to identify and mitigate evolving risks.
That's why Meraki is committed to providing a product and service that's secure from the bottom up, without added complexity. Read on to discover the ways that we deliver on that promise.
Secure from concept to production
Meraki radically simplifies how organizations securely connect their people, devices, and applications anywhere by combining best-in-class networking and security—by design.
All Meraki products are designed from the ground up to be secure through the Meraki Secure Development Lifecycle (MSDL) process which helps secure our products and solutions from concept to production, throughout their entire lifecycle. By combining tools and libraries, processes, digitized validation, and awareness training, MSDL aligns engineering teams with industry-leading security and privacy technology and best practices to build security in from the start. This includes Cloud Security development requirements for X-as a Service (XaaS) solutions built into the MSDL for Cloud process.
Compliant for peace of mind
Just because your data is in the cloud does not mean it has to be vulnerable. Meraki keeps your data segregated from other users and provides granular access control for the different networks and IoT devices in your environment. And our data centers meet some of the most stringent security compliance standards in the world, including PCI, ISO 27001, and SOC 2 Type 2. Configuration data is encrypted in transit and at rest in the cloud, preventing unwanted changes and potential snooping.
Meraki also has 24/7 automated intrusion protection, IP and port-based firewalls, two-factor authentication, and can restrict remote access by IP address and verify it by public key (RSA). Systems are not accessible via password and administrators are alerted about any configuration changes, so no matter what happens, you know your data is secure.
Protecting what matters
Our customers benefit by confidently deploying trusted solutions designed and built with security in mind and aligned to meet or exceed expectations
Our development teams benefit from following a mature process with vetted tools and solid solutions resulting in a more secure product
The Meraki Secure Development Lifecycle process is all about keeping our customers' business resilient and protected while removing complexity. Delivering security that is simple, powerful, and resilient is something we have been executing for all products and solutions from the start. Achieving the Cloud Security Alliance STAR Registry and Trusted Cloud Provider Certification is validation of our by-design security efforts. Learn more about Meraki's trustworthy solutions at Trust | Cisco Meraki.