Key Meraki solutions and best practices to help your business grow and adapt to a new cloud-first world.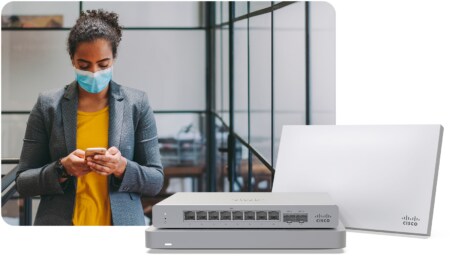 At this year's Spiceworld virtual event, our Cisco session centered on how small businesses can escape the IT jungle and go beyond just surviving to thriving. 
We know you're facing business uncertainty and disruption to your daily operations right now, so it's all the more important that any investments you make will bring short-term and long-term success. 
Here are our top five solutions for your business to grow, adapt, and stay resilient.
1. Accelerate your business with the Meraki platform & APIs
When it comes to building innovative solutions, investing in a platform with open APIs will provide the building blocks you'll need to thrive in your industry.
The Meraki platform is an engine that powers everything behind the scenes of your network. It provides the underlying cloud infrastructure of our product portfolio and uses machine learning to give you rich analytics and extensible APIs to optimize your network. 
Take Sally, for example, an IT director at a health care clinic. She's looking to invest in a reliable and flexible network that will save time. With the Meraki platform, Sally can save countless team hours in troubleshooting, easily and remotely identifying issues in real time, down to the device, user, and application. No more time wasted going on-site. 
To top off their cost savings, Sally is able to supercharge their business using Meraki APIs. Her clinic's developers can use new apps in the Meraki Marketplace for key COVID-19 needs, such as Skyfii's OccupancyNow web dashboard, which integrates with their Meraki Wireless Access Points. They'll be armed with the ability to quickly integrate new technologies to both track occupancy in real time and comply with social distancing. 
Getting started: Access the Meraki platform through our dashboard & mobile app, and/or through our APIs. Get a free demo here. 
2. Enable safe operations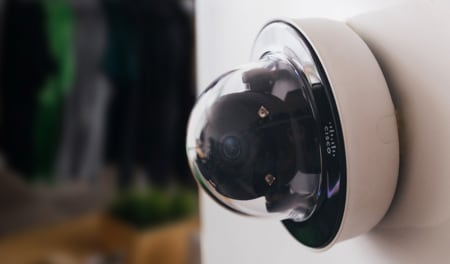 With many businesses having to redesign physical environments for safety, we've made it easy to track occupancy levels while keeping you securely connected. 
Imagine Jim is an IT director at a beverage equipment manufacturer. He needs to find a way to see what's happening in the warehouse while complying with new health guidelines. Meraki MV smart cameras are the perfect extension to their small IT team. It enables them to move away from their outdated network video recorders (NVR) to a scalable cloud-based solution. 
More importantly, deploying MV smart cameras both indoors and outdoors enables Jim's team to save time by remotely monitoring activity in and around their plant. They're also able to maintain safe occupancy through advanced analytics like object detection and tracking. 
3. Unearth new business opportunities 
Discovering new ways to work is critical to unlocking new revenue streams. Our wireless products provide advanced features beyond reliable Wi-Fi, making it easy for you to find new opportunities. 
Let's say Danny is IT manager for an electronics retailer. Danny needs to quickly launch curbside pickup with outdoor Wi-Fi to keep their point-of-sale devices securely connected to their network. He also wants to enhance customers' experiences by providing free Wi-Fi as they wait in line. As always, he needs to ensure any new IT investments provide a positive return. 
Meraki MR Wireless Access Points offer a simple plug-and-play solution. They let Danny create outdoor Wi-Fi coverage for curbside pickup in less than 20 minutes. He can also happily report an increase in revenue from the built-in location analytics. By monitoring foot traffic and dwell time at multiple locations, the retailer can move staff from less busy hours to peak visitor times.    
4. Prevent cyber attacks 
Your company and customers are relying on online connectivity to function. A cyber attack can leave devastating effects on your business. This is why security is at the forefront of all our IT solutions.
Back at Danny's electronics store, upgrading to advanced security devices to protect their retail sites from malicious threats is a top priority. After seeing how easy and cost-effective MR wireless deployments are, they're able to remotely set up Meraki MX Security & SD-WAN appliances in minutes. 
They're now equipped with world-leading enterprise-grade security backed by Cisco Talos  threat intelligence, which is automatically refreshed every 24 hours. Auto VPN keeps their data encrypted and allows them to build VPN tunnels that securely connect their three locations in just two clicks, without tedious manual VPN configuration. 
5. Secure remote workers
As more small businesses migrate to fully remote or hybrid models, our technology has enabled teleworkers to be quickly and securely deployed. 
Back at Sally's health care clinic, they evolve to a hybrid remote workforce for their nursing staff. Sally's IT team deploys the Meraki Z3 teleworker gateway for nurses working from home, for fast, reliable, and secure online connectivity. On top of stateful firewalls, VLAN support keeps their clinic's data secure by isolating their business network from their employees' home network. 
With time savings as a key driver for Sally, her team also embraces Meraki Insight. It lets them monitor the performance of business apps used by their remote nurses to easily troubleshoot and advise teleworkers of any issues with their home internet connection. 
Building for tomorrow
Whether you're Sally, Jim, or Danny, we know times are tough today. New challenges seem to continually emerge and test the resiliency and fabric of the business you built from the ground up. 
We designed our IT solutions for small businesses to be simple, secure, and smart. Ultimately, our goal is to help you rapidly adapt and overcome any disruption. 
In the words of Bidwells, one of our Meraki customers: 
"We needed streamlined productivity and future-proofing. Meraki was easy to configure, included built-in centralized management, and worked easily with our firewalls. It saved us 60% vs. traditional solutions, and enabled a new 'work anywhere' culture." 
Want to see our Meraki solutions live? Sign up for a free demo. Learn more about our Meraki products, or visit our developer Marketplace for our Meraki platform & APIs.