Monitor the health of ALL of your organization's uplinks in one place
Cisco Meraki has always been fortunate to have the luxury of working to an MVP (minimum viable product) strategy thanks to our cloud-based model. It allows us to launch products, capture feedback from customers, and push out new truly impactful features incredibly quickly. Existing customers enjoy new features with zero cost and complexity, and for new customers, it becomes an even more irresistible product.
Recap of Meraki Insight
Earlier this year we introduced Meraki Insight and true to our MVP philosophy, we launched focusing on one primary use case. Recognizing the huge growth of web application usage, particularly for business-critical applications, the first use case Meraki Insight addressed was tracking performance of web applications. Complete end-to-end performance, in fact, from the client right through to the server where the application lives, which could very well be on the other side of the world. Bringing all this information together in one place allows network admins to identify the root cause of application performance issues from days to a matter of minutes. Meraki Insight even goes as far as to suggest what it believes to be the root cause of performance issues.
For the first UI to show how critical apps are performing, we applied a percentile performance score for each application based on several thresholds, such as per-flow goodput (true payload data rate) and application response time. Customers, however, told us that what they really wanted was a quick at-a-glance overview to show the status of the application on the LAN, WAN, and server. Within a matter of weeks after launch we garnered feedback, developed a UI based on that feedback, and shipped the updated UI to all customers.

The rapid evolution of the Meraki Insight UI based on customer feedback
WAN Health
Building on the success of the first use case, we've now added another to make life for network admins even simpler. We're pleased to announce the availability of WAN Health for Meraki Insight. WAN Health provides an at-a-glance view of the status of all WAN links, including cellular, across all sites on one page in the Meraki dashboard. Not only does WAN Health provide an up or down status of uplinks, but also how they're performing, and subsequently which tracked web applications are being impacted. Network admins can easily filter uplinks across their organization to show primary, secondary, or cellular uplinks, by ISP, network tag, and by network.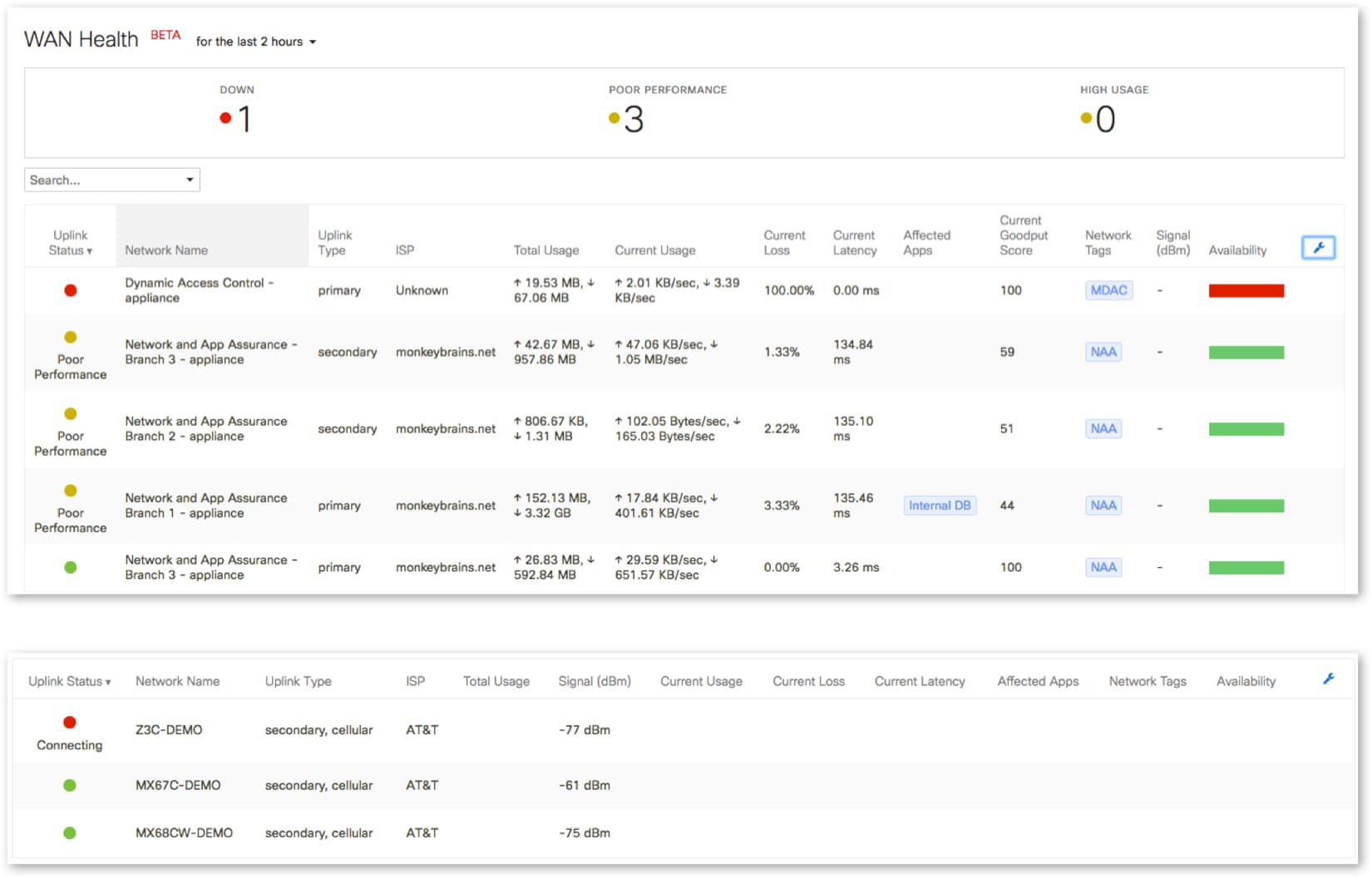 Monitor the health of all MX uplinks, including cellular, across all sites
Insight to be gained from WAN Health
Quickly identify downed uplinks, including cellular across all sites

Easily monitor signal strength for cellular uplinks across all locations

Quickly isolate sites with underperforming uplinks to make the case for switching ISP or adding cellular as failover

Discover which sites are most reliant on cellular as failover
The perfect companion for the latest MX models
During our last MX launch we introduced no less than seven new MX models to cater for the demands of the modern and future branch. All the new MX models are equipped with two wired WAN links as well as classic USB 3G/4G cellular, and 3 models include an embedded LTE modem. With so many uplink options, WAN Health is the ideal addition for the new MX models and is available in GA across the range.
We've received tremendous feedback for WAN Health from customers already excited about being able to access key information about all WAN links in their organization in one place to further enhance the ISP troubleshooting capabilities of Meraki Insight. Try out the newest MX models – enabled with Meraki Insight – for free and let us know what you think of WAN Health in the Meraki Community.