Providing free Wi-Fi to shoppers is just the tip of the iceberg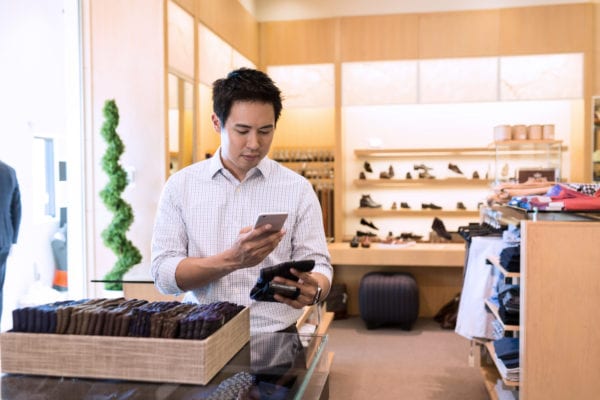 For many retailers, providing free guest Wi-Fi is no longer a perk; it's a basic cost of doing business. Customers expect to be able to log on to free in-store Wi-Fi to surf on their smartphones and make video calls to their friends while they're shopping. By now, most retailers have acquiesced to customer demand and installed high-speed wireless networks in their stores.
Although most retailers provide free Wi-Fi to their guests, many stores may not be leveraging this infrastructure to its fullest potential. Retailers should be taking advantage of the wireless infrastructure they've already invested in to learn more about their customers, modernize their stores, and provide first-class customer experiences.
1. Learn more about customers through location analytics
Today, nearly all shoppers are carrying smartphones while they roam around stores. In fact, a 2017 Deliotte report noted that 93% of U.S. smartphone owners use their phone while out shopping. This technology gives customers an unprecedented ability to look up anything and communicate with anyone. It can also help retailers with advanced wireless setups track how customers navigate within a store, and use this knowledge to merchandise as needed.
When a phone's Wi-Fi radio is turned on, it sends out probes to wireless access points. This occurs whether the phone is actually connected to a Wi-Fi network or not, since smartphones are constantly hunting for new Wi-Fi networks to populate the list of available networks nearby. Using these probes as data points, wireless systems can triangulate shoppers' locations within a few meters. Bluetooth Low Energy (BLE) beacons — popularized as iBeacons by Apple — can take this even further and track shoppers to within inches of their locations. For instance, a home improvement retailer could know whether a customer is looking at sinks or at toilets based on their location.
Advanced systems, like Cisco Meraki Location Analytics, can present this precise location data in a number of ways benefitting retailers. For example, retailers can use location heat maps to see where their customers are walking within the store and appropriately arrange displays or staff certain areas based on actual customer engagement. Learn more about the possibilities of Location Analytics by reading this blog post.
2. Support more modern infrastructure
An upgraded wireless experience can serve as the catalyst for greater infrastructure updates that reduce cost and improve the customer experience. Two areas of technology that have seen rapid evolution in the last decade, and that matter a great deal in the retail space, are security cameras and mPOS (mobile point-of-sale). Incidentally, both IP cameras and mPOS rely on robust wireless deployments in the store.
Security cameras have gone from recording limited, grainy footage onto analog video management systems to recording high-definition video that can be streamed online from anywhere. As a result of these rapid technological advancements, retailers are increasingly adopting the newest camera models, which come fully equipped with wireless connectivity, to monitor in-store activity. These cameras, often deployed in places where Ethernet cords can't easily reach, require a wireless network connection to send captured video to the server.
Similarly, most mPOS devices today don't use Ethernet for connectivity, necessitating the use of a fast wireless network to process and complete transactions quickly. mPOS has burgeoned recently in large part thanks to the explosion of smartphones: companies like Square have modernized — and for some retailers, eradicated the need for — traditional cash registers.
Retailers with up-to-date, fully secure wireless networks are ready to support these technologies to the fullest extent.
3. Enable exceptional omnichannel experiences
As Amazon has shaken up the retail world over the last decade, omnichannel shopping experiences — experiences that are consistent whether a shopper is buying in-store or online — have become part of the retail zeitgeist. Delivering a comprehensive omnichannel experience requires retailers to collect and combine information about customers' in-store and online shopping habits.
Retailers with robust wireless deployments are in a prime position to build a sophisticated system that helps them learn more about their customers' shopping activities. Once a shopper logs on to a store's Wi-Fi network, a whole host of possibilities opens up, especially if they're already known (a repeat visitor) or their identity becomes known thanks to a splash page integration, like Facebook Login. From that point onward, customer activities that integrate with the network can be tracked and their experiences personalized.
For example, when a shopper who buys a pair of heels on a retailer's website then wanders into that store's dress aisle, she can be presented with an ad on her smartphone for a dress that matches the shoes. Additionally, based on the network bandwidth consumed by different mPOS terminals, stores can determine which checkout counters are the least or most popular and make staffing adjustments accordingly. Solutions that bring APIs into the mix can take this one step further by integrating activity on the network with retail loyalty programs or CRM systems. The possibilities are endless for IT administrators looking to build custom solutions that help retailers ensure consistent shopping experiences across channels.
To learn more about why Meraki is a great fit for retail, check out our retail webpage, read a customer case study, or sign up for our upcoming Meraki for Retail webinar on January 24, 2018 at 11 AM PT.