Highlights of the evening through the eyes of our interns!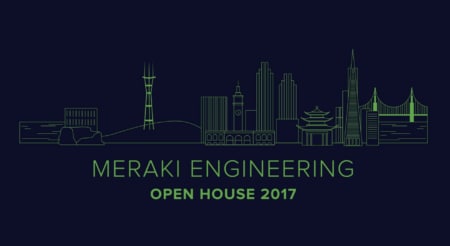 Written by Katie Fallon
On July 27, the Cisco Meraki Engineering Team opened their doors for the second annual Engineering Open House. The Open House gave visitors a chance to check out the Meraki office and learn more about what each team does on a daily basis.
This event provided attendees with the opportunity to hear from the engineering leadership team, followed by time to explore the office and visit the pod of any team that piqued their interest. Our engineers presented live demos about current projects, discussed technical challenges, and shared the future of Meraki's products while also answering questions from the audience. Attendees engaged in a wide variety of discussions, from technical topics to learning about Meraki's culture to understanding a day in the life of an engineer here.
Our summer interns were heavily involved in the execution of this event, and for this blog post, we invited a few of them to share their perspectives. The interviewees include Chris Smith, a rising senior at Carnegie Mellon University currently interning on the MX (Security Appliance) Platform Team, Rucha Vaidya, a second year Master's student at CMU interning on the MX Routing Team, Lucas Christian, an incoming senior at Georgia Tech interning on the MC (Phone) Team, and Saurav Das, a rising senior at the University of Maryland interning on the Backend Security Team.
Let's hear what some of them had to say about the evening!  
How were you involved in the Meraki Open House this year?
Lucas: I spent some time networking with attendees, then presented a demo at my pod as the attendees walked around and explored the office. I had an opportunity to demo the work I had done on integrating accessibility for the blind into the MC product line. While I always enjoy talking about what I've done, it was equally cool to meet one attendee who had worked on a similar project during his time interning at another company.
Rucha: I was involved in the Open House this year through a demonstration of BGP (Border Gateway Protocol) and its use case in the MX. It was really fun to explain what I had understood during my time here, and it truly felt like I belonged at Meraki. Just 2 months ago, I was the one asking all of the questions and at the Open House — this time, the tables were turned and I was the expert!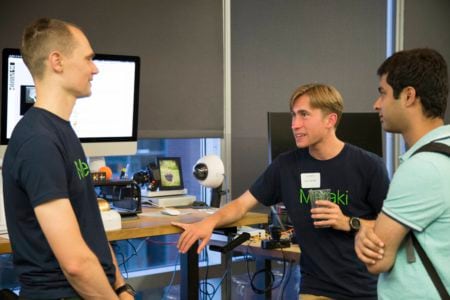 What was your favorite part about the event?
Chris: When someone walked up to my desk, I had the pleasure of explaining what Meraki is and what makes our products special. I didn't just talk about my project. Making a virtual MX is cool, but most people don't even know what a physical MX is, let alone why customers are demanding virtual ones. With each group, my explanation started from the basics of the Meraki business. Eyes lit up as visitors experienced everything from our office to our dashboard for the first time.
Saurav: I enjoyed the networking and food before the event. There was a casual atmosphere and I had a chance to walk around and talk to a lot of people. I was surprised to meet several familiar faces, mostly people that I didn't personally invite. I had a chance to catch up with all of them and ask how they heard about the Open House. I thought it was cool that all of Meraki was easily identifiable by the same shirt, and it felt like I was representing the team.
Why do you think it is important for companies to host these kinds of events?
Rucha: It is really important for companies to host these events because it gives a first-hand look into what it's like to work there and the kinds of projects people are involved with. If attendees can imagine themselves working here, they will be eager to apply. Also, word-of-mouth is the most convincing advertisement for any company.
Chris: The visitors are not the only ones learning. The engineers presenting their ideas learn, too. To showcase your project to people who do not spend all day thinking about it, you need to distill the ideas into what's essential. What problem are you solving? How is it valuable? Speaking at length about a technical topic well is an important skill.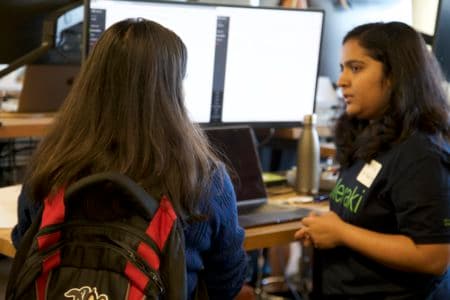 Open House gives guests an inside look into Meraki Engineering's culture—is there anything you'd tell people about working at Meraki that they may not have picked up on during the open house?
Lucas: Every company's culture is different in ways you can only really put a pulse on after working there for a few weeks. Perhaps the most significant aspect of Meraki I've come to appreciate is how every engineer is essentially "full stack" to some extent. Even as a primarily firmware engineer, if my project crosses over into Dashboard UI I am empowered to follow it there. Resources like the UI office hours and weekly meetups ensure I have enough knowledge to properly work on those areas of the codebase.
Saurav: Most developers at Meraki make at least a couple presentations a year. These tech talks are a great way to keep up with ongoing projects. The presenters often explain how they approach their problems and share specific techniques. I am working on a presentation for my internship project, and I am both nervous and excited to share my work over the summer.
Chris: There are usually more dogs here during the workday. :)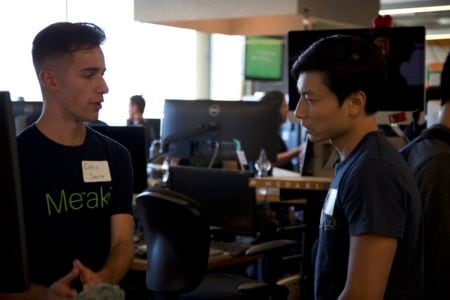 Thanks for the insight Chris, Rucha, Lucas, and Saurav!
Interested in opportunities at Meraki but were unable to attend the Open House? Check out our open positions at meraki.com/jobs or be on the lookout in late August for our fall campus schedule!