The latest exciting updates from the Meraki team
The innovation engine never stops churning at Meraki. Today we're delighted to announce updates to two of our product lines: MX security appliances and MV security cameras. Let's get straight to the details.
New Virtual MX Appliance for Amazon Web Services
Every day, more companies are migrating IT services they previously hosted on servers in a physical data center to a public cloud, like Amazon Web Services. Meraki customers have long enjoyed having less hardware to power, cool, and maintain: no controller for the APs, no PBX for the phones, and no NVR for the cameras. This same benefit is attracting organizations to stop running their own servers, or simply reduce the number, by moving the services they provide to the cloud.
Meraki MX security appliances have been able to provide a VPN to these public cloud services for some time now, but these connections to a third party required manual configuration. Wouldn't it be great if the legendary simplicity of Meraki Auto VPN could be made available for connection to these public cloud services? Allow us to introduce vMX100: Auto VPN and SD-WAN for Amazon Web Services.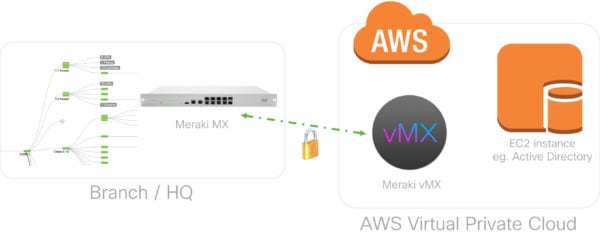 Virtual MX enables Meraki customers to extend Auto VPN and SD-WAN functionality directly into the Amazon Web Services public cloud.
Appears in the dashboard, like any other MX security appliance

500 Mbps VPN throughput

Bring Your Own Meraki License (BYOL). Choose from 1, 3 or 5 year licenses to get started

Connect to dashboard organizations with Enterprise or Advanced Security licenses
Secure connections built to a virtual MX benefit from the same SD-WAN capabilities as a physical MX appliance. An optimal path can be maintained using Dynamic Path Selection, for traffic destined for regular servers in a datacenter behind a physical MX, or EC2 virtual servers behind a virtual MX.
To learn more about setting up the new vMX100, please see our documentation.
Meraki MV Gets Optimized Retention & Export Timestamps
We're also announcing two optimized video retention features for MV customers, addressing the most requested feature since the product launch in October: extended retention times.
With Motion-Based Retention turned on, cameras

intelligently discard video footage more than 3 days old that does not contain any motion, significantly extending retention times.

Scheduled Recording can now be configured using templates, for either individual cameras or groups of cameras.

Video exports now also feature timestamps on the exported footage, embedded as a watermark, providing strong evidence for authorities.
We'll have a more detailed post covering our Meraki MV announcements later this week.
In everything we do, at Meraki we're focused on streamlining the world of IT so that organizations can focus on making a difference for their customers. Today we've announced another small but significant step, enabling Auto VPN simplicity for those using or migrating to Amazon Web Services, plus answered the call of many MV Security Camera customers who need longer storage times for their captured video.
There's no better way to know whether Meraki is a good fit than to take it for a test drive. Click here to begin the journey.