Upload a photo of your switches in dashboard to help you remember where and how they're installed
In the recent updates to the Meraki switch view, a subtle yet powerful feature has been that lets users upload a photo of any switch and install location. This can come in handy, particularly when managing lots switches or locations. Take for example a retail store that just lost the network connection to one of their point of sale systems. A network engineer that's remote to the store can pull up the location photo to quickly help the store manager identify which ports to look at, and check physical connections. Combine this with the many other troubleshooting tools available throughout dashboard, and the engineer can help get things back on track in no time.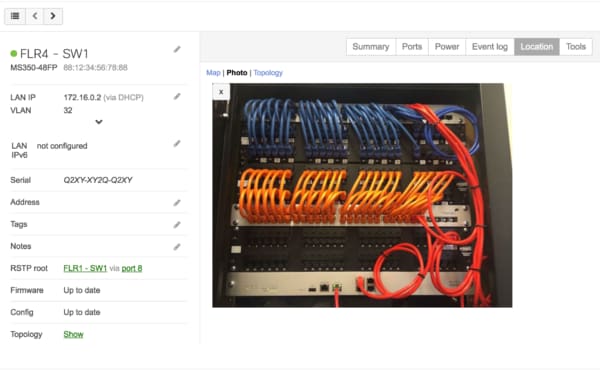 Source: Digital image. "Patch panel / switch" by jdelshad, reddit inc.
To get started, either download and install our mobile app for iOS or Android to take the picture directly, or use a previously saved photo by going to the switch view in dashboard, and then selecting the Location tool. Once selected, you'll see a "map", "photo" and "topology" view. Choose the "Photo" view and simply drag and drop the picture into the grey area, or click to select one for uploading – it's that easy!
Stay tuned for more In the know posts featuring subtle yet useful features across the entire Meraki portfolio of networking and IT products, and let us know what you think!