See the impact of energy saving on Meraki switches
Soon after the introduction of our cloud managed switches we provided the opportunity to create a port schedule on Meraki switches. The ability to turn ports off when not required serves as both a security feature and a means to save energy. In terms of security, it may be desirable to prevent access to the network outside regular office hours, or to restrict phone access to specific areas of a building.
Switching off ports connecting to PoE devices also has the beneficial side effect of reducing overall power consumption. Some of these devices – VDI terminals, for example – can consume as much as 30 Watts each, so power savings can quickly add up if applied to many such power–hungry devices. But how does the network engineer see, and better yet report, how much power has been saved?
Problem solved. The switch summary reporting tool now includes details about the aggregated power consumption across all switches and there's also a sorted list, showing which of those switches are reporting the highest consumption. As always with our summary reports, a specific time period or tagged subset of switches can be selected, enabling easy comparison between floors, building, departments, sites, etc.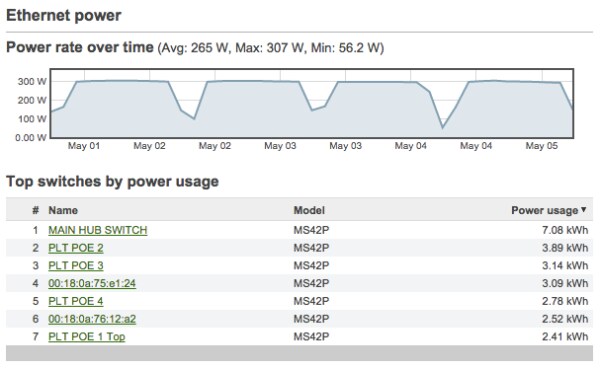 Top switches by power usage are also included in the email version of the report, which can be sent on–demand, or scheduled for automatic, regularly emailed reports.
Savings like these may be modest, but with the addition of reporting they can be used to demonstrate the owners' commitment to reducing both operational expenditure and environmental impact where possible. Free savings of both – who would say no to that?
Like so many Meraki features before, switch power reporting was added based on customer feedback. Never forget that every Meraki customer has the ability to shape the future of our products. Just head down to the lower right corner of every Dashboard page and make a wish to have your say.