Our latest update delivers exciting functionality: dynamic routing, redundancy, access control, and more!
We are thrilled to announce new features for our Cisco Meraki MS switches that will become generally available to customers in our upcoming summer firmware update (check back soon for in-depth posts about each feature).
New functionality includes:
Open Shortest Path First (OSPF) dynamic routing

Virtual Router Redundancy Protocol (VRRP) support

IPv4 Access Control Lists (ACLs)

DHCP server

IPv6 visibility and tracking
Taken together, these enhancements address evolving customer needs around redundancy, campus connectivity, and reduced complexity.
Redundancy & availability
Uptime needs are driving demand for warm failover techniques. Support for VRRP allows MS320 and MS420 switches to provide high availability via a warm spare, ensuring that if a VRRP-enabled switch goes down, a backup switch will immediately take over its gateway responsibilities—preventing downtime and client disruption.
New and compelling MS features like OSPF dynamic routing (distinctive for being configurable without a command line) and integrated DHCP service help prevent single points of network failure—like lost access to a blocked traffic pathway that can be re-routed, or the failure of the only accessible DHCP server on a network segment.
Configuring a secondary, Layer 3 Meraki switch as a warm spare.
Campus connectivity & distributed sites
Large deployments are creating new performance, security, and management requirements for IT admins. One well-established trend in network design optimizes performance using dynamic routing at Layer 3. The Meraki MS320 and MS420 switches now support OSPF, allowing improved deployment flexibility, routing resiliency, and traffic flow.
From a security standpoint, switch ACLs provide secure boundaries between VLANs, hosts, services, and the Internet by filtering traffic based on subnet, protocol port range, or host.
Large, distributed deployments also require intuitive, centralized management of networks and switches. Meraki MS switches can be set up from remote locations via zero-touch configuration and then managed from any Internet-accessible device. Built-in tools like Virtual Stacking allow IT admins to rapidly configure ports across all switches in a network—regardless of switch model or geographic location. Additional tools like integrated packet capture and cable testing allow for remote troubleshooting.
Finally, as networks grow, IPv4 address space has become constricted—and the world is slowly transitioning to IPv6. The MS switches can bridge IPv6 and are the first Meraki product to provide visibility and tracking for IPv6 addresses from within the dashboard; you can now view IPv6 devices identified by MS switches in the Monitor > Clients page.
MS switches support IPv6 visibility into clients and application use.
Reduced complexity
Meraki products are designed from the ground up for intuitive configuration and use; we always attempt to reduce complexity for our customers. In this spirit, our graphical implementation of OSPF reduces the "pilot error" of traditional, manual methods of dynamic routing setup. There is no need to remember complex command lines or fret about a mistype, and it's easy to visualize switches and Layer 3 configuration from within the dashboard.
Additionally, there are benefits innate to Meraki's cloud-managed design that reduce complexity, like our PCI-compliant cloud architecture, built-in backend redundancy, automatic firmware updates, and up-to-date device and application fingerprinting. These features ensure IT admins waste no time worrying about securing the Meraki control plane, downloading and manually installing configuration updates, or installing new definitions for client visibility.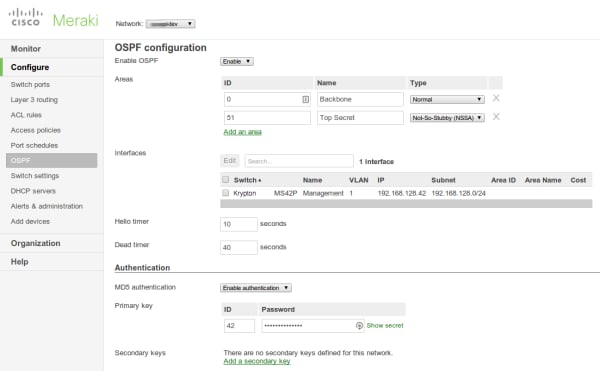 Intuitive, graphical control for dynamic routing reduces complexity and opportunities for misconfiguration.
For more information
In sum, we're excited about these new features, many of which have been heavily wished for by our customers. Please let us know what you think through our social media feeds, and check our website for specific switch models, data sheets, and whitepapers.