Step anywhere on Butler University's campus and you'll see students swaying in hammocks in the outdoor quad, collaborating in large lecture halls, and cheering on the Butler Bulldogs at Hinkle Fieldhouse, all with a cell phone or laptop in hand. Butler was founded on the idea that everyone deserves access to a quality education, so it's no surprise that the University's leaders strive to provide equal access to all students and faculty by supplying campus-wide Wi-Fi. With more than 1,300 Cisco Meraki indoor and outdoor access points (APs) deployed across the campus, students can seamlessly connect wherever they are with no interruption to their education. The wireless upgrade also provided many unforeseen benefits to the IT team, directly impacting how they spend their time to improve everyday student life including ease of deployment, providing reliable connections, and gaining access to actionable insights.
Connecting 100,000 devices with the cloud-managed Wi-Fi
To the IT team's surprise, the group who installed the cloud-managed access points didn't need to have deep technical knowledge. The team deploying the APs comprised of both full-time IT staff and student workers, who together were able to deploy all 1,300+ APs across the campus in less than two weeks. This was made possible because of the cloud-managed Meraki dashboard, which allowed IT to preconfigure the devices before they arrived. They also used configuration templates, allowing the team to apply the same configuration to hundreds of devices and install them for immediate use. This enabled the student workers to simply plug the devices in and they were ready for use. In the last year since the deployment, over 100,000 devices have traversed the network, which has worked seamlessly for users.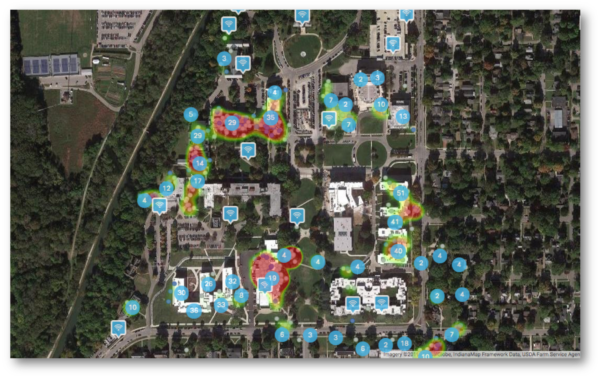 High density with automated assurance 
Once the deployment was complete, it was immediately apparent that connections were more reliable, there was better coverage, and more robust troubleshooting tools were available for faster time to resolution. Students now have the same experience using their laptops in their dorm room as they do in the outdoor quad, ensuring they can stay connected no matter where they are on campus. With higher density APs, the IT team has seen hundreds of students seamlessly connect in a lecture hall and use the devices they need to without issue. They can also see where the most bandwidth is being used and on what application, and can limit the amount of bandwidth certain applications or devices are using to improve connection reliability and speed across campus. Instead of acting reactively to issues affecting the wireless network or running complicated scripts to verify wireless performance, the IT team now uses automated assurance with Meraki Wireless Health. They can quickly see the number of failed connections, obtain automated performance metrics, and provide root cause analysis of client connection issues. Different wireless needs exist across various environments on campus, including lecture halls, dorm rooms, stadiums, and outdoor spaces, and it was traditionally challenging to meet their different configuration needs. With Meraki, the IT team was able to create pre-defined and customizable RF Profiles to apply RF settings across all of their diverse environments.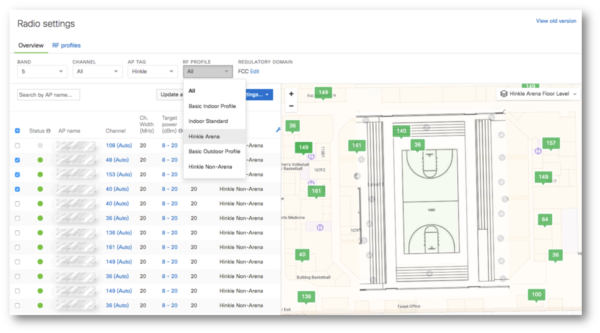 The network as a platform
While providing reliable wireless access was the original IT team's goal with their AP deployment, they quickly realized there was so much more they could do with their new solution. The information and tools already made available in the Meraki dashboard can inform how to design the campus moving forward, help improve student safety, allow them to personalize student experiences, and more. With Bluetooth beacons, they can send personalized communications to students that are connected to an AP in the dining hall, student center, or science building. By leveraging the Meraki API, they can pull data out of the dashboard and use it in other systems and tools to continue improving the student experience. With the vast amounts of data available at their fingertips, the IT team is continuing to explore new ways to take advantage of these insights and apply them to the University going forward.
Butler University is a pioneer in deploying innovative technology in the higher education industry. To learn why they chose Meraki wireless, how they were able to complete their deployment so quickly, how they leverage non-technical staff to manage and troubleshoot the network, and how they are thinking about using wireless data to do more than just provide access, watch the on demand webinar. Peter Williams, Associate Vice President of IT and Chief Information Officer, and Michael Denny, Network and Security Architect, at Butler University walk us through their Meraki deployment, including a live demo of their Meraki dashboard. Watch now.