Following the recent announcement of Teacher Assistant for Systems Manager, there is another exciting new feature available for Systems Manager customers: Shared Users.
At the heart of the Shared User feature is multi-user authentication. This allows for the user of the device to be repeatedly changed without an administrator's intervention. The device will dynamically change based on the person using it at a given time, with the user logging into, or out of, the device using the Meraki Systems Manager app. This exceptionally simple self-service model allows a single iOS device to be easily used by multiple people with different needs.
Multi-User Authentication
A user can be assigned a device, or multiple devices, and this pairing allows for configurations, settings, applications, and other options to be automatically applied based on that specific person's requirements. The list of users can be managed in the Meraki dashboard, or easily integrated into Active Directory.
Driven again by the requirements of educators, the Shared User feature is a natural extension of Teacher Assistant, enabling even more ways of learning with an iPad. Although of particular interest to those wishing to use iOS devices in a learning environment, the ability to easily support multiple users on one device has is useful in a number of situations.
Multi-user authentication can be enabled with a single checkbox in the Meraki dashboard under Systems Manager > Configure > General

User self-service
The Meraki Systems Manager app acts as the interface for multi-user authentication. With multi-user authentication enabled in a Systems Manager network, a fourth option will now appear in the bottom navigation pane of the app called 'User'. When a user goes to this page, it will give the user the option to login to the device if no user is already assigned, or they can log the current user out of the device.

When a new user logs into the app, the Meraki cloud will check to see what needs to be changed on the device and act accordingly. This could be new applications, alternate settings, or fewer restrictions than the device had previously.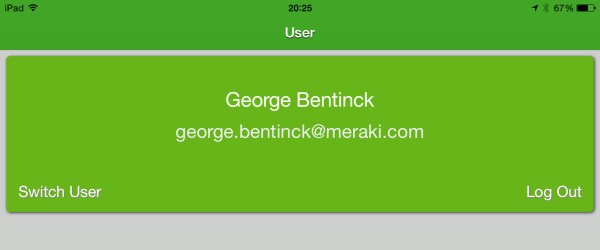 Total control, complete customization
With Systems Manager's dynamic tags, the user of the device can be checked along with other things such as time, location, and security profile, to allow for complete customization of a device, giving total control. For further information on tags refer to this article.
A great example of the practical use of tags and multi-user authentication, is to put devices into a locked state when no one is logged in. By creating a profile that places non-assigned devices into single app mode, they can be locked into the Meraki app preventing any activity other than the ability to log into the device. When a user logs in, their tags are applied and the configuration for the device is updated.

Start sharing your devices today
Start sharing your iOS devices today by signing up for a Systems Manager account here, free for 100 devices or less. Existing Systems Manager Standard customer who would like to take advantage of this, and other new features, can enable a free trial directly within the Meraki dashboard.