When you get a call from a wireless user complaining about connectivity problems, what is one of the first questions you might ask?  "Where are you exactly?"  Knowing precisely where a user is located can be immensely helpful in diagnosing and troubleshooting issues.  What AP are they associated to?  Are they behind a pillar that could be blocking their wireless signal?  Are they in an area of a new building where the network is currently being expanded and might still have some coverage weak spots?  This knowledge can often provide an administrator with a good idea of where they should dig in to properly troubleshoot the issue.
Starting today, administrators of Meraki Enterprise networks won't have to ask where a client is because they'll know: introducing Meraki Location-Based Services.  On each client details page you'll notice a new map where the current location of the client is clearly indicated on either a Google map or building floorplan (see below screen shot).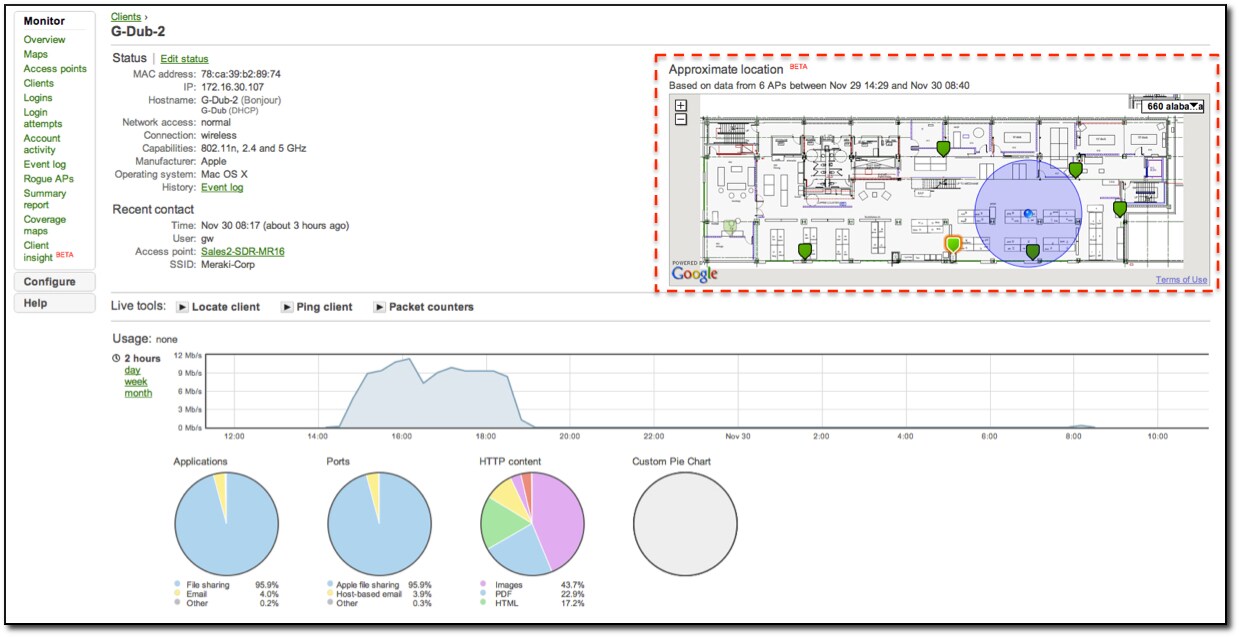 In addition to troubleshooting client issues, there are many other situations where being able to pin down a client device's location can be very useful to administrators, such as tracking down a lost laptop or monitoring a nurse's progress doing rounds in a hospital with the medicine cart.  Typically these capabilities might require additional appliances and third-party software costing $10,000's, but with Meraki they are provided with all Enterprise networks at no additional cost and without the need to deploy additional gear.
When combined with other Dashboard features like "remote hands" tools and detailed reporting with Traffic Shaper's application-level visibility, Location-Based Services provides administrators with powerful tools to understand exactly how their network is being used and to quickly troubleshoot client issues remotely.  Please let us know what you think of this new feature using the Make a Wish box!