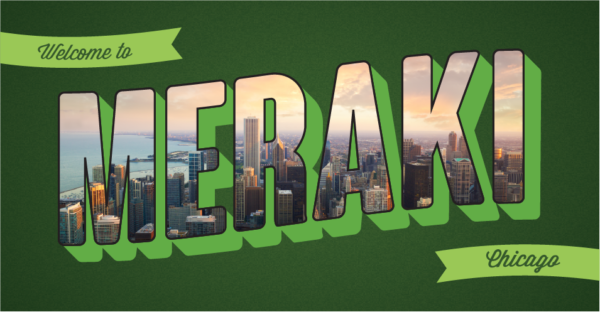 It's an exciting time here at Cisco Meraki. We just opened up our new Chicago office, and we could not be more thrilled to be part of a city with such a vibrant and diverse culture.
What excites us the most about being Chicago's newest residence? Is it the iconic skyline?  The culinary scene (after all, Chicago is home to the world-famous deep dish pizza)? Or is it the 2016 World Series champions, the Cubs?
It's all of the above!
We love it all, from the architecture to the food to Millennium Park. However, what excites us the most about our presence in Chicago is that we get to be a part of an inclusive community that has tremendous strength, integrity, kindness, and is forward-thinking. Above all, we want to be immersed in the Chicago spirit of breaking down barriers, pushing forward when the going gets tough, and making the impossible possible.
There is no hiding the fact that Chicago is going through a tech boom. But what's different about this tech boom is that unlike other cities, Chicago is not being consumed by tech; instead, tech is being consumed by Chicago. That Meraki and other tech firms have been attracted to Chicago says a lot about the magic of this amazing city.
Here is what excites some of our team members about having a Chicago presence:
Kayla Canvasser, People Ops Recruiter
What makes the city so special?
When I first moved to Chicago, I was interviewing for a new job. Before my interviews, I would go to grab a cup of coffee with my rolling suitcase. What I remember the most is all of the complete strangers that take time out of their day to stop and ask me if I was interviewing and to wish me luck. There is a warmth and friendliness here in Chicago that you can't find anywhere else. There is a feeling of community from the minute you step into the city. It is almost like you are part of a big family. It is a big city with small town values.
What do you hope Meraki specifically can bring to the Chicago community?
I hope Meraki can show that tech can be a diverse, inclusive community, a place where you can be your full self, and everyone is welcomed. I also want to spread that same message to the different organizations here in Chicago and help move the city forward together.
If you had to describe the city of Chicago in three words, which words would you use?
Scrappy, hungry, and energetic.
Tania Spezza, Marketing Manager
What makes the city so special?
Chicago is a world-class city when it comes to art & culture, public parks, and the lakefront. With such down-to-earth people, there's a feeling of being welcome once you step foot into the city. Chicago is also a very diverse city; it's a melting pot which will be great for hiring because we need different types of people to bring in new ideas. And for me, Chicago is home — I'm a native Chicagoan and it's great to be back!
What excites you the most about the tech momentum happening in Chicago?
What excites me is that Chicago gets to have a stake in the tech game — we have some of the country's best schools along with smart, dedicated, and hardworking people. You don't have to be in San Francisco or Silicon Valley to make an impact. You can work at an awesome tech company without having to trek to the West Coast.
What do you hope Meraki specifically can bring to the Chicago community?
Aside from jobs, I think we can make a big impact by partnering with some of the community organizations we have in Chicago and directly impact different communities that are in need.
Geoff Winston, Account Executive
What attracted you to move to Chicago?
A change of scenery and a chance to pursue my theater and improv passion and be able to take my career to the next step. It is the best of both worlds!
What do you hope Cisco Meraki specifically can bring to the Chicago community?
A group of passionate people to help meet the needs of the community. We've recently worked with the Christopher House and helped them build an outdoor park area. I can see lots of ways we can help work with the youth community as well as time goes on.
If you had to describe the city of Chicago in three words what would they be?
Tall, funny, and fresh.
---
Interested in learning more about Meraki? Come to our Open House on September 5 — check our Twitter for more information. And check out our open roles if you're interested in working with us!
Thanks for the warm welcome, Chicago. We look forward to building a bright future together!