Not content with just announcing two new 802.11ac access points (APs) in time for the holidays, the team here at Meraki have developed new software features, soon to be available on all APs. These are:
Flexible Bitrate selection
Site Survey Mode
Flexible Bitrate Selection
We're adding the ability to configure the supported association bitrates. When an AP is advertising its services to clients it will let them know the lowest possible speed (association rate) it will accept a connection at. This is important as a client would like the highest possible association rate, but this is dependant on how well it can hear the signal. As clients move further away from APs they will often get a lower strength signal and so a lower association rate.
Because of the shared nature of wireless transmissions, clients with low association rates can slow the whole network down. This is particularly important in high density environments such as public areas, lecture halls or conferences. By allowing the network administrator to choose the lowest association rate an AP will allow, the administrator can prevent clients slowing the network down. Setting a higher association rate can force clients to move to an AP which has a better signal and thus can support the higher mandated association rate.
Site Survey Mode
Planning, designing, and deploying wireless networks often requires important but time consuming wireless site surveys. To help reduce the amount of time and complexity involved in completing a wireless site survey using Meraki APs, we are introducing a new site survey mode. This will help ensure that it is easier to complete high quality surveys and consequentially install a high performance network.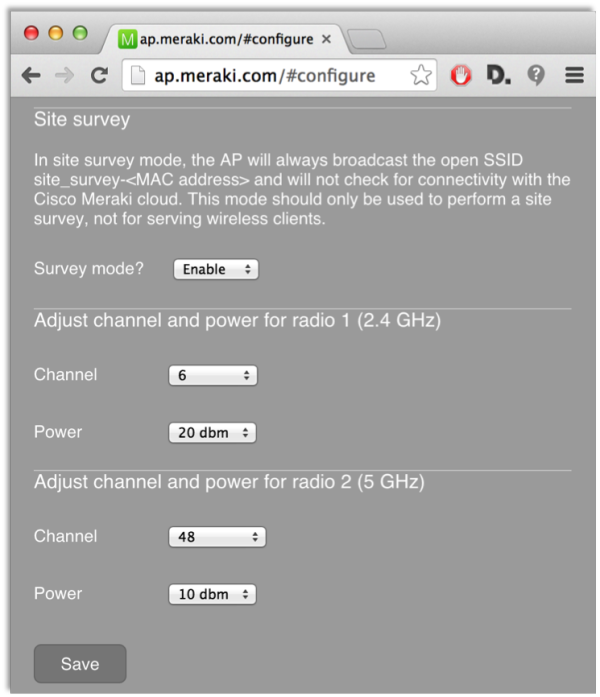 The new site survey mode is accessed from the local management page on the AP and allows for important parameters to be configured, such as the radio channels and transmit power. Once this survey mode is enabled, the AP will no longer need a connection to the Meraki cloud and will not try to mesh with other Meraki APs. Once you have completed your survey, you can easily revert the AP to its normal mode of operation.
When and how it will come to your network
Both features are currently in beta and will become available to customers over the coming weeks. As with all software updates to Meraki products, this is a staggered roll out and will be automatically delivered to you at the time and day you select. Make sure to check your 'Firmware Upgrades' settings in your Meraki dashboard to choose when you would like your upgrade to happen.