Last week, several members from the Meraki product management and product marketing teams huddled in the webinar room at our SF headquarters to present the Meraki Quarterly. The Quarterly takes place every three months and highlights new product innovations that took place over the last quarter. The intent of  the Quarterly is not only to keep customers informed about the latest and greatest updates from Meraki, but also to provide customers with an opportunity to get their questions answered by Meraki product experts.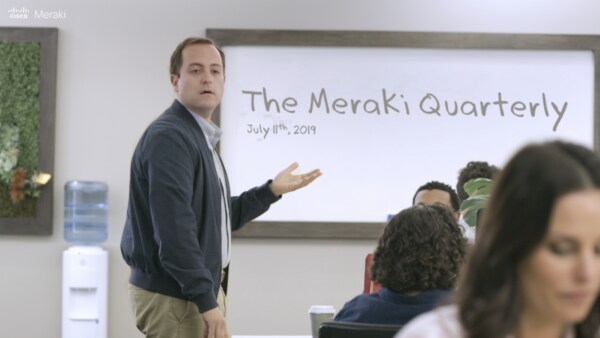 While we were thrilled to see over one thousand registrants for last week's webinar, we recognize that not all those who registered were able to attend and that some people would prefer a written summary over watching an hour-long webinar. For these folks, here's a recap of what we discussed.
1. Meraki MV: Small improvements, big impact
The MV smart camera line took a major step forward in April when we introduced the MV32 — our first fisheye camera with the capability  to capture 180° of footage — and Motion Recap 2.0, which helps IT admins see motion at a glance by capturing motion in a single image. In the last few months, we've made Motion Recap more useful by making the images it captures available in Motion Alert emails and by providing admins the option to disable Motion Recap for bandwidth-constrained networks. 
But Motion Recap isn't the only thing we've been working on in the world of MV. We also introduced export checksums, which helps admins ensure that exported footage hasn't been tampered with, and we extended the retention of exported video to 12 months. Admins now also have the ability to retain captured video when moving a camera from one network to another — e.g., from one office location to another. Finally, a small but useful improvement in the Meraki dashboard is that users no longer lose the tab they're on (e.g., "Quality and Retention" or "Analytics") when paging through different cameras.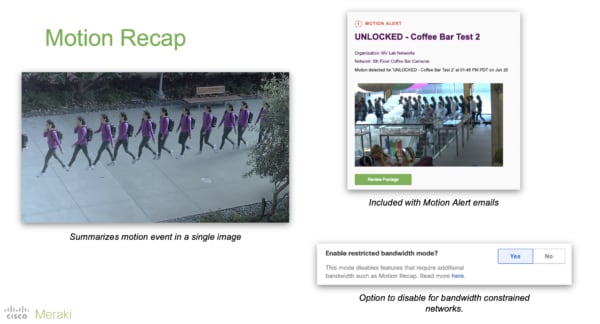 2. Systems Manager: Playing games and taking names
Customers in every industry use Meraki Systems Manager (SM), Cisco's official endpoint management tool, to manage devices of all stripes. But there's one industry that's particularly excited about SM: education. To help IT admins in education, teachers, and students get excited about SM, we hosted an escape room game at ISTE 2019, the largest K-12 technology show in the US. SM was a key part of the game, with players using SM to solve various puzzles by performing common tasks, like deploying apps and documents to devices.
This past quarter, we also announced a couple of enhancements to SM on the dashboard side. Building and deploying custom profiles is now a lot more scalable and simpler than before thanks to the ability to automate custom Apple profiles with variables; admins no longer have to manually build these profiles one by one. Additionally, end users who want access to corporate email can now upload their own identity certificates through the Self-Service Portal, so IT admins no longer have to create certificates for all their users. These certificates will appear in the Meraki dashboard, so admins will continue to be aware of all the end users with access to corporate email.
3. Why-Fi 6? We'll tell you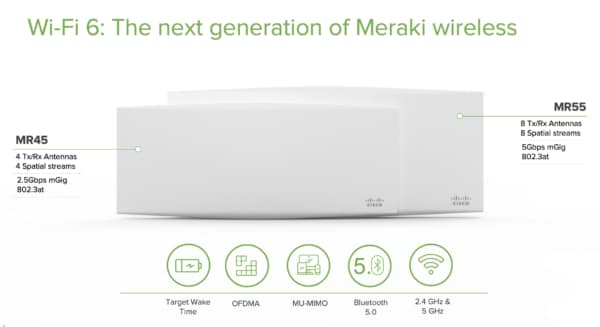 One of our most exciting product launches in recent memory took place this past quarter as we debuted the newest Meraki wireless access points, the MR45 and MR55, equipped with Wi-Fi 6. The new wireless standard is far from a mere spec bump; Wi-Fi 6 is a meaningful step forward that enables higher throughput, higher density, and greater energy efficiency. With features like Target Wake Time, MU-MIMO, and dual 2.4 GHz and 5 GHz radios, the MR45 and MR55 set the standard for the next generation of wireless.
Of course, talking about Wi-Fi 6 isn't as fun as seeing it deployed live. To that end, during the Quarterly, we highlighted a few real-life deployments of the MR45 and MR55. One of the first deployments of Meraki Wi-Fi 6 was McLaren, the automotive company, where the new APs proved so popular that different teams were moving the APs around to serve their own high density and high throughput purposes. Wi-Fi 6 also proved a popular draw at the US Open, where over 350 of the latest Meraki APs blanketed the course and allowed players and spectators to share, tweet, post, and communicate to their heart's content. 
4. A switch in time saves nine
As any IT admin knows, switches are a crucial part of any network deployment. In the Quarterly, we started by discussing a few key trends we've recently observed that are shaping the world of switching: live video streaming & video-first services, more PoE-capable devices, a steady evolution of always-on, power-hungry IoT devices, and inadequate uplink capacity. To address these needs, we just introduced the MS125 access layer switch, which helps admins future-proof their networks by offering 4x10G SFP+ uplinks.
Here's how the MS125 compares with the MS120 and MS210: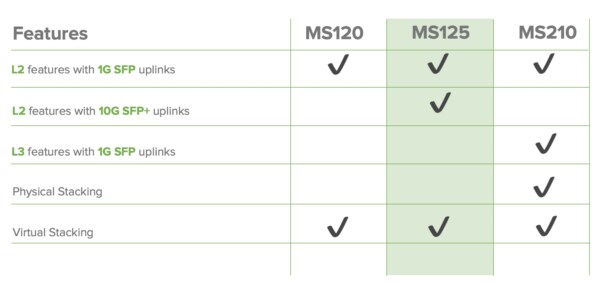 5. Getting Cloudy
Meraki was, of course, born in the cloud, so this is an area of intense excitement for us. First up, this last quarter, we introduced the Meraki Developer Hub and APIs Marketplace, one-stop shops with everything you need to build or buy solutions on top of the Meraki platform. Second, we announced new partner integrations with PagerDuty, Ansible, and OneLogin to help customers make the most of their Meraki deployments. Third, we highlighted action batches and several new endpoints. Finally, we announced that Meraki will be included in a few brand new DevNet certifications coming in early 2020.
That's a lot of cloud and API announcements! To get a full sense for the Meraki APIs story, sign up for our next Cloud Services and APIs webinar. 
6. Security and SD-WAN
Over the last quarter, the Meraki MX team has been hard at work to make our security and SD-WAN appliances more flexible and easier to manage. One of the ways we've done that is by debuting a whole new host of API endpoints so developers can use other applications to configure and manage an MX, whether they want to update the MX Layer 7 firewall rules for an MX network or view and update content filtering settings for group policies. 
Something we know lots of our customers will be excited about is the news that HTTPS inspection is now in beta. We haven't yet announced a final release date, but if you'd like to give this feature a try on your own network, contact your sales engineer, sales rep, or Meraki support!
7. Insight into Insight
With Slack and Office 365 recently suffering server outages, we published a couple of blog posts in the last few weeks about Meraki Insight, our network assurance tool. That doesn't mean our product team wasn't making Insight better; over the last quarter, we've enhanced Meraki Insight with some great new UI improvements designed to make it easier to use and navigate. First, a new Web App Health Details interface improves the troubleshooting experience and helps admins make correlations quicker: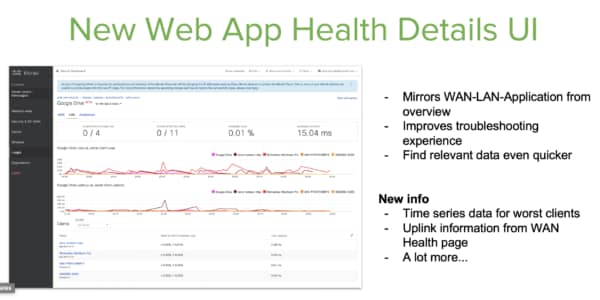 Second, in the WAN Health section, two new fields are available: % capacity, which shows what percentage of upload and download capacity are being used on a particular uplink, and a notes field, which admins can use to take any notes they want about one or more uplinks.  
7. Last, but not least
Aside from product updates, we've focused on improving the customer experience in a couple of new areas this past quarter. If you haven't heard already, we have a new podcast, Meraki Unboxed, to give you an inside look at our company. Additionally, the always-thriving Meraki Community recently announced its first set of All-Stars, ten outstanding contributors to our community forum. Congrats to these winners — keep the conversations flowing!
---
If you made it all the way down here, a sincere thank you for reading all about the latest developments at Meraki. Make sure to tune in to our next Quarterly in October. We don't want to spoil anything now, but we promise that we'll have lots more news to share then!