Meraki's CMX presence API enables organizations to extend the functionality offered by Meraki location analytics. In this mini-series of blog posts, we explore the capabilities of some of our technology partners that integrate with the API. In our previous spotlight we covered Euclid Analytics and their capabilities with Meraki WLAN devices. In this blog post we take a look at Turnstyle.

Turnstyle's WiFi marketing platform offers customer engagement, loyalty, and analytics capabilities that enable retailers to learn actionable insights about on-premise customers. This can be used to send real-time messages, coupons, and rewards directly to customers' smartphones, without the need for a mobile app; thereby increasing customer engagement and loyalty.
Customer case study
A restaurant chain deployed Meraki with Turnstyle integration in 54 locations to learn about customer trends, to generate marketing lists, and to create a location-based marketing platform. This was then used to reward customers for their loyalty in an effort to increase visit frequency, and to re-engage with customers who had not visited for over a month.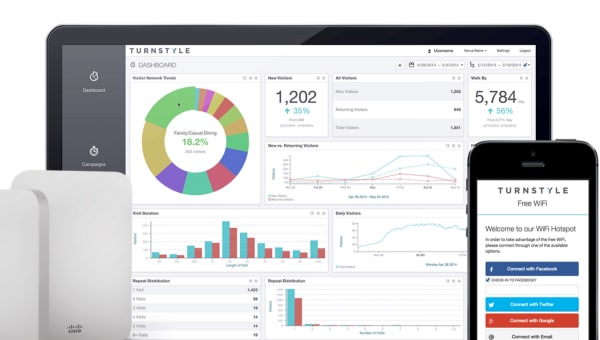 Over four months, the restaurant chain generated over 12,000 customer opt-ins for marketing communications via email, SMS, and Facebook. Over 30% of the client's marketing communications were read by its customers, and ~18% of all coupons delivered through the Turnstyle platform were redeemed. The contextual messaging had a dramatic impact on customer loyalty and visit frequency, which increased by 70% and resulted in an ROI of over 15x.
The Turnstyle platform
Turnstyle's platform consists of three components that integrate into a Meraki WLAN network:
Audience Insights uses Meraki wireless APs to passively monitor customer foot traffic and trends. This information can be used to make operational decisions on things such as staffing schedules, marketing strategies, and customer rewards.
Social WiFi gives business owners the ability to offer customers a gated WiFi network, eliminating the need for cumbersome passwords. Meraki offers extremely simple out of the box integration with Facebook WiFi, but for customers needing Facebook, Google, Twitter, and email simultaneously, Turnstyle Social WiFi offers a solution.
Engagement provides business owners with the ability to set up location-based messaging to interact with customers in hyper-contextual ways. Turnstyle makes it easy to reward customers for their loyalty by enabling coupons to be sent based on visit frequency, or to help businesses re-engage with customers who haven't visited a venue within a defined time-period. With all Meraki WLAN devices connected to a single cloud infrastructure, this engagement can stretch globally wherever you have a Meraki device.
What's next?
Meraki wireless customers can sign up for Turnstyle by visiting this page. No additional hardware is required, and you can be up and running in less than 10 minutes.  Cisco Meraki's CMX location analytics is available today for all customers, with bespoke functionality enabled by the API and our technology partners.  Visit our documentation portal for further information on CMX analytics and our API.