Last month we announced our new Traffic Shaper feature and gave administrators unprecedented visibility into the wireless traffic on their network, providing the ability to see what might be bogging down their network, be it YouTube, BitTorrent or too many users uploading pictures to Facebook.  Now, with the new Traffic Shaper page in Dashboard, administrators finally have the tools to not only see what kinds of recreational applications are taking over their network but to do something about it!
Administrators can now create application-specific shaping policies for total control over their wireless bandwidth.  Let's say your Sales team needs snappy access to Salesforce.com at all times, but most of Engineering is streaming World Series games and consuming all of your bandwidth.  With Traffic Shaper, shaping policies can be created that apply per user bandwidth limits for specific applications such as video streaming sites, as well as apply QoS priority levels at both Layer 2 and 3 to make sure your Salesforce traffic gets prioritized across the network.
To make setting up new shaping policies fast and simple, we have created pre-defined groups of applications that administrators most commonly want to shape: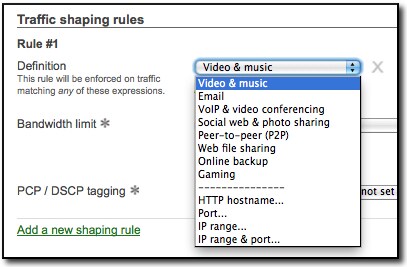 Administrators can also create more specific policies for particular applications using HTTP hostnames (eg. salesforce.com), IP and port numbers.  Here is an example of a typical shaping policy that you would see in an office setting: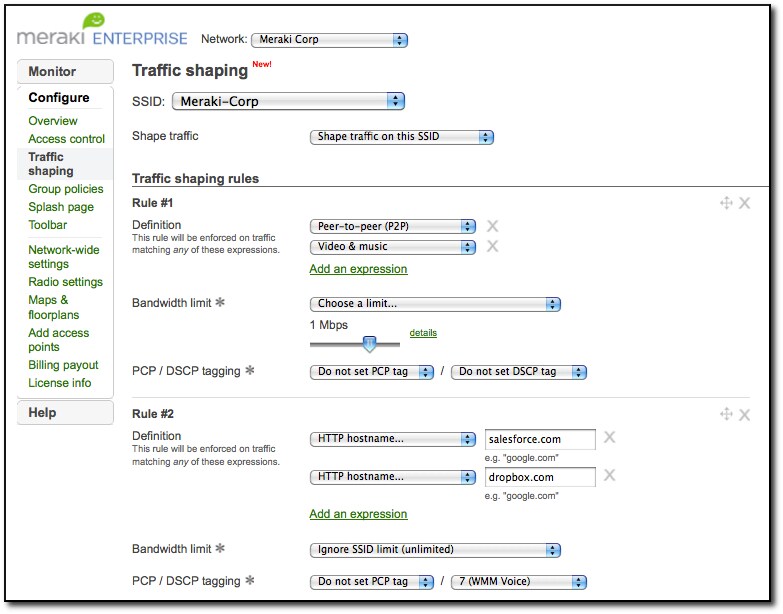 In this example, a rule has been created to apply a 1 Mbps bandwidth limit to all users on the Meraki-Corp SSID for Peer-to-Peer and streaming video and music applications.  A second rule has also been created to provide Layer 3 QoS prioritization to applications that are critical to this business, Salesforce.com and Dropbox.com, as well as to provide unlimited bandwidth to these applications.
Since Traffic Shaper can leverage the intelligence of over 16,000 customer networks through the Meraki Cloud Controller, Traffic Shaper's database of application signatures is always updated.  As new P2P and social media applications appear on the scene, they will be quickly fingerprinted and added to the Cloud Controller database for our customer networks so that administrators are never caught unaware by the next BitTorrent.
Traffic Shaper can now be found under the Configure tab in Dashboard.  If you are interested in learning more about how Traffic Shaper works, we invite you to join us for a webinar that we'll be conducting about Traffic Shaper on November 2nd.  Details can be found here: