Meraki's cloud-based architecture makes it an ideal choice for distributed, multi-site systems of networks, with administrators able to manage up to 1,000 networks from a single web browser using Dashboard. We've recently added a feature that makes it even easier to visualize and manage geographically distributed networks. Users who have logged into Dashboard in the last day may have noticed a new link above the network name on the Monitor > Overview page:
The link is the name of the organization that contains the network. (The network selector at the top of the page groups your networks by organization. Many of our network administrators have just one organization, but it's not uncommon to have more — one for Enterprise networks and one for Pro networks, for example.) Clicking on this link will take you to a new page, the All-Network Overview page: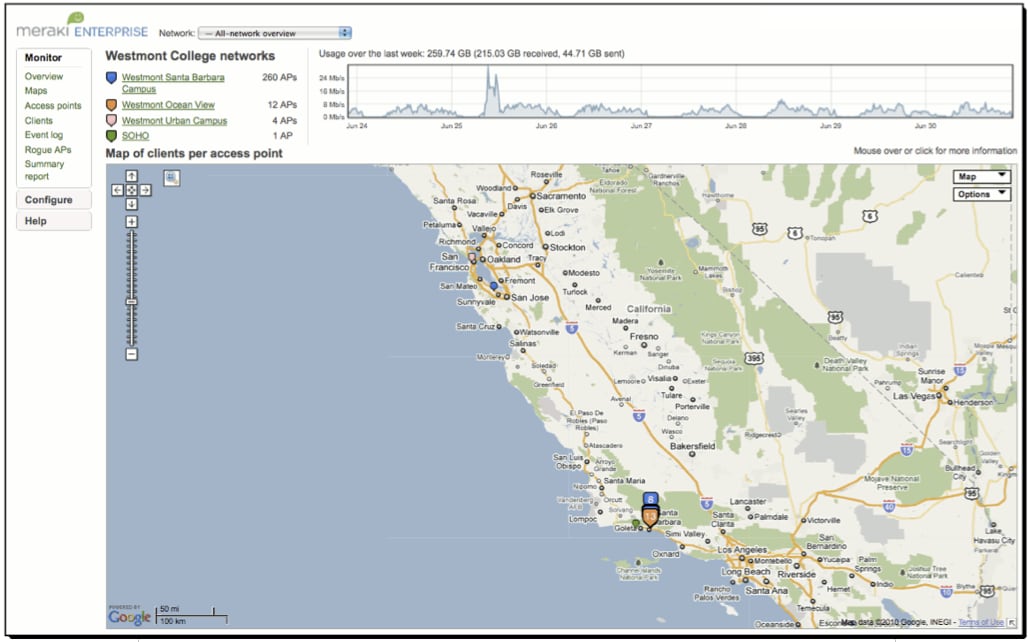 This displays all of an organization's networks on single map. These networks are listed at the top of the screen, along with color coded markers so that each network can be easily located on the map below. The usage graph displays cumulative usage across all listed networks. If you mouse over a particular network name, that network's usage is highlighted on the usage graph, and its network markers are highlighted on the map below.

Jump to a network's overview page by clicking its name, or jump to a particular access point in any of your networks by double-clicking its marker. If you'd like to see all your networks' access points color-coded by status, that's easy too: just uncheck "Color by network" on the map's Options menu.
You can also get to the All-Network Overview page by choosing "All-network overview" from the network selector: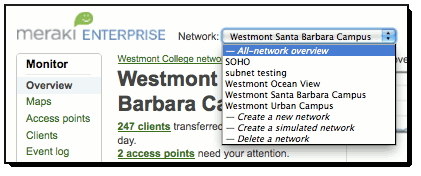 The All-Network Overview page is available today to all Meraki network administrators with two or more networks. This is a great tool to assist with managing large, multi-site deployments and we are very excited about this new addition to Dashboard.