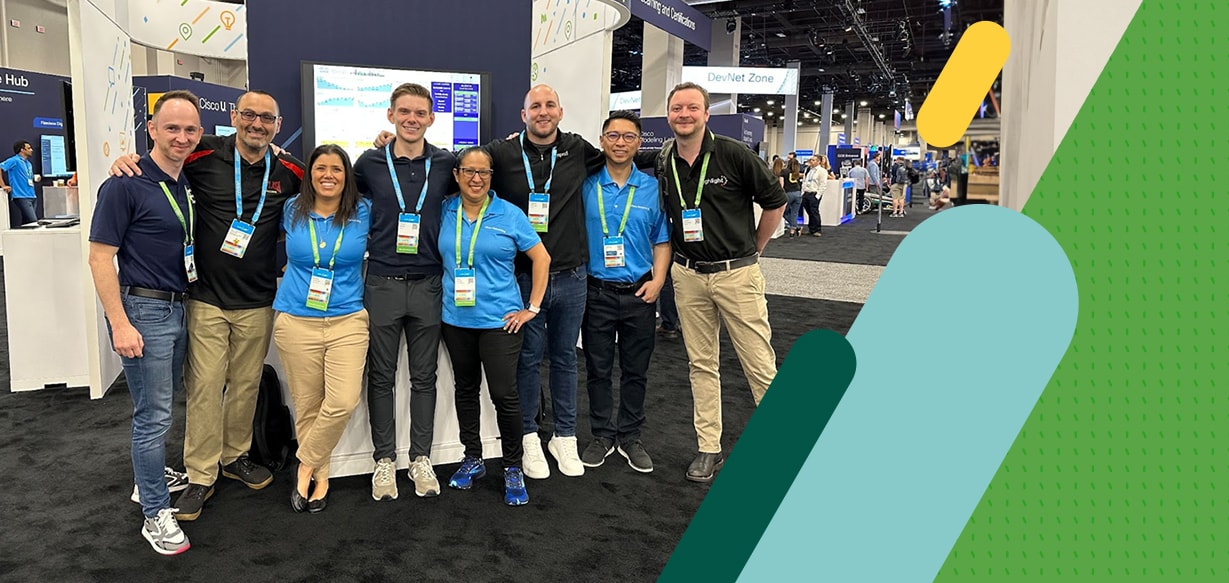 The Cisco Meraki ecosystem tech partner stars were aligned at this year's Cisco Live 2023 in Las Vegas. I promised it would be the biggest and best show yet, and they made good on that promise. How?
Standing-room only for the Meraki theater session in the DevNet Zone, showcasing 20+ Cisco ecosystem tech partners
Ecosystem partners presenting at every turn, from the Cisco Co-Sell booths to the expo floor and demos in the Cloud Networking booth
Speakers from our very own Cisco team presenting inside our partner tech booths, along with Red Hat, Tufin, and more
Even the cameras that caught attendees lined up to get a photo with the Vince Lombardi trophy were powered by WaitTime
So, if you still missed the ecosystem partner activity at Cisco Live 2023, don't fret. Here is a look at what our partners showcased on-site and, more importantly, how you can get engaged with them today.
Partners took the (show) floor by storm
In total, we had more than 20 partners live at the event—15 of them with sponsored booths. Each partner also had an opportunity to demo their solution and app in the Cisco Networking Cloud Ecosystem booth. Here, audiences learned how to create innovative new experiences powered by Cisco Networking Cloud when integrated with our comprehensive partner ecosystem.
"The overall feeling I had from this event is that (we) really felt part of the Meraki family."

Noël-Edouard Chenu, Founder & CEO, Boundless Digital
Attendees were given an opportunity to see firsthand how ecosystem partner solutions can accelerate IT and business outcomes. Each tech partner showcased how their app—built with Meraki APIs and available on the Meraki Marketplace—can be used to create exceptional experiences for everyone.
Wi-Fi and RTLS solutions launches
The fun didn't stop there. Our ecosystem tech partners had great customer-focused announcements at the event.
Highlight launched a new Meraki solution for its Service Assurance Platform. The team debuted new functionality for Meraki Wi-Fi and Meraki switches that complement existing support for Meraki SD-WAN. Attendees learned how—through Meraki dashboard APIs—Highlight's platform now brings Meraki Wi-Fi, switches, and SD-WAN into a single dashboard.
Another key announcement was made by AiRISTA Flow, a leader in real-time location services (RTLS) solutions. Attendees were introduced to support application hosting on Cisco Catalyst Series access points. This update by AiRISTA streamlines the deployment of customer devices, enabling their teams to quickly scale up RTLS across locations.
Packing bags for Melbourne + Amsterdam
Cisco Live U.S. has quickly become a center for ecosystem partners to showcase their solutions and get attendees engaged with a vast portfolio of solutions that span products, industries, and experiences. Hundreds of attendees had an opportunity to meet in-person with ecosystem partners and learned how to scale their products and services.
"Our on-site team had great conversations with customers who love our products, prospects who are ready to buy, and partners who want to engage more deeply with us in generating sales."

Amber Ukena, Director, Partner Marketing, Ekahau
If you missed out on Cisco Live U.S., you can connect with our partners today by requesting a demo on our Marketplace page. You can also watch this on-demand session from the event, Innovate with Meraki APIs and its Partner Marketplace.
Now is also the time to start marking your calendar to visit our ecosystem tech partners at the upcoming Cisco Live Melbourne 2023 and Cisco Live Amsterdam 2024 events. Sign up now to be notified when it's time to register.
See you then!