Resolve to get more from your physical spaces in 2023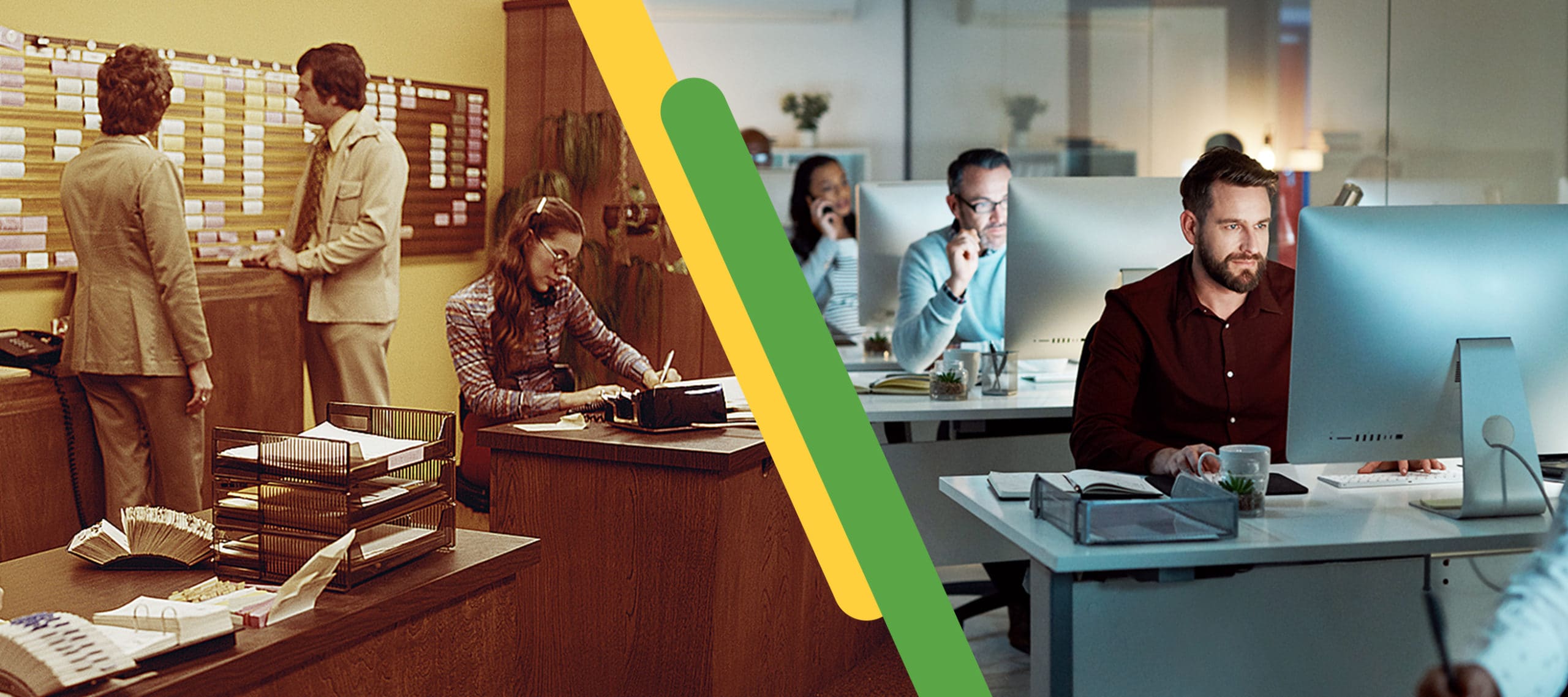 A desk, a plant, a keyboard, a few photo frames. Maybe a magnetic sculpture or a clock with a modern aesthetic. Meeting rooms around the corner. Much like corporate organization structures, the office environment has weathered decades without any material changes. Sure, we put up and tear down walls every 20 years or so—today's open floor plans look a lot like typing pools in the 50s and 60s—but the basics are constant.
The office was where we went to work, and these physical spaces still serve crucial needs for collaboration, conversation, or just plain focus. Certainly, there are far fewer roommates to contend with at the office, but as organizations adapt to a permanently hybrid workforce and a rapidly changing economy, they're also transforming the physical spaces they use.
With fewer people on site on a daily basis, HR, facilities, and IT teams are looking for new ways to make the office a place workers want to be. On top of that, businesses are stepping up their corporate and environmental sustainability goals, leading to creative approaches that include retrofitting rather than rebuilding spaces. And none of that lessens the requirement to continually maintain, optimize, and expand the services available to workers, whether they're in the office or in the field.
In short, if 2022 was the year we returned to the office, 2023 will be the year companies transform the campus experience into something that's truly a magnet for workers and a crucible for new ideas.
Creating magnet experiences
We know that the flexibility of hybrid work improves worker well-being and feeling connection to their work. The most recent Cisco Hybrid Work Index confirms that 73% of workers feel "happier and more motivated in their roles" in a hybrid environment. Moreover, 60% of respondents "feel more closely connected to their organizations."
The wrinkle here is that connection to an organization does not necessarily equal connection to a workplace. Along with all the benefits of a hybrid workforce comes the reality that expensive office space goes underutilized. As the pressures of a changing economy and the desire to reduce exposure to vacant real estate mount, facilities, HR, and IT teams are racing to create spaces that are a true magnet to dynamic workforces.
We believe that workplace experiences that truly attract talent back to the office will focus on a few differentiating characteristics:
Dynamic spaces that facilitate inclusive collaboration, blending virtual and in-person participation.
Intelligently aware environments that promote health, comfort, and sustainable practices.
Adaptive networks that seamlessly connect digital and physical infrastructure and automatically scale to unpredictable traffic loads.
Converged security systems that blend physical and data security together.
The sustainability retrofit
Speaking of health, comfort, and sustainability, 2023 will also be the year of "everything old is new again." Despite board-level focus on sustainable practices, organizations can't afford to take every building back to the studs and remodel from the ground up.
Instead, a more practical approach is a retrofit model. Take advantage of the spaces and materials you have and build sustainability as a crescendo rather than a crash. A great example is the transformation the University of Ottawa led when they seized the opportunity to revitalize an existing space. The OU team transformed a theater built in 1906 into a modern esports arena, delivering a brand-new wired and wireless experience that not only delivers fast-twitch gaming performance, it's created a new forum for collaboration and learning that's pulling students in from around the globe. 
The other sustainable benefits? Retrofitting existing facilities reduces the need to produce more building materials. That's less wood, concrete, steel, and other byproducts produced.
Smaller, more focused campuses enable employers to optimize for efficiency and worker experiences.
Even the network closet is a target for retrofit. It only takes a few minutes (and a few adhesive strips) to install temperature and humidity sensors that can continuously monitor environmental conditions so that heating, cooling, and ventilation can be adjusted to protect network devices and maximize efficiency.
The cloud value multiplier
Transforming any space can feel daunting. Enter cloud networking and the tools, efficiencies, security, and intelligence it brings. There's no one technology solution that's going to bring workers back or make your building carbon neutral. It's going to require a myriad of technologies all working together to deliver results.
A cloud-based network is a platform for innovation where experiences can be built and unified within a single dashboard. IoT and network devices can all be managed seamlessly, and the intelligence they provide can be easily accessed and analyzed by those who need it. The platform is also the home for automations and APIs that enable scale with less manual input or travel between locations. Artificial intelligence optimizes network performance in the background while providing critical alerts and helping to diagnose problems.
Go forth and (re)build
As you plan for the year ahead and all the ways you are transforming your work spaces—to achieve sustainability goals or perhaps support an esports team—remember that the Meraki platform is here to turn all those ideas into real-life results for your business.