Building connected communities is all hands on deck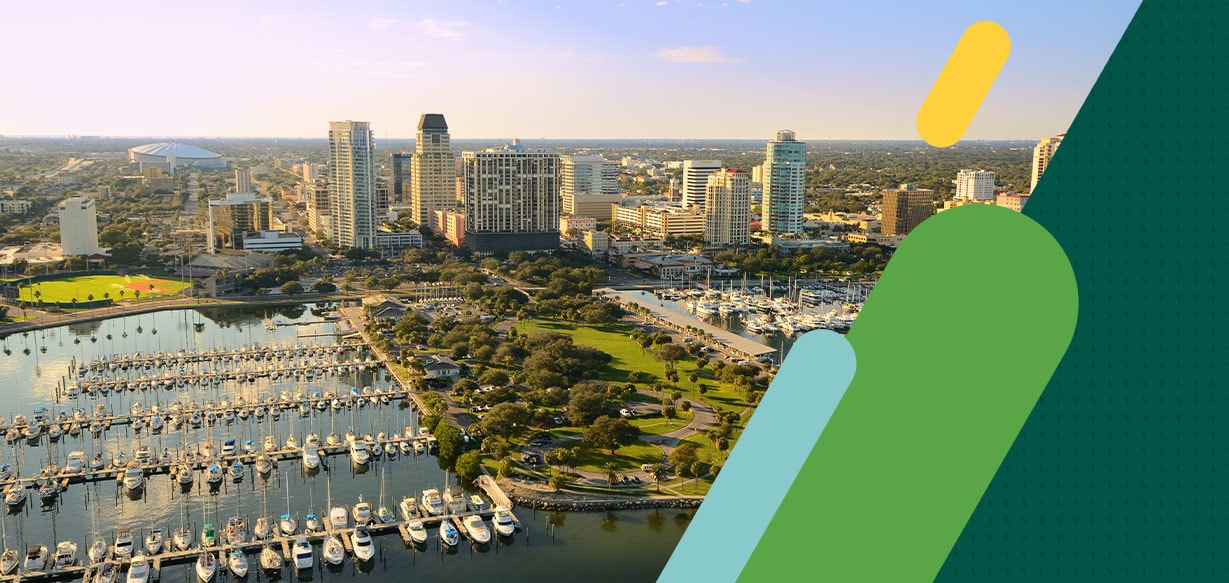 State and local agencies have achieved more than most could have expected over the past few years of flux—captaining turbulent waters toward a sea change in technology that's enabling connected communities to deliver better services for residents and constituents alike.
Building connected communities requires an all-hands-on-deck approach. By bringing together community stakeholders and passionate government employees, cities can leverage the right technology and chart a course to manage the Internet of Things (IoT), bridge the digital divide, prepare for the future of work, and maintain security.
Navigating changing seas
A recent national survey of state and local government leaders conducted by CDG found that 42% of respondents don't have a road map for building the connections their constituents increasingly expect. According to CDG Senior Fellow Bob Bennettt, "Too many governments are living in a 21st-century whirlwind and [are] still dealing with 20th-century procedures."
As governments take a more proactive approach to technological development, they should focus on combining smart (IoT) technology with intelligent networking capabilities. Such a strategy will better equip governments to deliver critical services as they work to achieve more connected communities.
Smoother sailing for all
2020 validated the need for better connected communities when working and learning from home became mandatory for many and high-speed internet access became a necessity, not a luxury.
To accommodate these new hybrid/remote work situations, governments made necessary network upgrades. Jibbing their sails, governments moved toward smoother waters by taking a more coordinated approach to technology—making sure investments put constituent experiences top of mind.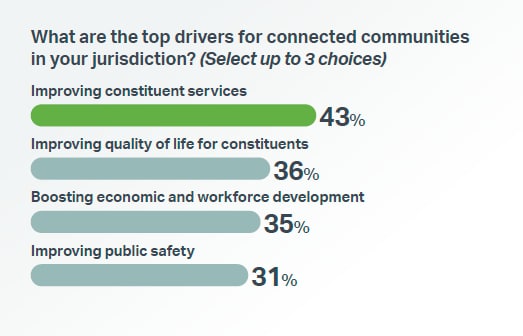 A focus on experiences
The CDG survey emphasizes a focus on experiences, with 43% of respondents identifying "improving constituent services" as the top driver for a connected community
One example of experience-focused technology is deploying Wi-Fi in public places, which is a key factor in connecting communities. During the pandemic, governments deployed wireless connectivity for residents in need of reliable internet access.
Another example is the city of Opelika, which began installing smart streetlights that dim during periods of low activity—reducing burnout and cutting energy costs by 50% all while increasing public safety.

Funding for the next adventure
Of course, making any technology investment requires funding. With the American Rescue Plan Act (ARPA), organizations have access to funding to support and scale up the integration of IoT devices. When done at scale, both utilizing federal funds and implementing IoT devices can lead to increased agency agility and resilience while also driving greater productivity and employee engagement—all factors that assist in creating better community experiences.
A ship needs its crew
With direction and dollars secured, local governments need to refine their strategy and captain their agencies to a connected community. This requires having all hands on deck.
IT leaders should consider the goals identified by elected officials and budget directors—communication across organizations is key. Then, think about how technology can be used to help achieve those goals and build a digital strategy that aligns to set priorities. Next, forging strong private/public partnerships helps navigate the sea of funding dollars and orchestrates new opportunities.
Together with trusted partnerships, IT teams, and employees, governments can remain at the center of communities and be at the helm of delivering transformational experiences. After all, a more connected community is a more agile one, better prepared for the future and even the choppiest of seas.
Download the Local Government Leader's Guide to Connected Communities to understand best practices for bridging the digital divide, preparing for the future of work, and ensuring community connections remain safe and secure.