Turn insight into action with new analytics, faster AI, and enhanced sensors

The hybrid world has changed where and how we work. Supply chain constraints require more efficiency and make reducing waste more important than ever. Increased options and competition have changed the way consumers and businesses transact. In order to stay ahead, organizations need to rapidly adapt their current environments.
This means continually evaluating workspaces to improve the employee experience, actively managing resources and processes to improve sustainability, and finding new ways to engage customers. According to Salesforce research, 80% of customers now consider the experience a company provides to be just as important as its products and services—so it's more important than ever for organizations to invest in these differentiated customer experiences.
To accomplish this, companies need better ways to understand their physical world. If they're going to adapt, survive, and thrive, they need to create smarter spaces that provide insight into these ever-changing environments, simplify data analysis, and turn that data into action—such as automation, process improvement, or increased sustainability.
Meraki already powers thousands of smart spaces by combining our smart cameras and environmental sensors with a rich ecosystem of partners to tie it all together. And today, we are announcing new products, partnerships, and machine-learning capabilities that further accelerate our customers' ability to evolve their smart spaces.
New MV analytics capabilities
Video is a rich source of information about activity in physical spaces. Video analytics—powered by Meraki-provided models—help extract important insights about where motion is happening, occupancy levels, and which desks are in use. While these models have wide-ranging applications, customers have needs beyond their scope.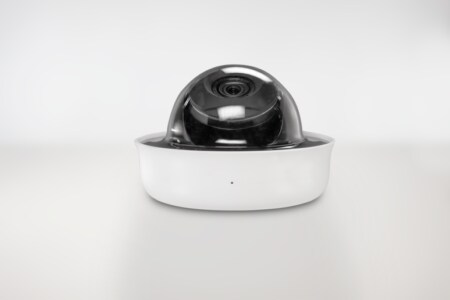 To address new video analytics use cases, we are adding support for custom computer vision (CV) models on second-generation MV smart cameras with MV Sense. With the ability to deploy these custom AI models on-camera, customers can leverage the device's edge computing power to address new, unique business problems—like quality control in a restaurant or optimizing pallet usage in a warehouse.
They can also solve existing use cases more efficiently while leveraging the secure, simplified architecture and on-camera processing capability of MV smart cameras. Explore MV analytics on our website to learn more about video analytics and our new computer vision capabilities.
Accelerating AI at the edge with Cogniac
Computer vision is complicated, and building custom models can require dedicated teams of machine-learning experts and months of development, putting practical applications out of reach for most organizations. That's about to change. We are excited to announce a partnership with Cogniac that will enable Meraki customers to accelerate their use of the new custom CV capabilities on MV smart cameras.
Cogniac is a low-code visual intelligence platform that enables users to build their own AI models quickly and confidently. This partnership will give organizations access to the latest deep-learning technologies without the need for their own AI specialists.
The Cogniac system supports the complete machine-learning development workflow, from efficient image labeling to ML model development. Meraki MV smart cameras, in partnership with Cogniac, bring the benefits of cutting-edge video intelligence and automation to organizations of all sizes. To learn more, visit Cogniac in the Marketplace.
Expanded sensor models
As powerful as video is, effectively monitoring physical environments requires understanding far more than what can be seen. Meraki MT sensors already provide valuable non-visual insights—helping customers reduce unplanned network downtime, prevent asset loss, and improve sustainability. With the introduction of two new sensors, the MT14 and MT30, we're dramatically expanding on these capabilities.
First, the new MT14 is an indoor air quality sensor, providing insight into overall air conditions to improve comfort and safety. MT14 monitors humidity, TVOCs, PM2.5, and overall noise levels to help organizations create more comfortable environments that improve employee productivity and enhance customer experiences.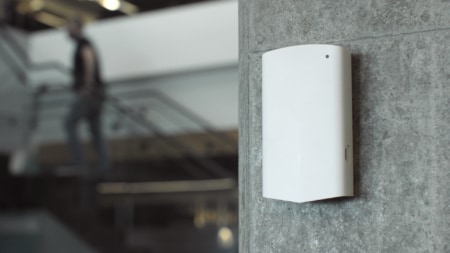 Next, the MT30 is a smart automation button designed to streamline common tasks or trigger specific actions. Paired with the new automation builder in the Meraki dashboard, organizations can build custom workflows to automate any task, like alerting staff members when a customer needs assistance, turning off Wi-Fi to help students focus in school, replenishing material on a manufacturing line, or controlling office lighting to decrease energy consumption. Interested? The MT14 and MT30 sensors will be available for order starting April 12, 2022.
A powerful solution for smart spaces
Meraki now offers customers even more ways to build smart spaces and safer environments. Whether in office workspaces, commercial spaces, or restricted areas, organizations have tools they can leverage to get the data they need about the physical world.
An open platform with ecosystem partners like Cogniac enables businesses to improve employee productivity, increase customer experiences, and drive efficiencies, truly turning insight into action. To see what smart spaces can do for your organization, request a demo or get started with a trial today.