Breaking down the new wireless spectrum, by the numbers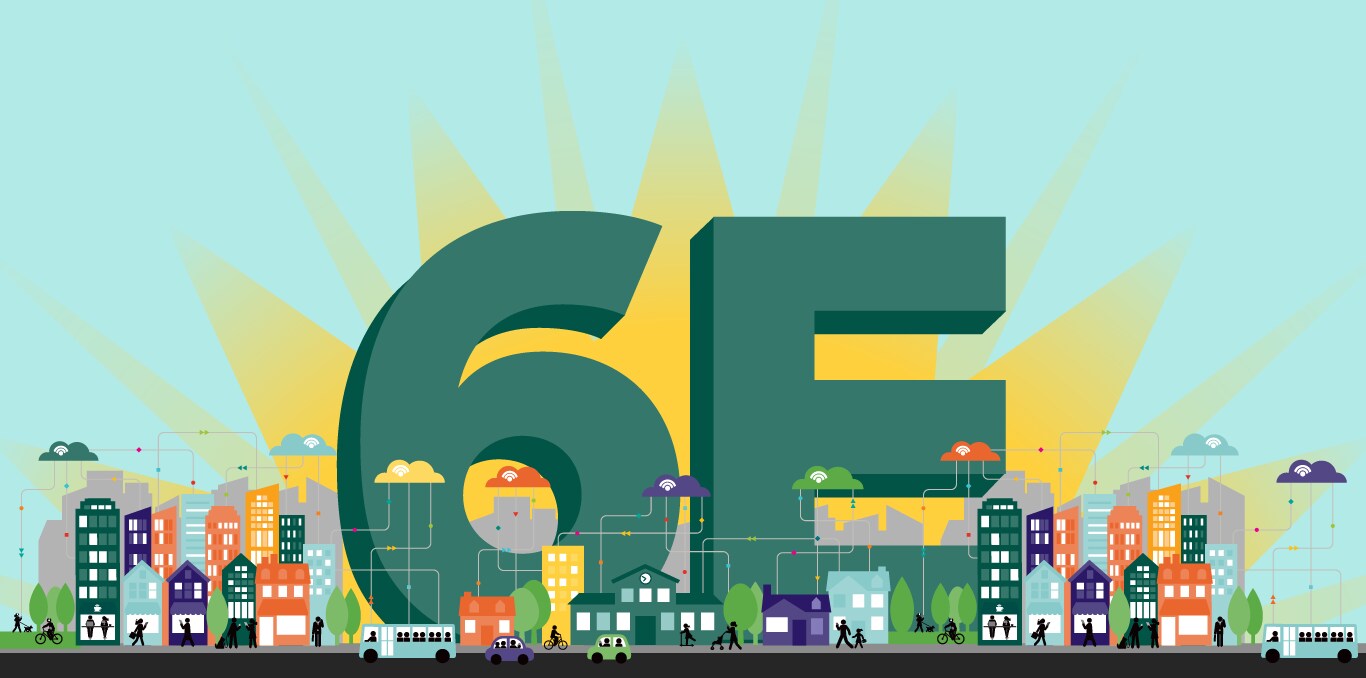 No matter how your team works, your network is your most mission-critical asset and expanding your wireless infrastructure with Wi-Fi 6E needs to be a focal point for 2022. Why? With an investment in Wi-Fi 6E, "IT teams will have everything they need to deliver a truly wired-like wireless experience and the scale to support new devices, sensors, and data traversing the network," says Grant Shirk, Head of Product Marketing at Cisco Meraki. With the opportunities and challenges of hybrid work visible on the horizon, network teams are already game-planning for how they can handle today's bandwidth-intensive applications and build the capacity required to handle the unknown workloads a dynamic future workforce will bring.
The question is, what exactly could the new Wi-Fi 6E standard mean to you and your business? Let's break it down by the numbers: meet the six Es of 6E.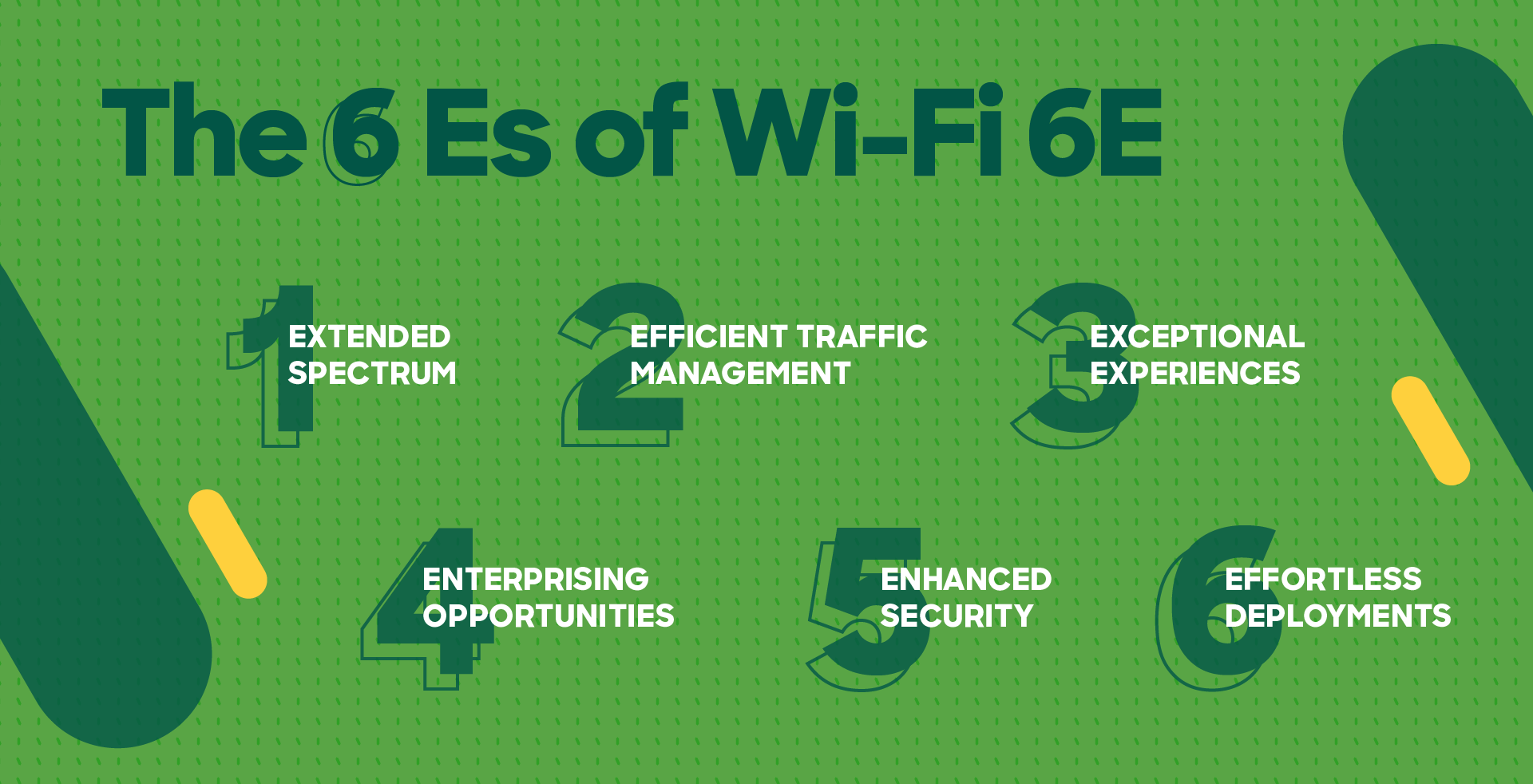 #1 – Extended spectrum
Let's start with the basics: Wi-Fi 6E is an extension of Wi-Fi 6 into the 6 GHz band. Both Wi-Fi 6 and 6E are a part of the same standard, 802.11ax, but with 6E we get an extended 1,200 MHz of spectrum in the U.S. and 500 MHz in Europe. 6E capable devices will get access to up to an additional 59 20 MHz channels, 29 40 MHz channels, 14 80 MHz channels, and 7 160 MHz channels.
Having more devices does not have to mean you have more problems. With the number of devices connecting to enterprise networks growing rapidly, there's a huge need for additional spectrum. As noted in our Hybrid Work Index, the percentage of client devices per access point has seen a massive change since the onset of the pandemic. To support this increase, the extended-spectrum available with Wi-Fi 6E can support more simultaneous user connections to the network at higher speeds and with lower latency. The impact? With Wi-Fi 6E, now the right people can have the right access to the right network resources at the right time.
#2 – Efficient traffic management
Slow traffic, keep right! It's time to clear the way for faster devices on the network. The broader 6 GHz spectrum delivers advanced Wi-Fi performance with higher throughput and wider channels. The maximum speed of Wi-Fi has evolved from 11 Mbps to 4,800 Mbps. That's 436 times faster! The result: less network congestion.
To put this in perspective, imagine driving down the same two-lane road every day, only to fight more and more traffic that doesn't heed the speed limit. It's a bit like your current Wi-Fi situation—congested. Now, imagine the same volume of cars but on a 7-lane highway with a dedicated express lane. A similar connection can be made between older vs. newer cars. Cars that were built many years ago are still sharing the highway with you, slowing down cars behind and beside it. Likewise, Wi-Fi 6E is as much about the spectrum as it is about client devices—it's a fast lane for all your newer, faster devices.
#3 Exceptional experiences
Wi-Fi 6E helps you scale your mission-critical network infrastructure to meet the needs of hybrid work, remote work, and smarter workspaces. Your network is the connection from data to employees to customers and everywhere in between. Creating a consistent and productive work environment that keeps people connected is a priority for every business. Employees want the same experience on your network, no matter their location, and you want them to have the right access at the right time.
#4 Enterprising opportunities
Wi-Fi 6E will deliver a (somewhat) new and definitely improved wireless network that is faster and more reliable and designed for dense environments, high-bandwidth applications like video calls, and services that require ultra-low latency like augmented and virtual reality services.
Smart spaces and automated processes that depend on IoT devices within manufacturing, shipping, and logistics facilities no longer have to suffer from slow Wi-Fi and intermittent connectivity. Wi-Fi 6E helps remediate these issues with wired-like Wi-Fi speeds and a clean spectrum for every automation need. Manufacturers can use robots and automatic guided vehicles in warehouses where they require ultra-low latency with the highest reliability.
#5 Enhanced security
With a highly distributed dynamic workforce, there's an increased need for security, convenience, and optimized access to allow your teleworkers and locations to thrive. In fact, our data shows organizations are increasingly investing in small branch offices as an alternative to traditional large campuses. It's a trend that is accelerating as we exit the pandemic. Employees on your network deserve a "headquarters" experience no matter where they are.
While the Wi-Fi Alliance requires WPA3 security certification for all Wi-Fi 6E devices, Meraki augments the standard with a simple, streamlined setup for an error-free WPA3 configuration. When you combine that with the embedded client analytics, network-wide client visibility, and detailed device insights for Apple and Intel devices that the Meraki dashboard provides, you give your teams an optimal wireless experience, anywhere they connect.
#6 Effortless deployments
If you're not sold on Wi-Fi 6E yet, there's one last consideration we'd like to share. Flexibility and agility are cornerstones of a truly hybrid organization, and we all need the ability to adapt to change on the fly. That's why we'd like to introduce you to the new Meraki MR57, our first-ever Wi-Fi 6E access point. This high-end MR gives you the flexibility to switch between multiple operation modes. Operate the access point in dual-band mode and get extra 5GHz capacity to handle today's wireless congestion. Then, when those 6E devices come online in force, simply flip a switch and open up the 6GHz band. That's way faster than building a new expressway!
Whether you've yet to see your first 6E capable client device or they're already flooding your airwaves, the Meraki MR57 lets you deploy faster, to meet your network's ever-changing connectivity needs, and spin up new services in minutes.
Interested? Good. Excited? Us too! Come on over and geek out with us on our first Meraki Wi-Fi 6E access point, the MR57, and check out the other exciting Wi-Fi 6E and hybrid work news from Cisco.