Seamless employee onboarding and management that scales to meet what's next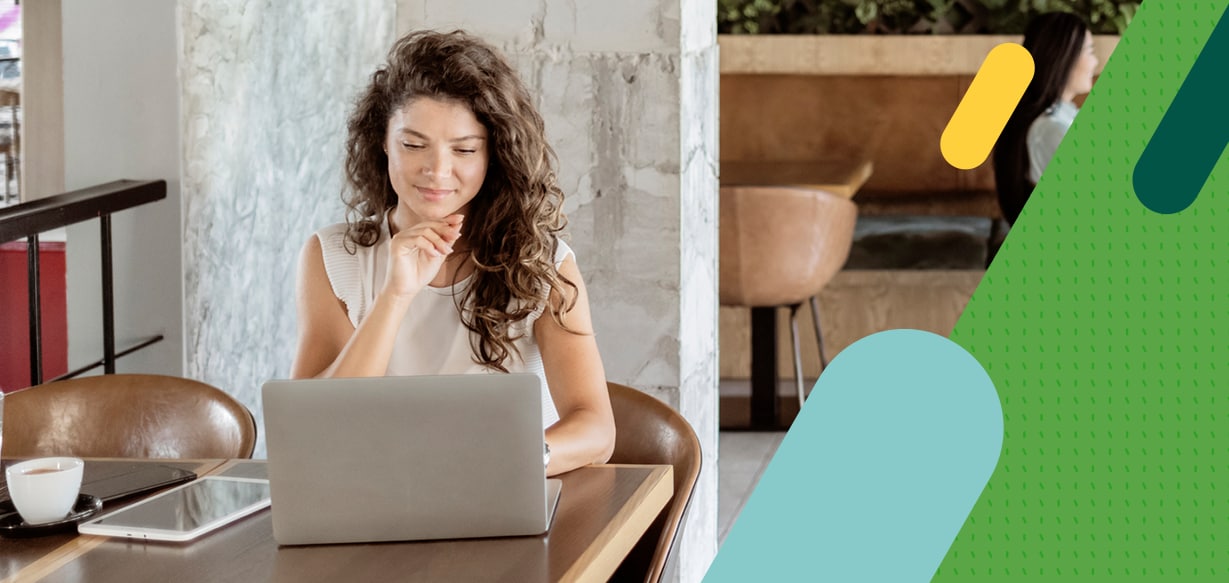 Bring your own device (BYOD) increases productivity and satisfaction by allowing employees to work where and when they want. But it potentially opens up organizations to security and incompatibility problems because of all the apps each employee may have downloaded onto their personal devices.
The number of employees opting to work remotely in 2022 increased 24% compared with 2021, Global Workplace Analytics reported, with Millennials (44%) and Gen X (41%) leading the way in adoption of remote work.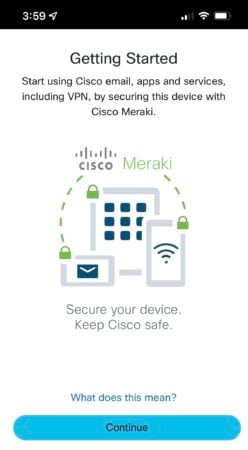 Although remote work is extremely attractive to many employees, employers must address the challenges of securing a far-flung workforce. Like many enterprises that have embraced a remote and hybrid workforce, Cisco needed to ensure its team members used secure communications on their personal devices. But it also wanted to create seamless experiences that were the same, regardless of whether employees logged on at home, a corporate office, or a coffee shop hot spot. 

As a result, Cisco's IT department deployed Meraki Systems Manager as its mobile device management (MDM) solution to support Cisco's BYOD model. At Cisco, the IT team manages more than 60,000 employee-owned mobile devices. By adopting BYOD, Cisco employees can connect to the right work resources, anytime, anywhere, using their personal devices. 
Seamless onboarding for employees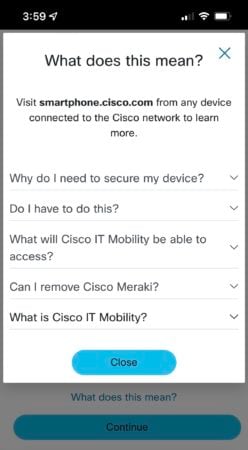 For many organizations, BYOD onboarding and enrollment is completely user-driven. When employees want access to business applications and services on their personal mobile devices, they first download an application. They can then log into the app using their Active Directory credentials and begin enrollment. The entire process is easy to follow, automated, and helps employees understand what will happen on their personal device if they allow Meraki Systems Manager to oversee it.
After opting into MDM management, employees are then prompted to install the configuration profile. This includes the certificate that authenticates each user and their device. As soon as the installation is complete, employees have access to their email, calendar, and collaboration applications.
An enterprise-ready MDM solution is key
For a large enterprise like Cisco, it's critical to automate IT processes, report intelligently, and integrate with existing infrastructure. With Systems Manager—powered by Meraki APIs—IT accomplishes all these priorities at global scale. Likewise, those organizations that use customized, in-house systems require an MDM solution that seamlessly integrates these proprietary technologies.
Regardless of the applications or scale an enterprise has adopted, it's vital that an MDM solution empowers IT teams to deliver the context-aware security that organizations need.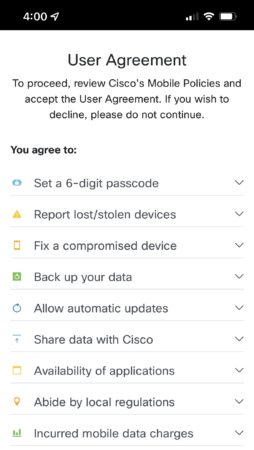 Results
On top of providing employees with a simple and efficient way to access work resources with their personal mobile devices, Cisco IT rests assured knowing security is front and center for the entire process. With Meraki Systems Manager, security policies require employee consent before they are given access to what they need. These policies depend on consistent compliance from employees, so they can continue to have access to business resources. Cisco IT has deployed employee BYOD with Meraki Systems Manager for 60,000+ devices and does not expect to stop any time soon.