Announcing the refreshed Meraki Marketplace for apps
Today, we're announcing a refreshed Meraki Marketplace. It features a number of usability enhancements and sports a brand new look. Since its inception, the Marketplace has grown to feature more than 185 pre-built apps built by over 90 ecosystem partners showcasing use cases across 40+ business categories.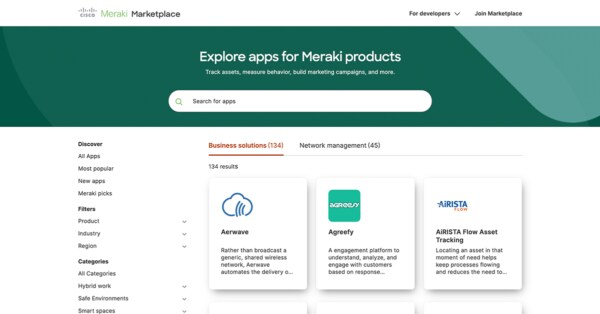 Launched in April 2019, the Meraki Marketplace was designed to be a one-stop destination for applications that help Meraki customers achieve better business outcomes fast. Automate tasks without diving into Python libraries or REST conventions, or coding business workflows/use cases in software. No more scripting or building tools using APIs—our ecosystem technology partners do that for you, as they constantly develop apps on top of the Meraki platform. Need to count vehicles? There's an app for that. How about analyze stadium crowd behavior? There's an app for that too.
We heard you on the ever-growing list of partner and app choices, so we went back to one of Meraki's core values—Simplify Everything—to redesign the Marketplace. Here are some of the navigational enhancements:
View apps categorized by outcomes and experiences, such as hybrid work
Filter apps by specific industry, product integration, and geographic region
Browse using the top-level categories of business solutions and network management, each having several sub-categories
Discover apps by popularity, newness, and our picks from the sidebar
Also, the new look of the Marketplace matches the brand identity that we launched a few months ago to enhance the overall digital experience.
We are not stopping here. We would love to hear your suggestions to keep improving – so head over to the Meraki Community to continue the dialog.
The ecosystem drives the Marketplace and is central in delivering immediate solutions for customers' challenges in IT and IoT. The Meraki platform powers roughly ten million devices daily across 600,000+ customers, with over 23 billion weekly touchpoints. Our technology partners harness this hard data, reduce alert fatigue, and turn it into meaningful experiences via pre-built apps. 
Your outcomes don't need to wait. Visit the Meraki Marketplace today at https://apps.meraki.io/ to find your use case. You can also access Meraki Marketplace directly from your beloved Meraki dashboard. Navigate to the top bar and select Marketplace in the "Help" drop-down menu.