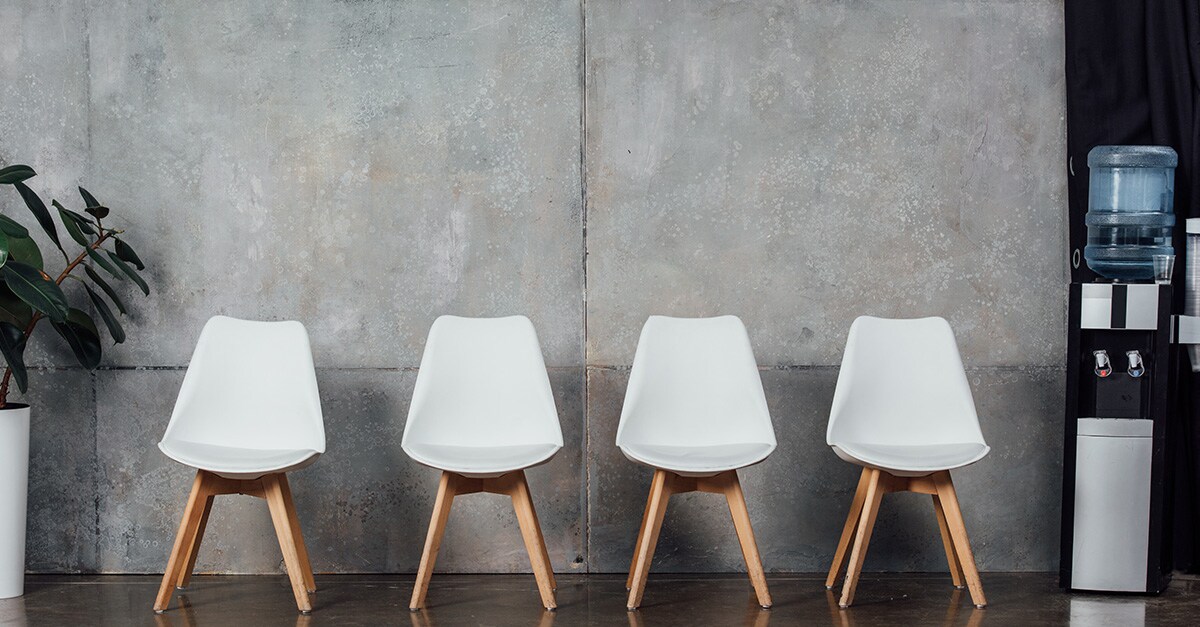 Let's face it: some of us miss the office water cooler.
The office and the water cooler miss you too.
After nearly two years of missed face-to-face interactions around the water cooler, the cafe, at deskside chats, and in conference room huddles, we're all remaining flexible yet are still optimistic about what's next when it comes to returning to the workplace safely.
While businesses and employees ponder the next move based on the changing tides of a global pandemic, the water cooler sits lonely in your office, longing to hear about the latest Marvel movie trailer, giggle at Ted Lasso one-liners, and predict what will happen in the next episode of the Bachelor and Bachelorette.
The return to the office brings mixed emotions
According to a recent Cisco survey, many employees have anxiety about returning to the office, with concerns about touching shared devices, lack of social distancing, and more. Of those surveyed, 95% are uncomfortable about returning given the current health crisis.
Those who worked remotely during the pandemic and have returned on-site reported mixed mental health impacts: 36% of respondents reported negative mental health effects from on-site work, while 37% reported positive effects.
Workers have rolled with the changes
The global workforce has had to adjust to a variety of working scenarios— including remote work and hybrid work—all while balancing the need to maintain safe environments.
As businesses manage their plans to get employees back to the office, they are looking for unique ways to make everyone feel safer in the work environment. Teams need highly secure access and the best collaboration experiences in order to succeed as a hybrid workforce, and customers need to feel comfortable interacting with staff. A majority of CIOs and IT decision-makers (89%) across all industries believe that maintaining security, control, and governance across user devices, networks, clouds, and applications is essential.
Create a plan for a successful return-to-office with smart spaces and the right collaboration technology.

Smart spaces can bring us back with ease and flexibility
Smart spaces bridge the gap between physical and digital layers, leveraging connectivity, security, and intelligence—all from a single cloud-first platform. Consider these smart spaces experiences from Meraki and our partners:
Using Meraki's video API, the PenguinIN smart hot-desking platform shows real-time occupancy intelligence
The recently announced Kloudspot platform and KloudVision™ securely integrate safety features such as occupancy monitoring and PPE compliance monitoring
With Meraki MV and Cisco DNA Spaces, facility managers can now better monitor footfall and enable proactive alerts to keep everyone safe
These are just a few of the technologies that power smart spaces experiences and work together to boost operational efficiency, increase employee productivity, and ensure happy customers. As Ralph Esquibel, Vice President of IT for the Los Angeles Dodgers, observed at the recent Meraki Network user conference, "A camera, in its simplest form, allows us to track individual movements in and around the ballpark … it's understanding what our fans want." Implementing these solutions will enable companies to achieve smarter, secure workspaces via Meraki technologies and intelligence.
When that happens, the water cooler may not be standing alone for too much longer.