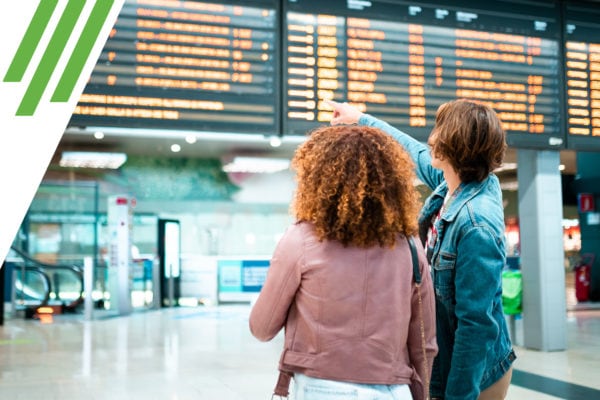 There may be no better indicator of the tumultuous year we've had than Merriam-Webster's list of top words for 2020. Pandemic was number one—no surprise there—and quarantine and asymptomatic were also featured, illustrating the outsized impact the pandemic has had on our lives. If you have a look you'll see other words related to social, cultural, and political moments over the last year that added to our collective frustration.
I have a word in mind that I'd like to see on the 2021 list—transformation.
In our current world, transformation is both a reality and a necessity. Businesses have had to transform their operations. Individuals have had to transform the way they work and interact with others. Meanwhile, entire communities have been left out of ongoing technological transformations that could benefit them greatly.
While the changes transformation brings can be daunting and disruptive, business and technology leaders must be willing to lean into the discomfort in order to survive and compete in the new high-tech world that we are building.
Transform your business
With digital transformation moving at a clip, there will be an increasing need for businesses to rethink how they connect to their customers. The pace at which businesses are adopting digital technology in the wake of the pandemic is staggering. 77% of CIOs say that digital transformation is their top budget priority for 2021 and 89% of businesses plan to adopt a digital-first strategy going forward.
While adopting new technology can be an incredible competitive advantage, businesses will need to ensure they have a reliable and robust network as a backbone to fully leverage their investments. They'll also need to work hard to ensure security, as every new investment in technology comes with added risks.
Transform communities
Many communities today experience disconnection because they have either insufficient or no access to a fast, reliable broadband connection. According to the FCC, while 97% of Americans have this access, only 65% of rural communities and 40% of those living on tribal lands do. This cuts them off from economic participation, education, critical services, and employment, further deepening existing inequalities.
The sudden and unexpected need to transition almost all human interactions to digital spaces put these technology disparities in sharp relief. It also made the inadequacies of our internet infrastructure glaringly visible across the board. Many corporations, Cisco included, were able to leverage existing technology resources to make the transition with relative ease, but other organizations, particularly in the public sector, struggled. The knock-on effects of these shortcomings in terms of socio-economic impact cannot be understated. 
Transform work
Our fundamental paradigm of work was shattered in 2020. An entire group of workers who were previously overlooked were suddenly (and rightly) characterized as essential, while those in the professional sector faced the disruption of moving from an office space to a desk at home.
Both of these events presented their own technological challenges. According to Pew Research Center, 54% of people who are currently working remotely want to continue doing so. For those who can't work remotely, 54% of middle-income and 61% of lower-income workers state they are very or somewhat concerned about exposure to COVID-19. How do we continue to protect workers as we move into the next phase of the pandemic? How do we enable workers to continue to enjoy the newfound flexibility of remote work while making it seamless for them to connect and engage with their colleagues? On top of all that, how do we make sure the solutions we develop to address these issues are secure?
Lean into change
Confronting the challenges I've outlined above can seem daunting. But I believe that 2021 can be an inflection point where we embrace the opportunities before us and actively chart a course toward the high-tech and equitable future that we all envision. 
Two of our core values at Meraki are "be brave" and "everybody in." I see those values reflected in the theme of our upcoming Meraki Network user conference, "Lean Into Change." It's going to take some bravery as a community of technology and business leaders to confront these challenges head on. We're also going to need to work together to make it happen.
That's why I hope you will join us on June 16th for an engaging day of learning and growing together towards our shared vision. Here are a few highlights of what you can expect and look forward to:
Hear from industry leaders and top influencers on how to leverage technology in a competitive world to thrive in the new normal. 

We know your priority is your people. This event will help you understand how to create a secure and safe environment for your people to return to work. Our secure connectivity strategy will help you provide your customers with a level of service that is best-in-class. 

We will discuss important topics centered around how technology is bridging the gap for the underserved in our community as we build an inclusive future for all. I am definitely looking forward to our keynote session with Reshma Saujani, Founder and CEO of Girls Who Code.
I look forward to seeing you there! I know that if we embrace transformation and bravely lean into the change that it brings, we can deliver incredible value to our communities, customers, partners, and people.