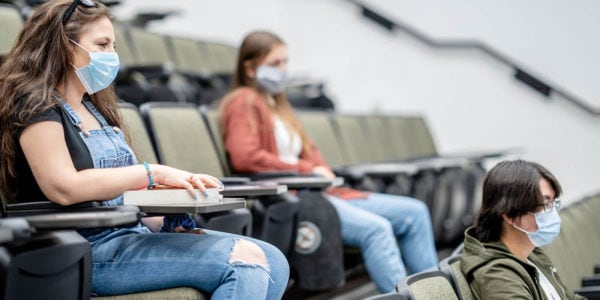 Funds from the Coronavirus Aid, Relief, and Economic Security (CARES) Act have been apportioned and disbursed to institutions of higher education (IHEs) to prevent, prepare for, and respond to needs arising from the COVID-19 pandemic. Cisco Meraki wants to ensure you understand how to access these available funds to invest in technology that supports students and teachers.
We spoke with Mitchell Goersen, Cisco Public Sector Funding Advisor, on what funding is currently available for higher education in the U.S.
—–
How can IHEs use CARES Act funds?
CARES Act funds are explicitly appropriated for the technology costs associated with a transition to distance education, remote learning, and working from home.
CARES Act funds are for:
Community colleges

Institutions offering undergraduate and graduate programs

Public and nonprofit

, private, and for-profit institutions
Can IHEs use CARES Act funds to purchase IT for distance learning, work-from-home, as well as physical/cyber security products and services?
Yes, the CARES Act, the Consolidated Appropriations Act of 2021, and the American Recovery and Rescue Plan grant funds for preventing, preparing for, and responding to the COVID-19 pandemic. Funds may be used to expand remote learning programs, build IT capacity, and train faculty and staff to operate in a remote learning environment. There are 15 uses specified, including:
Purchasing EdTech to facilitate continued learning

Addressing learning loss among students (especially those considered "at-risk")

Other activities necessary to maintain operations and continuity of services, such as video surveillance of mask-wearing and social distancing
How and when do IHEs receive funding?
IHEs have already received allocations from the CARES Act, the Consolidated Appropriations Act of 2021, and the American Recovery and Rescue Plan. Budgeting of allocated funds for tuition abatement, faculty salaries, health and safety, information technology, and other competing priorities is performed by each IHE. Dates by which funds must be expended vary depending on the source of funds. For-profit IHEs generally may use funds only for tuition abatement; administrative uses such as IT are not permitted.
What are anchor community broadband funds and how much is available?
In addition to previously appropriated funds for rural broadband infrastructure, the American Recovery and Rescue Plan includes approximately $2 billion in funds for Historically Black Colleges and Universities, Minority Serving Institutions, and Tribally Controlled Colleges and Universities to deploy broadband infrastructure in neighboring anchor communities.
Deadlines for use of funds vary by grant; the need-to-spend-by date for CARES 2.0 HEERF is September 23, 2023. Visit the U.S. Department of Education website for additional information.
Which types of institutions are the anchor community broadband funds designed for?
Does Cisco have a funding program available for higher education?
Yes, Cisco Capital supports education institutions as they work to deliver collaborative teaching and learning experiences. 
What is Cisco Capital?
Cisco Capital offers flexible financing solutions to help institutions get the latest Cisco technology with no upfront costs and predictable payments spread over time. Cisco can help you gain access to additional funding, enabling you to preserve your budget for other high-priority initiatives. Cisco Capital enables you to invest in the technology you need now to create a secure and productive learning environment and attract new students in a competitive and challenging landscape.
Visit our website to learn more about how Meraki provides IT insights, visibility, and flexibility to improve the college experience, or contact us today.