Fast, dependable networking support when it's needed most.
To say that times are challenging hardly captures the severity of circumstances many are facing today. First and foremost, we want to express our deepest gratitude to healthcare providers, essential workers, and the IT staff who are laboring tirelessly to ensure that hospitals, businesses, and educators continue to operate and connect in ways that keep our modern life moored.
If you manage (or partner with) IT at a healthcare facility, you're probably facing acute challenges: you are being asked to rapidly deploy tens or hundreds of COVID-19 testing sites, triage centers, and field hospitals in unconventional locations that may not even be equipped for Wi-Fi. Many are overseeing an unprecedented, wide scale telemedicine rollout so that doctors and nurses can deliver care from their homes. There may also be uncharted ways in which you are trying to use technology to reduce staff exposure to infection, as well as preserve personal protective equipment (PPE) for front-line staff.
Cisco Meraki wants to help. Here's how we can:
90-Day Free Trials for all Healthcare Customers and Next-Day Delivery
In an effort to help our global community respond to this pandemic, we are offering 90-day free trials of up to 20 pieces of Meraki equipment to healthcare organizations. This is a global offer, and we hope that getting our gear where it's needed most with minimal red tape will provide some relief and significant time savings.
For healthcare organizations in the United States, we can also provide next-day delivery for in-stock gear. This rapid fulfillment can mean the difference between successfully managing an emergency expansion of medical services and missing a critical time window to prevent bottlenecks and delays.
Rapid deployment of testing sites, field hospitals, and triage centers.
If you are trying to get one, ten, hundreds, or even thousands of remote sites securely online in minutes, our MX Security & SD-WAN Appliances can help. Using a feature called configuration templates, the time it takes to configure one MX appliance is nearly the same as the time needed to configure one thousand. This means you can deploy and configure network and security settings for thousands of remote sites with minimal effort or time spent.
Deploying thousands of MX Appliances is simple using configuration templates.
Our MX Appliances can also deliver:
Zero-touch provisioning out of the box, meaning the gear can be remotely pre-configured through your dashboard before ever arriving onsite

Comprehensive, enterprise-grade security

Failover links (including cellular LTE), to maximize uptime in locations experiencing spotty wired connectivity

Secure VPN to extend resources from permanent to temporary locations in only

3 clicks

Integrated Wi-Fi, which allows remote staff to connect to the same wireless network using the same authentication they're accustomed to at permanent locations
All of this means you can have a single-box solution for Wi-Fi, security, and secure tunneling back to campus hospitals or main offices. Meraki gear can be brought online in minutes, with minimal staff who do not need any formal training — they only need access to power and Ethernet.
If you need to support more than 50 wireless clients, our auto-meshing MR Access Points (APs) can work with our MX Appliances. And to ensure availability in the absence of a wired uplink, our MG Cellular Gateways seamlessly transpose a wireless cellular signal to wired Ethernet for primary or failover connectivity. This means you can maintain a connection to the internet anywhere there is a cellular signal, so long as your Meraki equipment can connect to power.
Wide scale delivery of telemedicine
Allowing doctors and nurses to securely conduct virtual appointments — possibly from their homes — is another key challenge that IT teams are being asked to solve. Once again, Meraki MX Appliances can be drafted for duty here, as well as their more compact cousins: the Z3 and Z3C teleworker appliances. The Z3 and Z3C are designed for home office use, and are also configurable at scale in only a few steps using our configuration template feature.
Our Z3 and Z3Cs are also notable because:
Zero onsite IT support is required to bring these devices online — someone simply needs to plug them in and they'll automatically come online

The same easy, intuitive VPN found in our MX Appliances can be leveraged to establish secure remote connectivity to patient health records and other hospital resources

With integrated wireless, these devices enable telemedics to connect to their organization's Wi-Fi networks using the same authentication they are accustomed to in their hospital or clinic settings

They allow plug-in accessories, such as VoIP telephones often used in hospitals, to extend home office functionality

Proactive monitoring and prioritization of critical applications, like videoconferencing, can easily be configured to help ensure quality of service
Meraki wireless APs can also double as VPN endpoints by leveraging their built-in teleworker VPN functionality, offering additional flexibility with deployment options.
Remote Visual Patient Monitoring with MV Smart Cameras
Technology is being deployed in new, sometimes uncharted ways to support efforts to reduce staff exposure to infection and to preserve protective equipment like masks. Meraki MV Smart Cameras offer a scalable, remote visual patient monitoring solutionthat enables clinicians to continuously monitor up to 16 patients at a time on one video wall. This helps scale resources, and protects staff, without sacrificing patient care. Reducing the number of in-person, patient room entries by nurses also preserves critical PPE. Secure and simple to deploy, Meraki Smart Cameras can be installed in minutes with no additional infrastructure needed beyond the camera. A wireless deployment option eliminates the need to run Ethernet cabling, and two-way communication can be added when coupled with a Cisco collaboration solution, like an IP phone.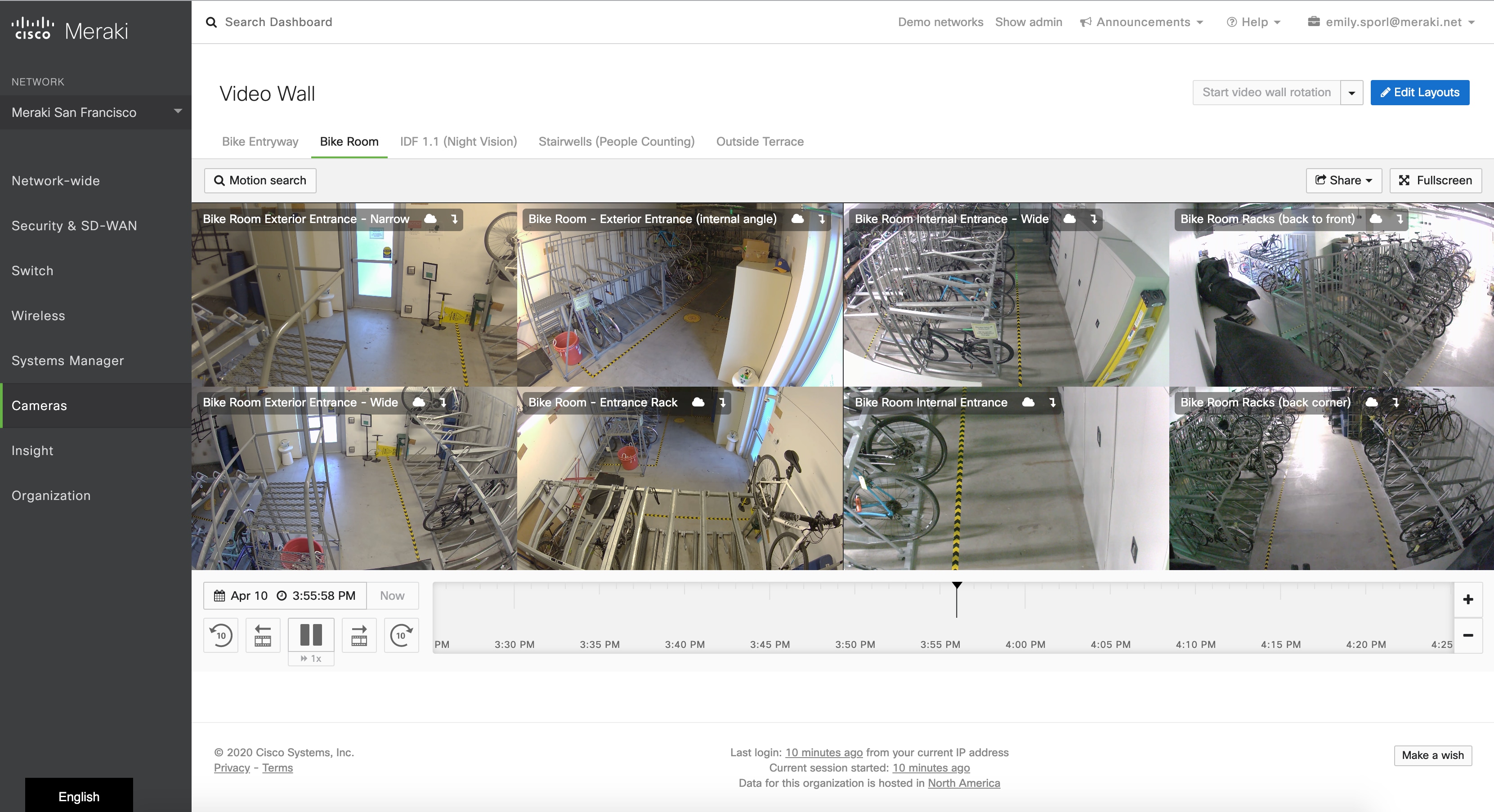 Meraki MV Smart Camera video walls are highly customizable and allow continuous monitoring.
How to reach us
These are only a few examples of how Meraki can assist with today's challenging healthcare scenarios. We want to help you enable your organization to focus on delivering the highest level of care and treatment possible to those in need. Please check out our 45-minute Healthcare webinar to learn more about our special offers for healthcare customers and how we can provide support for these challenging scenarios. Or contact us if you have immediate deployment needs—we're here to help.