Simplifying Cisco's BYOD model with scalable, enterprise-grade MDM
The growing trend of Bring Your Own Device (BYOD) brings a lot of benefits to the workplace. BYOD provides employees with flexibility to leverage more connectivity options while increasing productivity and satisfaction by allowing employees to work where and when they want to. 78% of organizations in the US* are embracing BYOD policies, as it allows them to report reduced operational and IT costs, diminished work delays, and enhanced security., 
Recently, Cisco IT deployed Meraki Systems Manager as their Mobile Device Management (MDM) solution to support Cisco's BYOD model. At Cisco, the IT team manages 60,000+ mobile devices, all of which are BYOD. BYOD plays a big role in allowing Cisco employees to connect to the right work resources, anytime, anywhere, simply using their personal devices.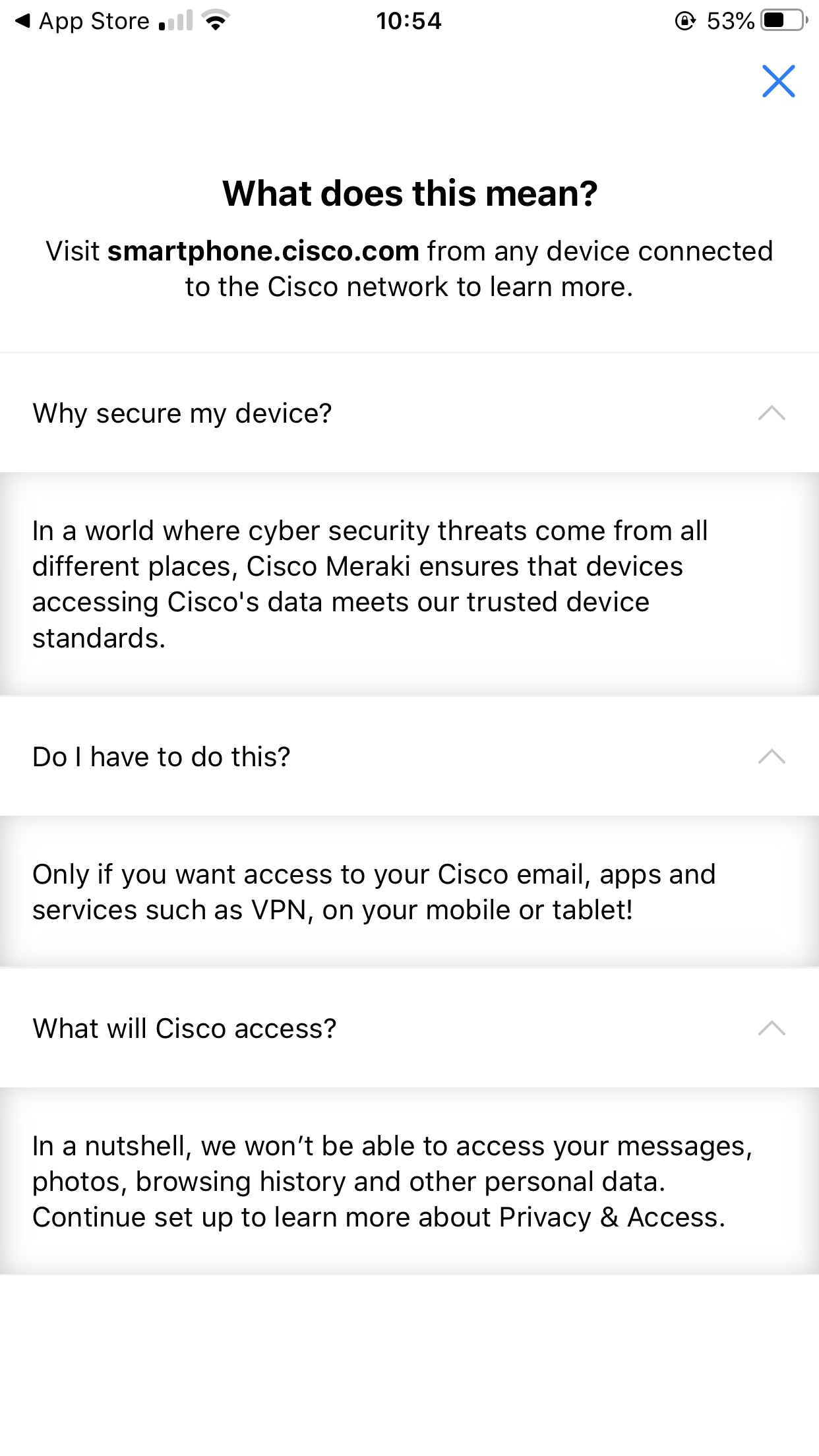 A seamless onboarding experience for Cisco employees 
At Cisco, BYOD onboarding/enrollment is completely user-driven. When an employee wants to have access to Cisco applications and services on their personal mobile device, the first step is to download the Cisco eStore application. Once the Cisco eStore app is downloaded, employees log into the app using their Active Directory credentials and begin the process of enrollment. The entire process is easy to follow and gives employees an understanding of what will happen on their personal device if they choose to be managed by Meraki Systems Manager. After opting into MDM management, employees will then be prompted to install the configuration profile which includes the certificate that authenticates the user and their device. As soon as the installation is complete, employees will have access to their Cisco email, calendar, and WebEx.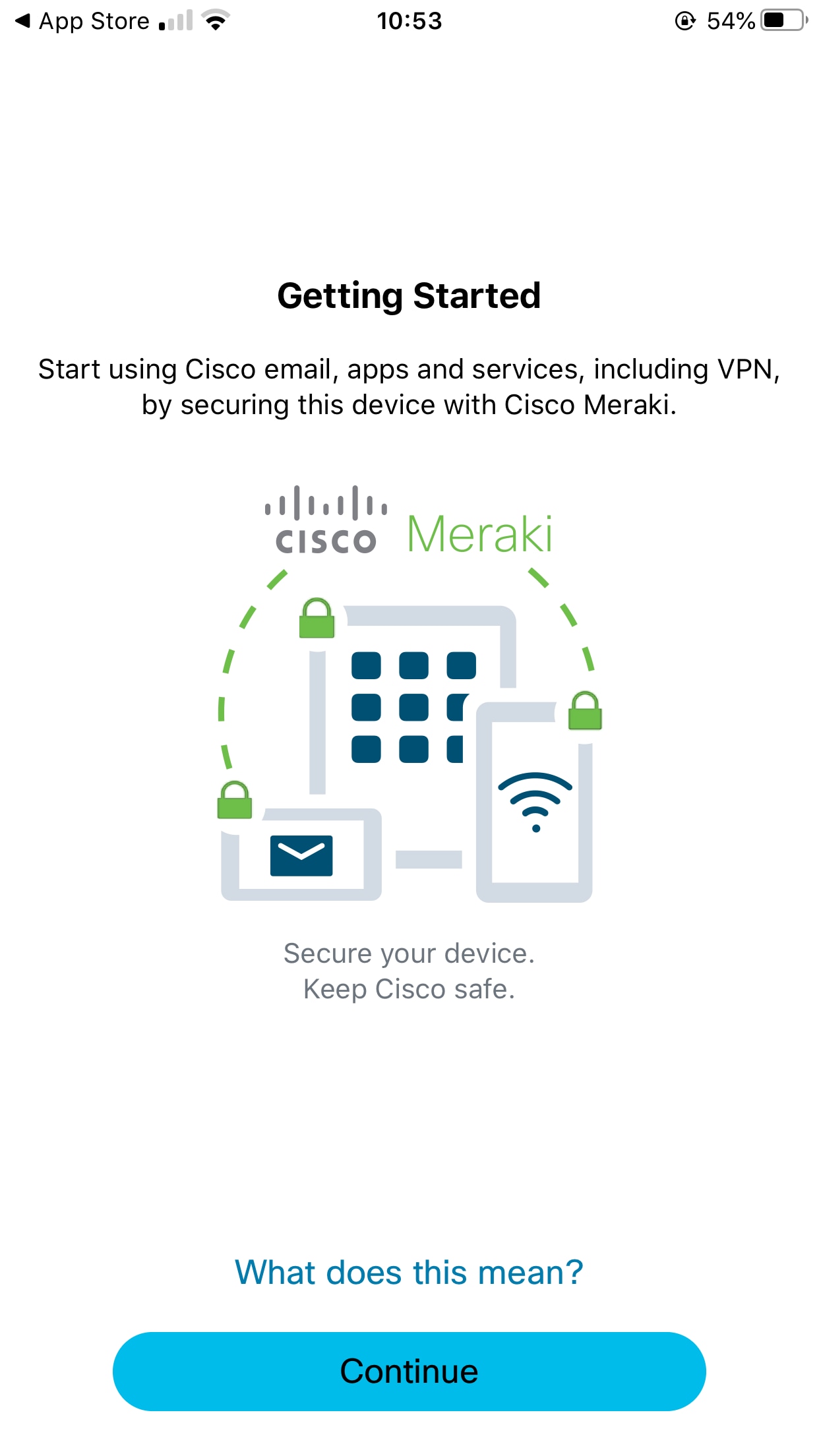 Cisco IT needed an Enterprise-ready MDM solution
For a large enterprise like Cisco, it is critically important to automate IT processes, report intelligently, and integrate with their existing infrastructure. With Systems Manager, powered by Meraki APIs, Cisco IT is able to accomplish these priorities with global scalability. 
Cisco IT has a big ecosystem of "of custom-built, in-house systems and it was a top priority to have an MDM solution integrate with them seamlessly. An example of that is the close integration between the Cisco eStore application and Meraki Systems Manager. The Cisco eStore application is the central hub for Cisco employees to have Cisco manage their phones to establish client VPN and access to corporate email, collaborative applications, and other resources. The Cisco eStore app provides a simple and intuitive user-friendly experience, while all the mobile security and management is taken care of on the backend with Meraki Systems Manager.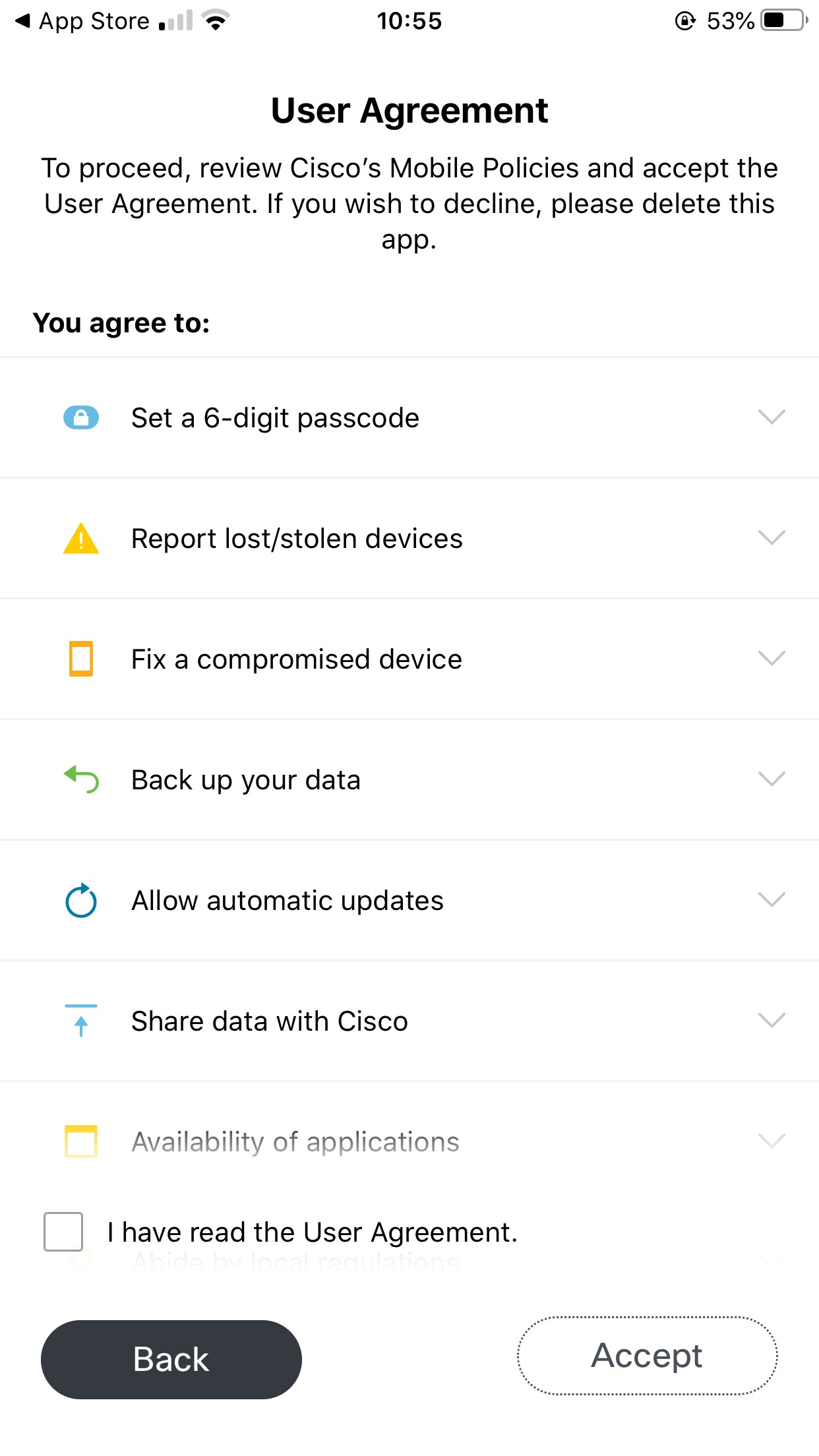 Effective security Cisco IT can count on
On top of providing employees a simple and efficient way to access work resources with their personal mobile devices, Cisco IT can rest assured knowing security is front and center for the entire process. With Meraki Systems Manager, Cisco IT has created security policies that require employee consent before they are given access to what they need. These policies depend on consistent compliance from employees,  so they can continue to have access to business resources.
Currently, Cisco IT is deploying employee BYOD with Meraki Systems Manager and will complete the rollout for the 60,000+ devices by June of this year. If you would like to learn more about Cisco IT and Meraki Systems Manager, visit the Cisco on Cisco booth at Cisco Live Barcelona starting January 27th, or attend a Systems Manager webinar to try out its MDM capabilities. 
*Frost and Sullivan 2018