We're headed to New York in January to showcase the latest and greatest in IT for retail
Succeeding in today's rapidly-evolving and challenging retail business means being hyper-focused on customer experience and creating a  journey – whether it be online or in-store – that is consistent and memorable for the right reasons. With the dominance of ecommerce, the expectation of the customer for their digital experience is higher than ever, and identifying the right technology to enhance, improve and personalize that experience  is key for retailers. 
Cisco Meraki is excited to be bringing our innovative networking solutions to the  National Retail Federation (NRF) trade show in New York next month. Thousands of retail decision makers and influencers from across the US and around the globe will converge to learn about the latest technology available to help them optimize their customer experience. From data insights to video security, Meraki will be showcasing how customers can digitally transform their business in the most simple, most secure way. 
Come visit us at booth 3754, to see and learn more about how our solutions are enabling retailers to reduce operating costs and rapidly implement IT initiatives, so they can return to focusing on their own business mission.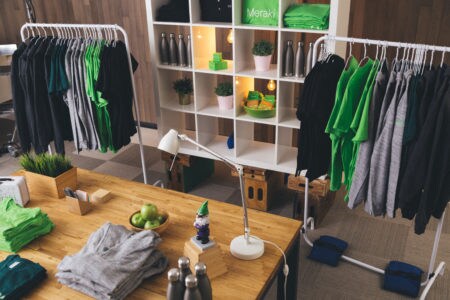 Standing Out From the Rest 
Standing out from  the competition is vital for retailers, and having the right technology that scales as a business grows, could not be more critical. Technology is redefining customer expectations, and at Meraki we are offering a cloud-managed solution to help our retail customers transform their business end-to-end, from manufacturing to inventory management to the in-store/online guest experience. 
Take, for instance, the Meraki MV smart cameras. These cameras are capable of providing video security as well as critical data insights around guest foot traffic, helping retailers improve their point-of-sale and merchandising strategies. 
Connectivity has been critical in retail for a number of years now, where any downtime has a  direct impact on retailers' ability to process customer transactions. Cellular connectivity is growing, and is the most popular WAN failover option for organizations today. To support this growing trend, Meraki recently introduced a brand new product line, Meraki MG Cellular Gateway. Meraki Gateway (MG) is built on the industry's most trusted cloud infrastructure to seamlessly deliver cellular connectivity managed in the same, powerful dashboard as the rest of the Meraki IT portfolio.
From manufacturing and payment solutions to technology networking infrastructure, NRF provides retail decision-makers the opportunity to connect with  technology vendors who are driving innovation and offering support to make a retailer's vision for the future a reality.  
If you're going to NRF, be sure to reach out to your Meraki rep and schedule a Meraki booth tour or a meeting. We'll see you there!