Introducing the all-new Meraki Unboxed podcast
A lot can happen in a week at Cisco Meraki, and a lot usually does. With so much going on, we wanted to find a new way to get the word out about all the great work we and our customers are doing, in a format that's convenient for our audience. As the wise say, for every challenge there's an opportunity.
Our webinar program does a great job of informing and educating, covering products, features, and customer stories. There's even an opportunity for newcomers to get their hands on free Meraki gear! No surprise then, that the microphones in our webinar room are consistently busy. Later in the day though, they've usually been allowed to rest… until now.
We had an idea…
We're delighted to announce the arrival of our very first podcast, we're calling Meraki Unboxed.
Its goal is very simple: to share more of what we're doing and how we go about it, in an engaging, informative, and convenient format. Sometimes we'll be talking about a product or feature, other times we may be talking to a customer, or sharing some of what goes on behind the scenes at our offices around the world. Meraki is more than a company name; it conveys the way we do things, putting soul, creativity, and love into our work. But what does this actually mean? The goal of Meraki Unboxed is to answer that very question, and we're excited to be able to share it with you.
A new episode of Meraki Unboxed will be shared as often as we can make them, and you can subscribe via all the popular podcast tools: Apple, Google (currently US & Canada only), Spotify, and others (RSS users can use this link to directly access the feed).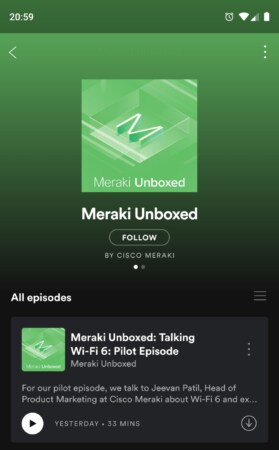 In our pilot episode, available now, we discuss some of the great benefits of Wi-Fi 6. There's a lot to learn about this emerging standard, which raises the bar for Wi-Fi performance and efficiency to new levels, so we take some time to explore the detail behind the headlines with Jeevan, our Head of Product Marketing.
New episodes are currently incubating and we hope they'll entertain you on your commute, during your workout, or even out walking the dog. Subscribing is the best way to ensure you don't miss a thing.
As with everything we do, we'd love to hear your feedback so we can ensure Meraki Unboxed achieves its goal. Please share your thoughts with us in the Meraki Community, and let us know what you'd like us to feature. Happy listening!