Register for these awesome breakout sessions by Meraki at Cisco Live San Diego!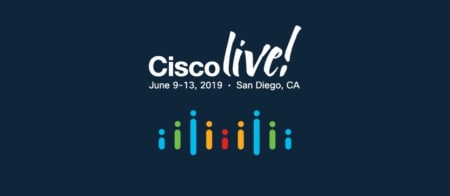 Cisco Live comes to America! Cisco's largest event is going to be held in San Diego from June 9-13, 2019. Expecting close to 30,000 attendees, the San Diego convention centre will have a stellar lineup of events covering blockchain, AI/ML in the cloud, 5G, Wi-Fi 6, and so much more.
While Cisco Live presents an exciting opportunity to meet our product team and explore our brand new launches, you'd be remiss if you didn't take full advantage of the breakout sessions featuring our entire product line, APIs and other integrations. All of our sessions help you derive additional value from your Meraki network through intelligent data gathering and increasing operational efficiency. Our hands-on lab sessions will help you experience and deploy a host of Meraki solutions from scratch.
Register for the session on Meraki APIs and learn how you can build programmable cloud networking tools to thoughtfully address your changing customer needs. Interested in how cameras can be used for more than just security? Our session on MV smart cameras highlights how they act as sensors by transforming video data into actionable information.
Learn how to make your network management simpler and more intuitive by registering for our session on Intent-Based Networks (IBN). Be sure to register for our deep dive into Meraki-powered SD-WAN and find out why Meraki MR + Cisco Umbrella is a match made in heaven for wireless threat protection. Do you have a network with both on-cloud and on-prem solutions? Learn how to automate and deploy these securely in our session on hybrid networks.
We also have sessions covering how to set up high density and high capacity networks while maintaining the highest security standards. Our in-house Meraki experts will also demystify cloud-managed security and branch security deployments using our highly flexible MX security appliance.
We recommend that you register to these sessions at the earliest as they are sure to fill up fast. Click here to see the entire list: Meraki sessions at Cisco Live
BREAKOUT SESSIONS
June 10, Monday
01:00 PM – 02:00 PM: Delivering an Intent-Based Network with Meraki
02:30 PM – 03:30 PM: Cloud Managed Security from the WAN to the Endpoint with Cisco Meraki
04:00 PM – 05:30 PM: Building high capacity networks with Cisco Meraki (MS+MR)
June 11, Tuesday
09:30 AM – 10:30 AM: How to effectively deploy a combined Catalyst and Meraki solution
01:00 PM – 02:00 PM: High-Density Access Networking with Cisco Meraki
2:30 PM – 3:30 PM: Camera as a Sensor for Enterprise, Not Just a Tool for Security
June 12th, Wednesday
01:00 PM – 02:00 PM: Taming Branch Security with Cisco Meraki
04:00 PM – 05:30 PM: Deep Dive into Meraki Powered SD-WAN
June 13th, Thursday
10:30 AM – 12:00 PM: Powerful, programmable cloud networking with Meraki APIs
01:00 PM – 02:30 PM: Meraki integrations with Cisco Security Architecture
DEVNET ZONE
June 10, Monday
01:00 PM – 01:45 PM: Network Provisioning, Management, and Monitoring with Meraki Dashboard API
05:00 PM – 05:45 PM: Deploying, Securing, Monitoring, and Managing a Network with Code
June 11, Tuesday
09:00 AM – 09:45 AM: Leveraging Real-time Infrastructure Data Streams with Meraki and Cisco Wireless LAN Controller
10:00 AM – 10:45 AM: Building, Configuring and Deploying WiFi Engagement Captive Portals with Meraki
04:00 PM – 04:45 PM: Efficient Network Monitoring with Webhooks
June 12, Wednesday
05:00 PM – 05:45 PM: Hardening your Network with Code (and APIs)
We look forward to seeing you at Cisco Live San Diego! Subscribe to the Meraki blog and stay up to date with all our new launches and events.