Next generation wireless, including new Wi-Fi 6 Access Points
Whether indoors or outdoors, a quick look around is all it takes. How many colleagues, friends or strangers can you see using a mobile device? You're probably reading this on one right now. For most of us, the mobile future — predicted by countless thousands of tech articles — is already present-day reality. Whether for productivity or pleasure, the overwhelming majority of information we generate and consume every day crosses a wireless network… Wi-Fi, cellular, or both.
Recently the tech journalists have been busy writing about the next generation of wireless networks — Wi-Fi 6 and 5G — both of which will deliver a significant performance boost for the most demanding applications we access on our mobile devices.
In many ways, the smartphone revolution triggered our insatiable appetite for mobile data. And in many ways, that revolution began in 2007 with the iPhone launch (yes, I remember the Blackberry… but I never streamed video to mine). Year after year performance on cellular and Wi-Fi networks has improved, and today we think nothing of streaming music — even video — while commuting, sharing photos with friends while on a hike, or joining a multimedia online call with colleagues from a park bench at lunchtime. The networks have improved… and they need to continue doing so to support applications like real-time route guidance, 4K video and self-driving cars.
5G uses new radio spectrum and takes advantage of technologies that we first saw widely used in Wi-Fi, like MIMO (for simultaneous transmission between antennas and multiple devices) and beamforming (for more efficient focusing of those transmissions). Early field trials of 5G have demonstrated download speeds in excess of 600 Mbps to a single device!
There is a catch though. Those peak speeds only tell half the story, because they're achieved at higher frequencies, and the higher the frequency, the more challenging it becomes for cellular signals to reach inside buildings. For this reason, Wi-Fi remains the most effective and dependable way to deliver consistently great performance indoors.
Wi-Fi 6 (sometimes referred to as 802.11ax) is arriving this year, delivering up to four times the capacity and performance of the previous standard, with up to 4.8 Gbps per access point. Connection reliability is also improved, as is client battery life, thanks to improvements in power saving algorithms. Clients that support this new standard are just starting to appear on the market, and so I'm incredibly excited to announce the time has come for Cisco to unveil its Wi-Fi 6 strategy.
Today marks a huge step forward for Wi-Fi, with Cisco announcing new Meraki and Catalyst Wi-Fi 6 compatible APs. I'm incredibly proud of the hard work the Meraki team has put into bringing them to life, including testing with the early clients already hitting the market. With a new, distinctive form factor, multigigabit connectivity, and the most powerful Wi-Fi radios we've ever deployed, these new APs will significantly enhance the wireless experience for all clients and especially those that support Wi-Fi 6.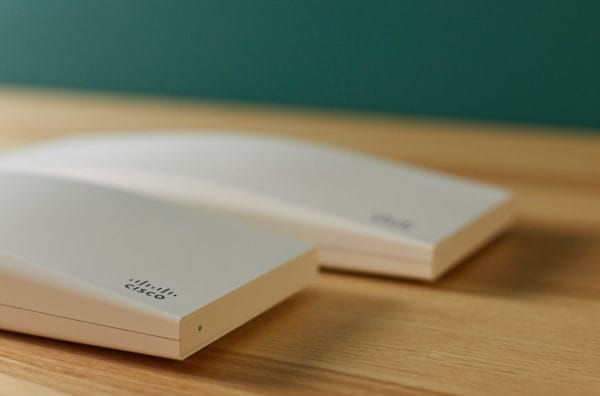 The new Meraki Wi-Fi 6 APs share all of the advantages of earlier models, including an elegant management experience, integrated Bluetooth, and a dedicated full-time security radio, but they're in another league when it comes to performance. The devices we use every day will become more responsive and higher-performing, providing crisper, more immersive experiences. The new power saving features of these access points will provide the performance needed for a whole new generation of battery powered IoT use cases… not to mention I won't have to charge my phone at 6pm! We'll be sharing more details on the improvements driven by Wi-Fi 6 over the coming days and weeks.
So, the cellular and Wi-Fi technologies we use every day are being significantly improved in 2019. This begs the question: wouldn't it be great if they could work better together for a more seamless experience? At Mobile World Congress this year Cisco demonstrated just such a solution called OpenRoaming. The concept is simple, enhancing established cellular-to-Wi-Fi technology, called Hotspot 2.0. By simply adding a tag to the configuration of a wireless network, a client device can automatically connect to that network by using the client owner's account credentials. No more fumbling with passwords, or broken splash screens, which means carefree roaming between outdoor and indoor networks. Support for OpenRoaming will be coming to Meraki customers soon.
These continue to be exciting times for device mobility, and this leap forward in performance won't just improve the experience we have running today's apps, but also fuel the imagination of the development community to build what comes next. I can't wait to see where it takes us!
To learn more about our new Wi-Fi 6 APs please follow this link to our on-demand webinar, and to share your thoughts on the future of wireless there's no better place than the Meraki Community. See you online!