Meraki smart cameras get even smarter, plus a new cloud archive option
When Cisco Meraki introduced MV security cameras two years ago, the goal was to create a product for an industry that had seen little in the way of fresh, innovative approaches to solving common problems in decades. MV featured a new architecture that fundamentally made the business of installing, managing, and interacting with security cameras easier, more enjoyable, and less resource-intensive.
A year and a half later, MV12 came into the picture and brought advanced analytics to the MV family, including computer vision powered by machine learning—all without the need for any servers or additional software complexity. But with the introduction of in-dashboard analytics came tons of questions about additional analytics capabilities.
Today, MV Sense joins the MV family as a tool to help users create better, smarter business solutions. MV Sense is the first installment in a broader analytics category called Meraki IQ, a powerful class of intelligently processed data delivered via simple APIs.
Further underpinning this dedication to enabling customers to make use of cameras as sensors, the MV lineup grows to include MV22 and MV72, indoor and outdoor varifocal cameras featuring the same powerful processor as MV12.
Let's take a deeper look at these exciting additions:
MV Sense
The in-dashboard analytics tools found on MV smart cameras—motion heat maps and person detection/tabulating—can provide users a wealth of high level information about foot traffic and behavior patterns, but the use cases for MV's machine learning algorithms are so vast and varied that we wanted our customers to be able to take advantage of it in their own way. Enter MV Sense, a new way for customers to interact with and build on top of the person detection data that comes out of MV12, MV22, and MV72 cameras. Each MV Sense license allows users to access person detection data produced by a camera (including location, time, and count) via a set of both RESTful and MQTT-based APIs.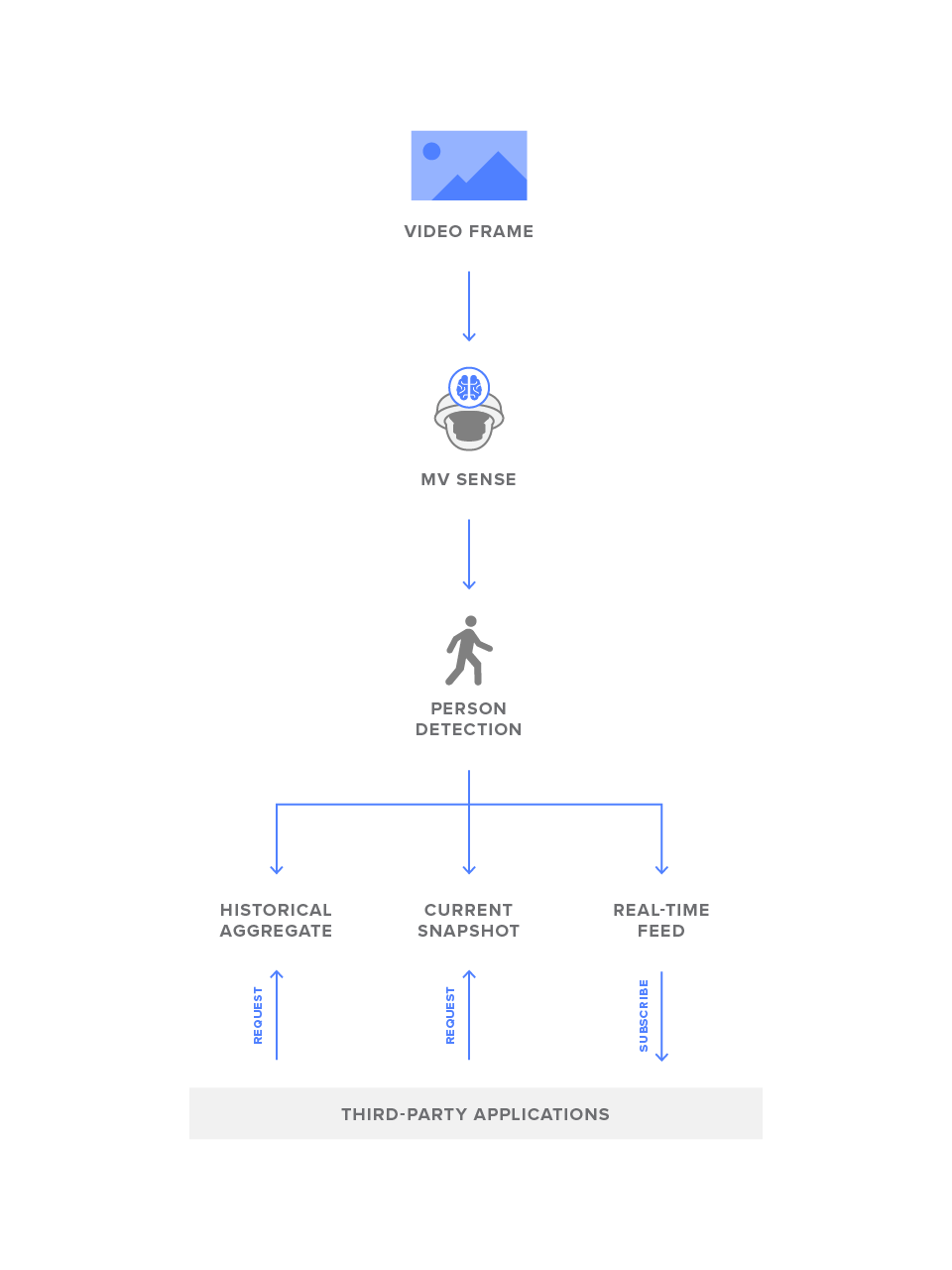 This means that those once far-fetched or cost-prohibitive ideas can become a reality. MV Sense allows for solutions that do things like:
Trigger a special in-store media display to begin playing if there are more than 10 people in close range of the screens
Understand wait times in grocery queues around the world
Quickly understand and alert emergency personnel if there are people left in a building during a fire drill or evacuation
Set off an alarm if the person count next to a dangerous piece of machinery in a manufacturing facility drops below the safe minimum
Lots more!
The most exciting part? 10 MV Sense licenses will be included with every MV organization to allow for tinkering to begin right away.
Learn more about MV Sense by reading the datasheet.
New hardware
Advanced analytics are now available on two new hardware models—a duo of indoor and outdoor varifocal cameras, MV22 and MV72. They feature not only the same processor as MV12, but also many of the same hardware benefits: audio recording, wireless capability, and 256GB of onboard storage, all with the added bonus of optical zoom, which can be configured and adjusted simply via the Meraki dashboard.

MV72 also features increased weather- and impact-resistance ratings from the first generation, IP67 and IK10+. IK10+ happens to be the highest impact resistance rating available, meaning those advanced analytics can now be deployed anywhere and everywhere.
Read more in the datasheet.
Bonus: cloud archive for MV
The edge-storage architecture of MV smart cameras was created thoughtfully and deliberately to serve Meraki customers' needs. This meant building a product that would accommodate those customers who had real-world bandwidth constraints and limitations. Still, there are times when it's necessary for particular cameras in a fleet to offload their storage or have a backup of the data, and that's where the cloud archive tool for MV comes in.
Cloud archive comes in 90- and 180-day storage options and can be enabled on a per-camera basis, allowing for custom-tailored storage solutions for every organization. This means that only critical cameras will back up their video to the cloud and bandwidth limits can be adhered to. Cameras will continue to retain footage locally in addition to the cloud copy, providing redundancy and greater peace of mind.
Read the cloud archive datasheet to learn more.
Tell us what you think!
With such a wide array of new products, we're excited to see how they'll be used. Let us know what you're planning to do with MV Sense, MV22, MV72, and the cloud archive tool in the Meraki Community.
Or, get in touch with your Meraki rep today to learn more or start a risk-free trial.