Meraki Wi-Fi APs used for location analytics and security at major event
Every year Cisco brings its entire sales team together for an annual kickoff meeting called Global Sales Experience (GSX). Attendees are immersed in what's new, and trained on the technologies and products they need to understand, over three long days. This is how Cisco account managers and technical sales teams are educated and enabled to go out into the field and help customers develop their own businesses while staying relevant in the fast-moving world of technology.
As a technology pioneer, Cisco naturally likes to make use of its own technology to enhance the experience at GSX, which is attended by up to 18,000 salespeople, hungry for knowledge. Solutions cover a variety of real-world challenges that apply to running an event on this scale, and easily translate to other scenarios:
One of the concerns when managing a large event like GSX is security. The operations team need to ensure that only authorized personnel are accessing restricted areas. The safety of attendees is also of paramount importance, so knowing they are present once registered is one practical step.

Every year many sessions are developed and delivered at the event. For better planning for the next year, the events team needs to know which attendees spend time at which sessions. It's helpful to know which sessions are more popular or in which areas attendees spend more time. This helps with staffing needs for future events.

Attendees also have some mandatory trainings that they need to attend and there's a need for an automated way of tracking attendance. This use case is similar to universities where they are hoping to track student attendance in classrooms.

Beyond the sessions, it's helpful to know which attendees are at a specific demo and for how long they stayed. A survey can be sent to those who spend time in a given area to better understand how useful a demo was to them. Location-driven engagement can be applied to many different situations.

Attendee tracking enables the delivery of personalized messaging on Cisco Vision digital signage or in the mobile app, and can also recommend other related activities and sessions based on what the attendee has participated in. For example, this technology can be used to congratulate sales winners as they walk by a monitor display. Or a notification could be sent to a mobile app along the lines of "Thanks for attending the Meraki breakout! You might like the Meraki demo in the Hub as well. It's right around the corner, so use the wayfinding tool below to get there."
At the event this year the GSX team made use of Meraki APs with integrated BLE radios to address these needs, by leveraging the BLE beacons built into every attendee badge. The APs' BLE radios are complemented with directional external antennas to provide a high degree of location accuracy: in this case, helping to distinguish location data for one booth from another at the show. The technology proved highly effective, helping the team build a comprehensive picture for the event, as this collection of statistics illustrates.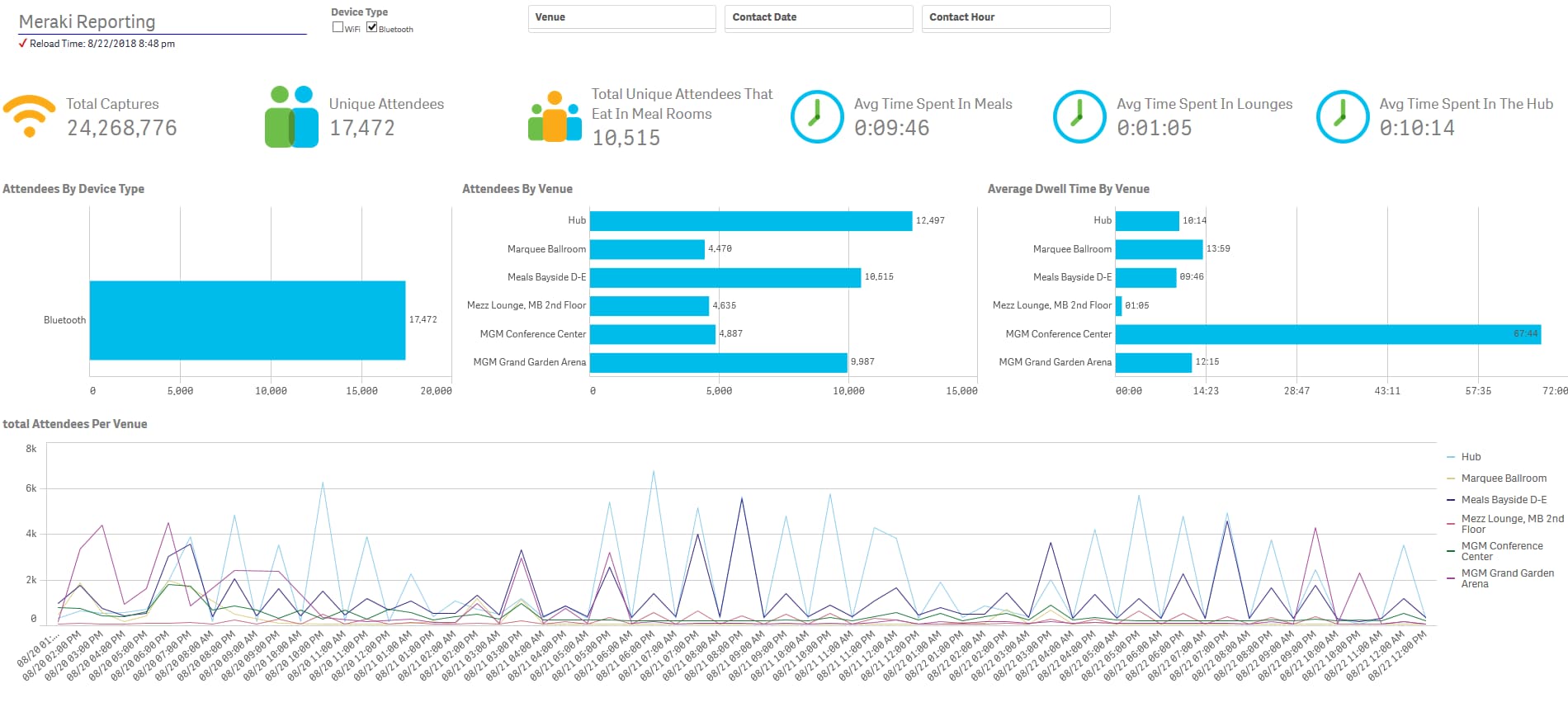 The visualization of this data is an aggregate of Meraki and partner technology, leveraging our APIs for access to the data collated by the Meraki cloud.

There are many use cases for the location capabilities built into Meraki APs, especially when extended via our APIs and third party apps like the ones highlighted above. Location-based services offer multiple opportunities to improve services, engagement, planning, security and more. To learn more and begin your location services journey, please sign up to attend a Meraki wireless webinar, or simply reach out to your Meraki partner.