Since Meraki launched the MV family nearly a year and a half ago, the wishes coming in from the Make a Wish tool in the dashboard have not stopped flowing. One of the most consistently requested features? Motion alerts. Today, this handy tool is available across all MV hardware models.
Whether for keeping tabs on valuable merchandise in a retail store, increasing the efficiency of a shipping and receiving dock, or keeping school grounds clear of trespassers, motion alerts have enormous business potential across all verticals. The engineering team behind MV has created an exceptionally straightforward way to implement alerts and we can't wait to see how our customers use them.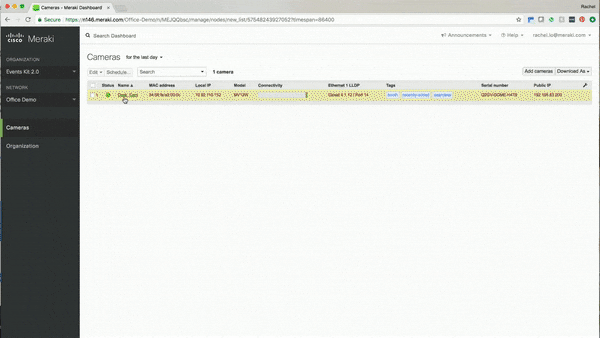 Once a camera's alerting schedule, minimum event trigger length, and alerting region have been selected, alert behavior can be configured on the Alerts page (alongside offline device alerting). The default alerting email(s) can be used, or add a motion-alert-specific email address for more granularity.
Each alert generated by the dashboard will link directly to the relevant video clip, no manual video scrubbing needed. Take a peek below.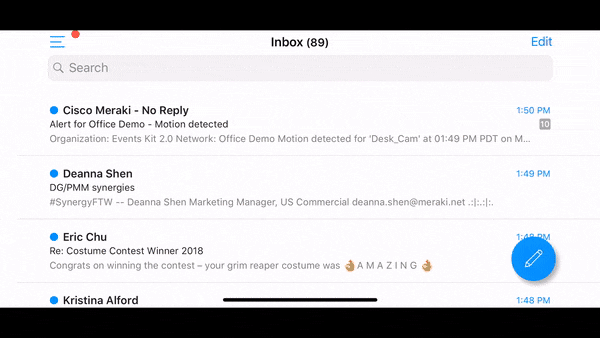 Pro-tip: most major mobile carriers allow you to send emails to an SMS phone number (see the list of phone number "conversions" by carrier below). Take advantage of this "hack" in the dashboard to get motion alerts sent directly to a mobile device as a text.
Alltel:

phonenumber

@message.alltel.com

AT&T:

phonenumber@txt.att.net

T-Mobile:

phonenumber

@tmomail.net

Virgin Mobile:

phonenumber

@vmobl.com

Sprint:

phonenumber

@messaging.sprintpcs.com

Verizon:

phonenumber

@vtext.com

Nextel:

phonenumber

@messaging.nextel.com

US Cellular:

phonenumber

@mms.

uscc

.net
If you're an MV user, take motion alerts for a test drive and let us know what you think in the Meraki Community. If you still haven't gotten your hands on an MV, be sure to contact your rep today or sign up for a webinar to learn more.