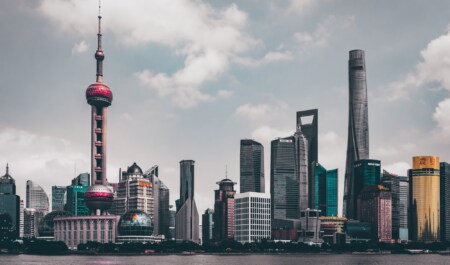 Last summer, we celebrated as the millionth Meraki network came online. Today, less than a year later, we've hit 1.4 million networks. It's hard to believe, but in just 12 years, Meraki has completely changed the face of networking and helped hundreds of thousands of organizations connect people and ideas better than ever before.
Bringing intelligent management and a simpler IT experience to organizations everywhere has always been our mission. That's why I'm excited to announce today that Meraki is launching in the world's biggest Internet market: China.
Why China? Many of our large enterprise customers in such verticals as retail, hospitality, education, and manufacturing have already entered the Chinese market. They love using Meraki to manage their networks in other countries, and now they can use Meraki to manage their Chinese networks as well. At the same time, we look forward to bringing the Meraki magic to organizations born and bred in China and show them how Meraki can help them seize new opportunities while reducing operational costs.
It's hard to overstate the role that pervasive Internet connectivity has had in shaping China's society and economy. China has nearly 800 million online users, most of whom access the Internet exclusively through their smartphones. App developers, local merchants, and everyone in between need fast and reliable networking to function smoothly. Entire platforms like Alipay and WeChat have changed how Chinese consumers interact with friends, family, and organizations of every type.
Having visited China a few times myself, I've been astonished every time I've paid for a train ride using my phone, borrowed a shared bike through an app, or ordered food at a restaurant (and paid for my meal) without having to leave the table. It's clear to me that the increasing sophistication of China's digital economy demands a stronger IT and networking backbone.
Over the last many months and years, we've worked hard to understand the needs of customers in China and to build an experience ideal for this market. We're launching in China with our flagship networking solutions: MR (wireless access points), MS (switches), and MX (routers).
At Meraki, we believe that IT has a pivotal role to play in every organization. In years past, organizations would often treat IT as a separate appendage, consulting the IT team only when the Wi-Fi went down. Today, organizations work hand-in-hand with their IT teams, relying on them to deploy and manage forward-thinking solutions that can give organizations actionable intelligence about their customers, prevent production downtime, and much more.
What makes Meraki the leader in intuitive, intelligent IT? Our centralized management model minimizes the need for expensive, complex on-site infrastructure like wireless controllers, and allows us to rapidly deliver features that unlock new capabilities. All of our products are managed through the web-based Meraki dashboard, a simple interface for configuring and controlling Meraki access points, switches, and routers. Advanced capabilities, from a network topology view and virtual switch stacking, to Layer 7 application visibility and extensible APIs, minimize the time IT administrators need to deploy, configure, and manage the network.
The Meraki team has invested countless resources to build a comprehensive networking solution specifically for the Chinese market:
We have invested in two data centers in China, used exclusively for the management data of Chinese organizations.
The Meraki dashboard has been translated into Chinese and is physically separate from the dashboard used to manage networks outside of China.
We've opened up a China headquarters in Shanghai and will be running all of our Meraki China operations from there, including dedicated sales and marketing teams.
A support team dedicated to our Meraki China customers (and fluent in Mandarin!) sits in our Shanghai headquarters, ready to proactively help our customers build the best and most powerful networks.
Whether in San Francisco or Shanghai, our ethos remains the same: simplifying powerful technology to free passionate people to focus on their mission. Meraki is all over the world, with over 1.4 million active networks (and counting) in offices, classrooms, coffee shops, restaurants, manufacturing facilities, hospitals, hotel rooms, and everywhere in between. We can't wait to see how our Chinese customers will build out new networks and how Meraki will help shape the future of IT in China.