Making the device list and device details pages more skimmable
As the needs of our customers and the capabilities of our products have grown over time, so too has our deliberate approach to making the Meraki dashboard as useful and delightful as possible. The Meraki engineering team has been hard at work refining the list pages where you can view all Meraki devices of a particular type (e.g., wireless APs or switches) as well as the detail pages for individual Meraki devices.
We've already rolled out most of these changes over the last few months. By May 28, users will see the full set of updates when they log in to the dashboard. Keep reading to see how we've enhanced these pages.
Device list page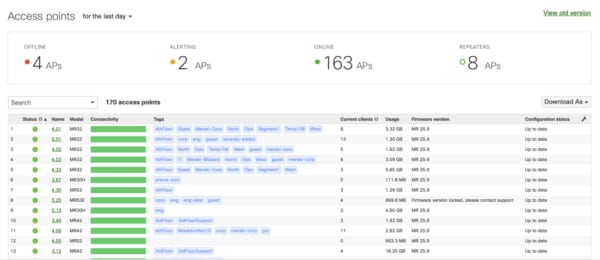 The device list page now displays a useful summary pane, which gives you an instant look at the status of all of your Meraki devices on the network. For example, you can see how many APs are online and offline, how many are alerting, and how many of your APs are repeaters. This is a small change, but one that we think a lot of customers will quickly appreciate.
Device details page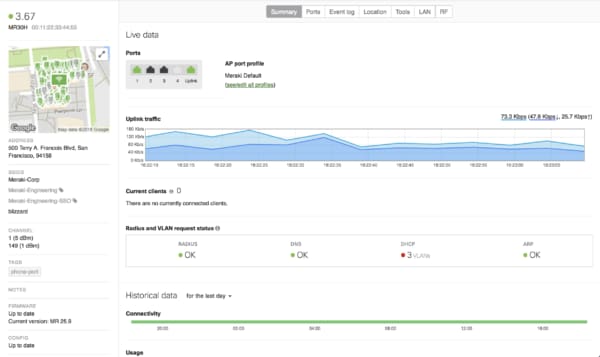 On the device details page, the map showing the location of the Meraki device is now always visible, no matter which tab of the page you're on. You can confirm which AP you're working on without having to toggle to the Location tab. This is especially useful for multi-site deployments.
We've also made it much easier to find the RADIUS and VLAN request status on an AP's details page — it's right on the summary tab. You can quickly narrow down a connectivity issue to RADIUS, DNS, DHCP, or ARP, or you can click on the LAN tab for more granular information.
Tools tab

Old Tools tab on the left, new Tools tab on the right
Finally, when clicking on the Tools tab, you'll see all the tools available at one time instead of a dropdown selector. This way, you'll be able to run and view the results of multiple tools at once.
Please note that after May 28, you'll no longer be able to revert to the old version of the pages.
Do you have any suggestions for improvements? Feel free to "Make a wish" on the bottom right of any page in the dashboard to get your feedback directly to our engineers!