This week the Systems Manager team released a host of exciting new Apple features and made some interface changes in the Meraki dashboard to make endpoint management even easier, automated, and more powerful.
Interface Changes: Settings Page
Interface changes can be seen on the Settings page, where users set configuration profiles and settings for different device types. The new Settings page has been redesigned to streamline management and make configuration settings more easily discoverable when creating profiles.
We've flattened out the previous tile view and added a search bar to help users instantly find the configuration settings desired, or filter and browse settings by supported operating system. This guide offers a full review of these dashboard changes.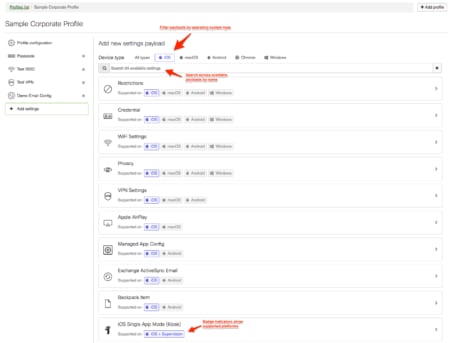 New Apple Features
Also on the new Settings page, you'll see a host of new features available for iOS and macOS, some of these were made available in the Apple iOS 11.3 and macOS 10.13.4 release. These new features are extremely powerful for all organizations managing Apple devices, but particularly compelling for those in education!  
Highlights include:
Delay OS updates for up to 90 days on iOS and macOS: Providing time for IT teams to vet and test new OS versions before they are deployed on managed devices.
Keep apps up to date on iOS and macOS: Select for specific App Store  apps to automatically update when a new version is available.
Disable Bluetooth settings on iOS and macOS: Limit distractions and security loopholes by locking down the bluetooth functionality on devices through the live tools on a device page. IT teams can use this in conjunction with bluetooth restrictions settings to lock bluetooth settings on or off.
FileVault Personal Recovery Key (PRK) Escrow: Store PRKs for disk encryption on macOS devices.
Login window: Set custom login window messages for macOS devices to alert users of management or convey organizational messages.
Lock screen: Specify a custom lock screen asset tag on iOS to easily identify a device in hand.
App Store Restrictions: Restrict end user app installations and updates for more control of apps and app versions on macOS devices.
AirPrint: Set printer configurations for iOS and macOS devices.
Dock: Change size, magnification, position, minimization effect, and more macOS dock settings.
Setup Assistant: When re-provisioning a macOS device, select to skip steps like Siri setup.
….and more! For a full list, please go to the "New Features" section in the Meraki dashboard.
Current customers can take advantage of these features immediately! We hope you'll join the Community discussions on this and other topics.