Hear CR Hiestand, Network & Systems Administrator at Reading School District, share why the switch to Meraki MV security cameras is a game changer for student safety
Students from kindergarten to high school spend an average of 1,000 hours a year in the classroom. School can become their second home, from having teachers they look up to as heroes, to friends who are always there for them, to faculty that works to provide the best experience for them every day. To enable this, schools across the country are striving to provide safe and secure learning environments that allow for creative thinking, knowledge sharing, and open ideas for all students and teachers.
Like most schools in the US, Reading School District takes student safety very seriously and is always looking for new ways to improve student experiences. After dealing with countless issues from their legacy security camera systems, like bad video quality, poor coverage, and countless DVR outages, the district knew they had to make a change, especially after their ability to reliably identify safety incidents started being impacted. But what security camera system could provide the safety features they were looking for, while being deployed in a timely manner?
Incoming: Meraki MV! The only cloud-based security camera solution that provides exceptional video quality with no DVRs, no complicated hardware, and no convoluted software. All of the video footage is stored on the camera, not in the cloud, and yet you can watch the video footage on any device with a web browser. Plus, with the Motion Search feature, you can find important events in minutes with just a couple of clicks, rather than searching through hours of endless video footage.
Reading School District started by deploying Meraki MV in their two admin buildings and an elementary school, and have plans to completely cover the high school over the summer. They have already begun to see the value in their new security camera system — the team can now easily find security incidents in minutes, even viewing video footage from their phones, rather than being tied to a security camera monitoring room. And, since Reading School District was already using Meraki for their network, they can now manage their security cameras from the same dashboard where they manage the rest of their network. Reading School District is confident that their camera deployment will help them provide increased safety to students and teachers by deterring events before they happen and quickly being able to find the cause of a problem when it arises.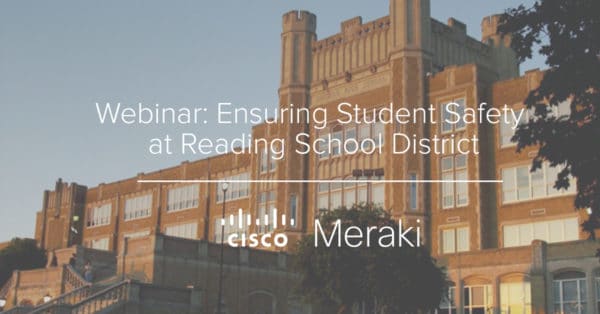 To learn more about Reading School District's Meraki MV deployment, watch the webinar recording. CR Hiestand, Network and Systems Administrator at Reading School District, joined us to discuss his Meraki MV deployment and walked us through a demo of his Meraki dashboard!