New wireless features improve troubleshooting and simplify diverse deployments
As we mentioned earlier this week in our latest launch blog post, we're thrilled to announce some new features that are coming soon to all Cisco Meraki wireless customers: Wireless Health and RF Profiles (including customizable Rx-SOP settings, which help mitigate co-channel interference in high-density environments).
These features are critical for today's wireless deployments. We increasingly depend on wireless for our network connection, so it's imperative that administrators have insights into end users' experience. It's also paramount that wireless settings be quickly tailored to different coverage scenarios and that these settings can be pushed across a number of APs.
Wireless Health
Wireless Health helps IT teams verify that client devices can access the network as expected and that they have a fast, reliable experience. It does this by looking at all the steps necessary to provide a seamless experience — from associating to an AP, to network authentication, to obtaining an IP address, to hostname resolution via DNS — and displays metrics and anomaly data about each. This allows network administrators to rapidly identify where in this chain of events something is going wrong and to more quickly remedy the issue.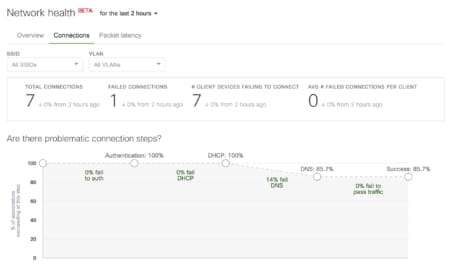 Wireless Health illuminates problematic steps in a client's path to network connectivity.
There are many, many root causes of problematic connectivity. Among other things, authentication failures can happen when client credentials aren't accepted by a RADIUS server, when the wrong pre-shared key is used for a given wireless network, or when a misconfiguration or an overloaded server prevents requests from getting through. DHCP failures can occur when a client device doesn't receive an IP address — either because the DHCP server fails to respond or because there are no more available addresses to hand out. DNS failures can happen if a DNS server doesn't respond to a client request for hostname resolution. And finally, success is measured not only by whether a client can successfully connect to a network, but also by whether that client can then pass traffic — so Wireless Health also details traffic failure rates.
Once a client has successfully connected, Wireless Health displays detailed metrics about network latency, identifying which types of traffic are showing performance problems at various thresholds of performance (measured in milliseconds).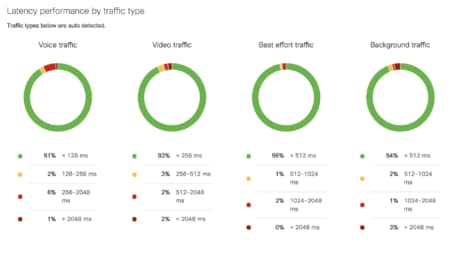 Quickly identify which types of network traffic are experiencing the worst latency problems.
Network administrators can drill down and get granular metrics on latency across their network at the AP level and at the device type level, helping them quickly identify the worst-performing APs and clients.

Latency at the AP level.

Latency by client device type.
These metrics and anomalies are synthesized into a holistic, network-level view that allows administrators to quickly identify networks with problems that require attention.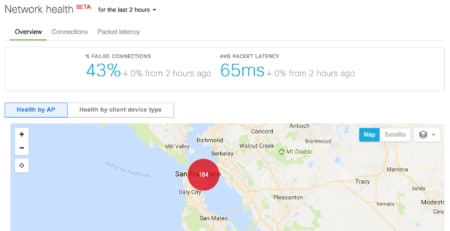 Wireless Health provides network-level statistics on latency and connectivity.
RF Profiles
Each wireless network is a snowflake: it faces its own unique coverage challenges, configuration, and design — no two are exactly alike. It's common for IT administrators to deploy several APs configured for a specific RF scenario (for example, a large, crowded auditorium) in one location, while needing to configure networked APs elsewhere for a different RF profile (like a small lobby or guest area). The radio settings for these two groups of APs can look quite different even though all of the access points are on the same network.
Enter RF Profiles. This feature allows network administrators to easily customize RF characteristics by deployment and manage diverse MR installations through the configuration of templated radio settings. These settings (which comprise a profile) can then be applied, en masse, to groups of APs. RF Profiles will include predefined templates for typical auditoriums, open offices, and outdoor coverage scenarios to help IT quickly configure wireless settings for maximum performance.


RF Profiles allows radio settings to be easily deployed to all the APs applied a given profile.
The radio settings that can be configured within a given RF Profile include:
Dual band and single band support for both 5 GHz and 2.4 GHz radios

Minimum mandatory data rates

Minimum and maximum transmit (TX) power levels

Receive sensitivity via Rx-SOP/CCA (801.11ac  Wave 2 only)
Rx-SOP
RF Profiles includes a new setting that can be configured: Rx-SOP (Receive Start of Packet). Rx-SOP helps mitigate co-channel interference (when two or more radios use the same channel) in extremely dense environments by allowing an AP to disregard transmissions that do not meet a specified signal strength threshold.
In high density environments with many client devices trying to connect to a wireless network, IT admins typically deploy more APs to increase overall capacity. But adding more APs introduces interference, since the odds that two APs within earshot of each other use the same channel increases. By ignoring signals that don't meet a certain threshold strength, Rx-SOP allows an AP to ignore clients on neighboring access points who are using the same channel — mitigating their ability to interfere.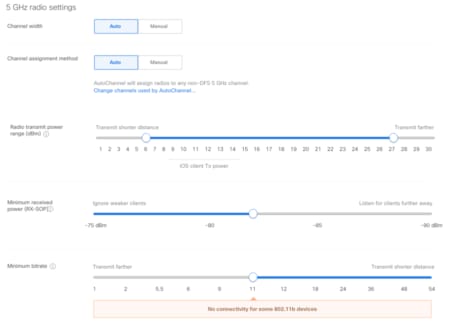 RF Profiles (including RX-SOP) will be rolled out as a free and seamless update for all Meraki wireless customers sometime near the end of February of this year. Wireless Health will also be rolled out as a free update for all wireless customers, and a generally available beta will make its debut next month.
As always, we're keen to hear your thoughts and feedback, so please drop us a line on social media or leave a comment in our Meraki Community. You can also check out our wireless webinars or visit us at meraki.cisco.com for more information.